Van-Gogh to the Art Show: AP Art Students Will Present Their Portfolios on Thursday and Friday
After nine months of planning, hands covered in paint, pencil marks and endless finishing touches, the AP Art students are finally ready to present their work at their showcase, "Subject to Change," on Thursday and Friday. 
For the first time since 2019, students will have the opportunity to display their pieces, which have been in progress since the beginning of the school year.  
Each of the 25 students has a distinct theme reflected in their portfolios. Their collections are comprised of five works.  
Senior Rémy Durrant, previously recognized for her passion to pursue art, has a very personal portfolio.  
"Originally, I was trying to do something regarding the amount of anxiety that I had been put under in a previous relationship that I only recently got out of," she said.  
"But then over time, I ended up changing the focus to my fingers. I have always had a really bad habit of biting and picking at my cuticles."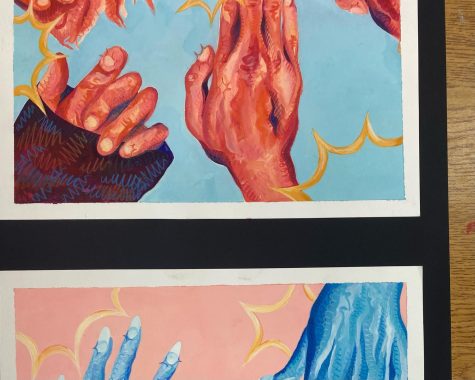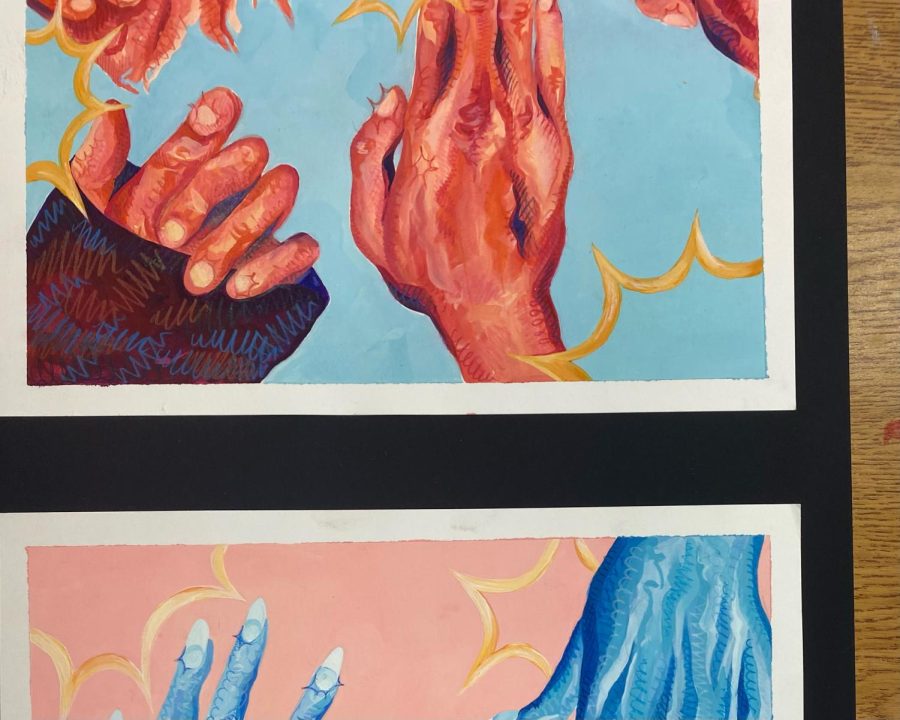 Durrant says although common among most people, her habit was "significantly more severe," often to the point of bleeding.  
"I wanted to do a literal investigation, a deep dive into the correlation between my anxiety and how my fingers looked on a day-to-day basis," said Durrant. 
She has a folder in her camera roll composed of pictures of her fingers, captioned with an entry of what her day looked like. She then used these photos as inspiration for her drawings.  
Her paintings display her hands in relation to anxiety and her healing process, to truly capture her struggle and recovery.  
Senior Isaac Czerniawsky said his portfolio is "centered around the things that bring us together actually being divisive." It is titled, "The Ties That Blind." 
"These are things that we assume we have in common, when in reality we don't." 
His work highlights the connections people make and how they may not be mutually demonstrated in relationships.  
"One of my pieces is about being a teenager and just assuming that somebody is just as dedicated to you as you are to them, and it's titled 'It's Just You'," said Czerniawski.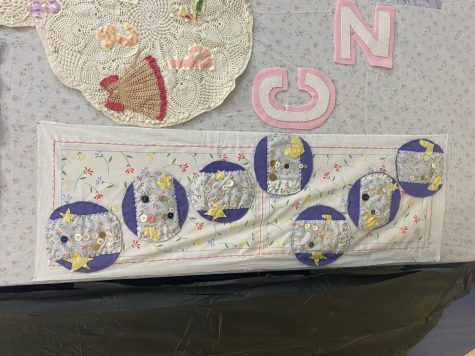 "Sometimes, there is stuff you're into and it may be only you, and that's okay," he said. "Or maybe you feel a certain way about a certain person but it's just you." 
He also made a quilt.  
"It makes me think of quilts I had growing up. They're beloved in my family, because it was something that was passed down. […] Somebody made something out of nothing and you get to enjoy that for years and years," he said. 
"It's roughly the size of a baby blanket, and I made it as a burial shroud for friendship. If there were ties there, they're not there anymore."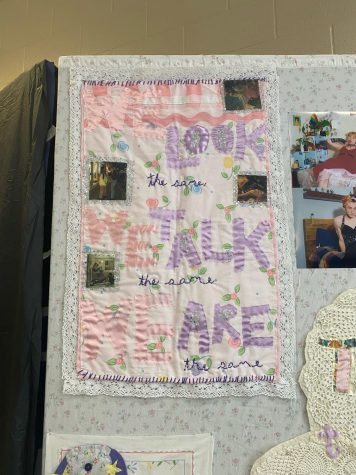 Junior Siyona Keya's portfolio features five three-dimensional rooms, each representing an bodily organ on the outside and a bedroom on the inside.  
"My idea is the physical manifestations of emotional and situational problems," said Keya.  
Inspired by her hospital summer job, Keya uses real life patient experiences to interpret her concentration. 
"I would notice that we treat patients with certain issues; they go home, and they come back," she said. "Their problems don't go away. The cycle breaks when they can't take it anymore. Eventually, their body gives out, and it really frustrated me to see that." 
She created a heart, stomach, skin, brain and uterus.
Her multimedia presentation on skin is called, "Happy Mother's Day."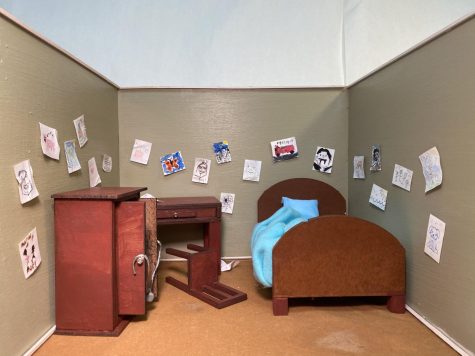 "It's about child abuse. It was inspired by Gabriel Fernandez," Keya said. Fernandez was a young boy in California who was tortured and later fatally beaten by his mother in 2013. 
The piece features a childhood bedroom with portraits and 'I love you mommy' notes plastered on the walls. It also has an open wardrobe with a lock and chain strung through the handles. The wardrobe door reads "LET ME OUT." 
Keya's favorite project was the uterus.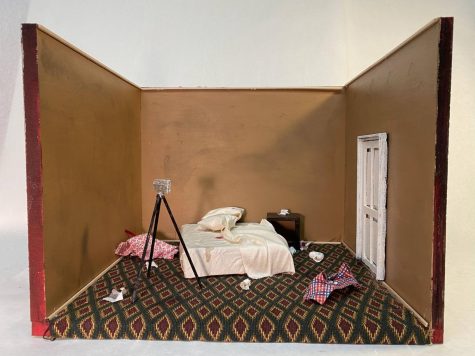 "It's about the intersection between sex trafficking, prostitution and pornography," she said. 
The room contains clothes on the floor and a camera on a tripod facing a bloody bed.  
"One thing I must point out," Keya said, is that "I have doors in [the heart, the brain, and the uterus], and some of them have doors with no knobs or doors with a knob on the outside only to represent how you can let people in, but you can't escape yourself." 
Each of Keya's pieces is fully hand-made excluding the fabrics. Each note handwritten, each piece of furniture laser cut and each exterior hand-carved and painted. 
The showcase will be in the art hall from 6 p.m. to 8 p.m.