"The Super Mario Bros. Movie:" Why You Should Watch It
It is safe to say that animated movies are a thing of the past for most high schoolers.  
While an "edgy teen," such as myself, can enjoy the fantastical appeal of a Disney movie every now and then, you won't find a strictly teenage audience at the first showing of a "kids' movie" — unless it's for "Minions: The Rise of Gru," in which you should prepare to see several groups of teens in numbers ranging from two to 30 members, all dressed in black suits and wielding bananas, seated in the first few rows. 
This couldn't be truer for my generation's reaction to "The Super Mario Bros. Movie" — or lack thereof.  
According to Forbes, the movie has held the number one spot at the Box Office for three weeks. With a domestic gross of $434.33 million, it holds the title of the highest-grossing Universal animated motion picture. Surpassing "Ant Man and the Wasp: Quantumania", it is now the highest-grossing movie of 2023 so far. 
Yes, it even beat out "Minions: The Rise of Gru," all without hordes of banana-carrying, suit-clad teens flooding the theaters. 
It has even been dubbed the best-performing video game adaptation yet, with a 96% audience rating on Rotten Tomatoes. 
Seems pretty rad, right? 
So why haven't more kids my age seen it? 
I asked 10 different people what they thought of the movie but was met with blank stares. Not only had all of them not seen it, but at least half of them didn't even know what I was talking about. 
"They made a Mario movie?" said one. 
Yes. 
"Since when?" said another. 
Since April 5, "The Super Mario Bros. Movie" has been in theaters. And — let me tell you — it is a good movie.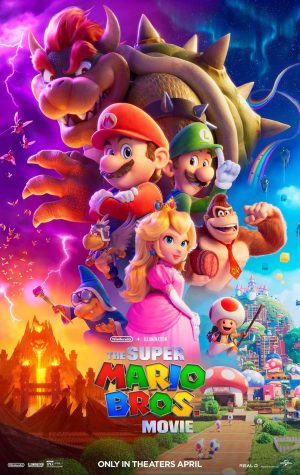 It's pretty simple on the surface: Two Brooklyn brother plumbers desperate to prove their worth stumble upon a suspicious green pipe and end up in the world of the Mario Bros. video games, where they are split up — with Luigi landing in the villainous Bowser's territory. Mario, teamed up with several other beloved characters from the games such as Princess Peach, Toad and Donkey Kong, must get him back and save the Mushroom Kingdom (and Brooklyn, by extent) from Bowser. 
It's a simple movie made for simple minds (children). But, knowing myself, I will unabashedly analyze every single moment of this 90-minute film. 
Before that, though, let's get one thing straight: I'm a "Mario" fan. I remember countless evenings spent playing "Mario Kart 8" and "Super Mario: 3-D World" on the Wii (I just dated myself and I'm not even 18). 
Basically, I'm a credible source here, people. 
So, naturally, I was excited when the Box Office overlords announced they would be making a movie about Mario. 
Though it definitely isn't the greatest movie of all time, it was enjoyable. It was fun. It was a fun, lighthearted movie I believe anybody can enjoy. 
I will not deny that it is a kids' movie, however. I, a 17-year-old girl who is constantly told she looks like a freshman (and I'll take that as a compliment), am not the target demographic. This movie was made with all the two to 12-year-old kids sitting in the theater with me in mind. 
But I will argue that just because something is directed towards kids doesn't mean it can't be enjoyed by other ages. 
I'm just saying, I thought the soundtrack was the best part, and was also an aspect many older audiences can get a kick out of. Only in "The Super Mario Bros. Movie" will you find "No Sleep Till Brooklyn" by Beastie Boys, "Take On Me" by a-ha and "Thunderstruck" by AC/DC within the same 90 minutes. 
Now, let's take a moment to discuss the casting. Many critics were skeptical of it, particularly the announcement of Chris Pratt as Mario. According to Screen Rant, Pratt and the movie's producers wanted to avoid having Pratt do an Italian accent for fear of backlash. However, they got backlash anyways — because Pratt "didn't sound Italian enough." 
In a desperate attempt to ease the controversy, Pratt compromised by giving Mario a Brooklyn accent, as the character is based in Brooklyn. However, he sort of forgot about it halfway through the movie and only sounded like himself until the final scenes. 
Though he has not seen the movie yet, Dino Graves – a senior – is very curious as to how Pratt will do. 
"I know he's been catching a lot of flack for his voice," he said, "especially in the trailer." 
I thought Pratt did fine as Mario. His accent was a little rough and forced, but it wasn't too bad. The rest of the cast was fine, too. All were enjoyable and, to me, fit the characters really well. 
Jack Black as Bowser, however, stole the show. I already like Black as a person but hearing him as the video games' number-one villain was a surprise. What's more, you can just tell that Black is having the best time with his role. He doesn't sound strained like Pratt did as Mario. Black is just being himself, and I really respect that. 
You can especially hear how much fun he is having in his performance of Bowser's love song to Princess Peach, "Peaches." 
I will say that "The Super Mario Bros. Movie" is a good movie, and I can see why it has gotten such good reception after its release. It deserves it. Is it the greatest movie ever? No. Is it bad? Absolutely not. I believe that anybody, including edgy souls like me, can enjoy it with a smile. 
So why not go make a day of it? 
"I'm very curious to see it, especially as someone who's been a longtime Mario fan," Graves said.