Rémy Durrant: Painting the World by Storm
At age 10, senior Rémy Durrant decided to take her scribbles more seriously. 
"I've been drawing ever since I could hold a pencil," she said. "I knew art was something I really wanted to pursue." 
The more she taught herself, the more she developed her style and experimented with new techniques. 
Now, Durrant's talent not only has been exhibited in the school's refurbished art gallery, but also in Atlanta's High Museum of Art.  
For a long time, she didn't plan on studying art and instead was set on being a STEM major or going into medical school because of parental pressures.  
"Around the start of 2021, I started suffering a lot with mental instability. My motivation for everything disappeared; however, it grew towards writing my thoughts down and painting it," she said.  
When COVID-19 hit and classes became virtual, Durrant experienced obstacles in her academics. However, she flourished in AP Studio Art, opening her eyes to the success she could achieve through art and how it could become a career for her. 
With the power of her paintbrush, Durrant made her emotions come to life. Each painting has meaning that dives deeper than what can be seen on the surface.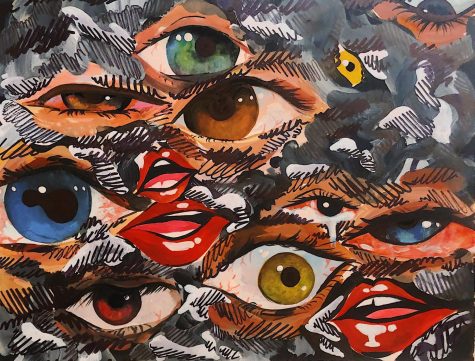 "To other people, it's just a pretty picture where they don't always see what's truly behind it," she said.  
Most of her pieces are reflections of her journey and difficulties in life.  
"Rémy is a very emotional person. She goes through a lot of stuff in life and one way she copes with that is through her art," said senior Hannah Bowen, one of Durrant's close friends.  
For an assignment in Durrant's AP Studio Art class, she created four pieces that highlight specific experiences in her life.  
One in particular, which is featured in the art gallery, is based around her eating disorder that began when she was in seventh grade. She had been attending a Catholic private school. 
"The school itself was a very nice school, and it provided an amazing education," she said. "But I was the only girl of color in my entire grade. All the other girls were Caucasian, short and skinny." 
At this school, Durrant joined the volleyball team. One day, the coaches were giving out extra spandex shorts.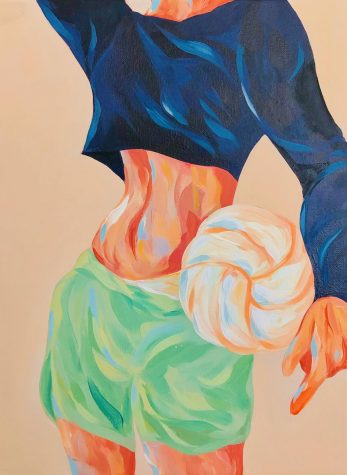 "I was too embarrassed to call out my size because I was taller than everyone else. I kept thinking that if they're that size, there's no way it could fit me," she said.  
After school, she bought herself a pair of extra-large shorts from H&M, because she perceived herself as that size. Those shorts were baggy then, and they still are now. 
In March, when Durrant chose to depict her battle visually, she added details that contribute an entire layer of depth to uncover.  
In her piece is titled, "Ed," she painted the shorts loose so viewers can see a sliver of her undergarments, because "you could always see my underwear when I moved," she said.  
Paying attention to the smallest details turns the painting from a teenage girl simply holding a volleyball into a piece which shows a girl's internal conflict with her body. 
These small easter eggs are not uncommon to be found in Durrant's work. Most of the time, she places certain details and symbols in her work that have underlying connotations.  
"I incorporate this little repetitive design that I do, like a little star. I use these stars to reflect the levels of joy and happiness found in my artwork," she said.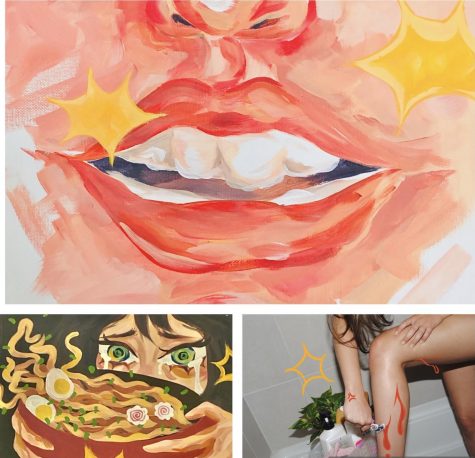 Focusing on minor aspects that contribute to the piece is a way Durrant connects with those who see her artwork.  
"It gives this idea of what it feels like in my mind," she said.  
In the summer of 2019, Durrant's art teacher, Kate Hudson, applied for one of her pieces to be featured in the High Museum of Art.  
"It was just a very overwhelming experience in general, whether you interpret that as overwhelmingly exciting or overwhelmingly nerve-wracking," Durrant said.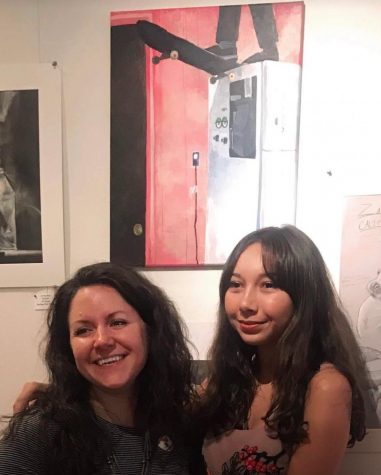 Durrant said as she thinks back on the experience, being featured at the High Museum was a strange mix of emotions that might've been there due to her insecurities about her developing art skills and questioning her style.  
She said one may assume an artist becomes more confident in their work overtime, but it turns out to be the opposite.  
"As I continue to improve, I keep setting expectations and standards for myself," she said. "I look at it like it's an ongoing staircase. With each step I take, a new one appears."  
While Durrant sees flaws in her work, the people around Durrant agree her work is exceptional.  
"I personally think she's an amazing artist, better than a lot of people," said Bowen. "Even when she rushes, it looks really good."  
Senior Emilija Ragaine, who's known Durrant since sophomore year, said Durrant's art style is "unique." 
"When you see it, you're like, 'Yeah, Rémy did that'," she said. 
Ragaine said that Durrant's personality has a sparkle that leaves an impression on the people around her.  
Her art is a reflection of this sparkle that has not only impacted her but the people who get to see her art.  
"Her art is practically her life," said Bowen. "It's bigger than just a hobby."