Lana Del Rey's Most Extraordinary Album Yet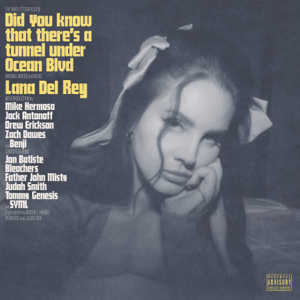 In Lana Del Rey's newest album "Did You Know That's There's a Tunnel Under Ocean Blvd," the topic of family is prominent, as Del Rey deals with her family's history of loss, loneliness and sadness.  
She begins the album with "the Grants," a reflective song on suffering that she performs with Melodye Perry, Pattie Howard and Shikena Jones.  
The Jergins Tunnel, a passageway that ran beneath Ocean Boulevard in Long Beach, California in the 1960s, which was shut down to the public in 1967, is referenced by Del Rey in her song, "Did you know that's there a tunnel under Ocean Blvd."  
Del Rey uses this reference to highlight her fear of being forgotten.   
On "Grandfather Please Stand on The Shoulders of My Father While He's Deep-Sea Fishing," she wonders about the afterlife and asks her deceased grandfather to say a prayer of protection for her father, Rob Grant.  
In "Kintsugi," Del Rey addresses the harrowing experience of witnessing a loved one die. 
In "Fingertips," she contemplates the terrifying truth of trauma as an adult. She is talking to a mirror in this song while seeking support from her beloved father and her siblings, Charlie and Caroline.  
Del Rey said, "Will I die, or will I get to that 10-year-old mark? /Where I beat extinction of telomeres? /And if I do, will you be there with me? Father, sister, brother?"  
"A&W" brought attention to the singer's romantic partners and the media. There is a sadness that permeates beneath the surface, particularly in the first half of the song.  
She says openly on "A&W" that "It's not about having someone love me anymore."  
"Sweets" counteracts A&W: the song is her explaining to her partner what makes her unique. 
Del Rey can't help but incorporate her musical past when creating new albums and songs. Songs like the coquette-infused "Candy Necklace" have a vibe like her 2012 debut "Born to Die" and "Ultraviolence" era. 
On "Judah Smith Interlude," Judah Smith is recorded giving a sermon.   
It was obviously recorded on Del Rey's phone during a service, so you can hear her and her friends' giggles above Smith's powerful voice and a piano instrumental that keeps the speech flowing. 
Smith preaches about lust and love while reading from the book of Psalms. Some of Smith's previous opinions were frowned upon, and his discussion is glaringly redundant in the context of Del Rey's extremely heavy ninth album, but his final two comments make it plain how he fits into her vison. 
"I used to think my preaching was mostly about you and you're not gonna like this but, I'm gonna tell the truth: I've discovered my preaching is mostly about me." 
Freshman Katie Johnson believes the Interlude is a key part of the album. 
"I made myself listen to it and I feel that you can't listen to the whole album without hearing this interlude. It contributes to the next song," Johnson said. 
The back half of her album changes the entire mood of the album, with the rhythm and vocals of "Fishtail" and the sampling of Tommy Genesis' track "Angelina" on "Peppers."  
This section of the album also features some of the most peak Del Rey songs and lines, making "Peppers" one of her most liked songs.  
"Peppers is my most favorite song on her album, it's so good," senior Paige Miller said.  
The piano plays a big part in the "Jon Batiste Interlude." Del Rey lets her stream of mind lead the way as featured artists Riopy and John Batiste display their remarkable talents in their respective lines, creating a lounge atmosphere within the song. 
The most radical aspect of Del Rey's songwriting on this album is how much hope she allows to seek in, even though some of her darkest feelings find their way into the lyrics. A vision of heaven shows her eventually reconnecting with her lost family members and friends. 
 She sings about meeting Margaret Qualley in the song "Margaret" with her friend and frequent musical partner Jack Antonoff.  
The singer's sensitivity and desire to fully experience life are highlighted in the lyrics, which portray the complex nature of human emotions. 
"This album might be the best album Lana Del Rey has put out by far," said junior Daniel Davis.