Worst to Best Looks on the 2023 Grammys Red Carpet
Since 1958, the Grammys have stirred competition with their events, awards and of course, the best dressed. 
For the 65th annual Grammy awards, the red carpet was alive with all kinds of talented musicians dressed from the most questionable attire to the most astounding looks.   
The apparel caught the attention of many watching from home. Whether or not the attention was positive depends on the lengths artists went. 
 "I thought they were really creative and abstract-ish," said senior Isabelle Hoback.  
Without a doubt, I know at least one of these looks will end up on your feed sooner or later.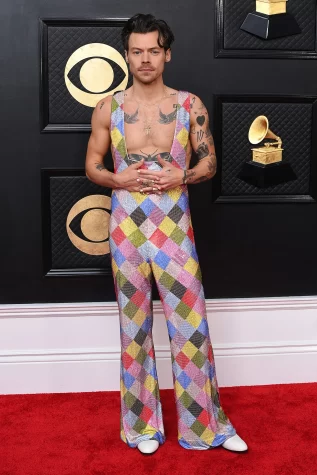 9. Harry Styles in an Egonlab jumpsuit 
Is he a hippie or a cowboy? With this look, we'll never know.  
Sorry (not sorry) to all you insane Harry Styles fans, but this outfit was horrendous. 
Scandalous might be the move for some artists, but the bare chest was just another factor of this hideous get-up.  
However, to some, his outfit was everything. (Crazy, right?) 
"I loved his outfit; I thought it was so great. I think he does no wrong," said English teacher Nishi Patel. "It's not for everyone, it's very glittery. It's almost patchwork-y. I understand how that's not everyone's cup of tea." 
What I don't seem to understand is how this could be anyone's cup of tea.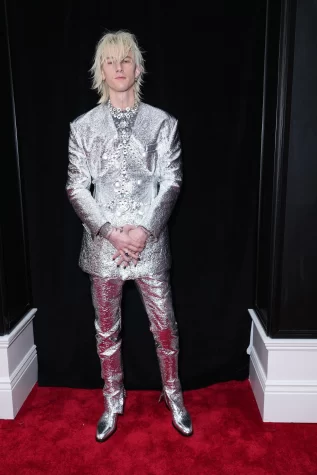 8. Machine Gun Kelly in Silver- Foil Dolce & Gabbana 
I'm surprised he didn't bring any oil for this outfit, since he looked like he came right out of "The Wizard of Oz." 
I expected creativity, not the Tin Man. I'm almost certain he confused the red carpet with the yellow brick road.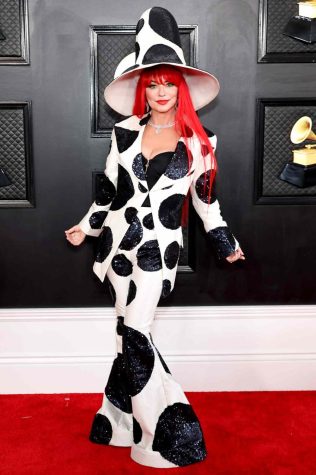 7. Shania Twain in Dotted Harris Reed
This outfit was cute, and her vibrant red hair was the perfect pop of color this black and white piece needed. 
However, I can't tell what theme she went for though. 
"Alice and Wonderland" or "101 Dalmatians"? The Red Queen meets Cruella?  
Wait, no, Cruella wears the dalmatians. Not the other way around.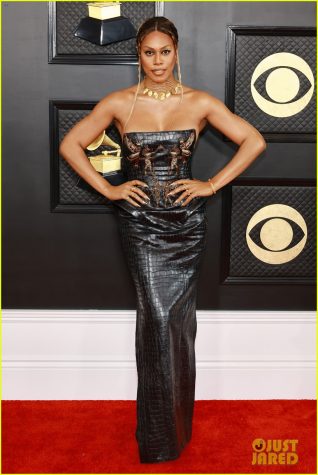 6. Laverne Cox in reptile skin dress by Kim Kassas
I love how she gave her dress a little story to go along with it.  
The leathery texture of the fabric matches well with the images on the torso, which she described as "Cleopatra meets Goldfinger 2023."  
However, I didn't really feel any 51 BCE-esque vibes coming from the dress. Instead, I thought the movie "Hercules" just started, and the Muses were about to start singing his story from the dress.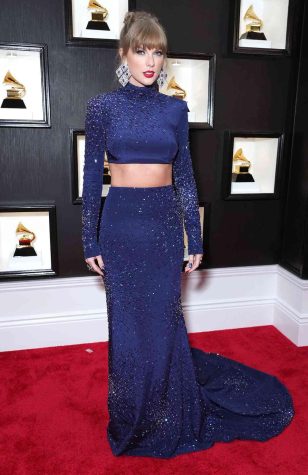 5. Taylor Swift in set by Roberto Cavalli
Swift's outfit grew on me. At first, I thought it was boring, but the earrings really brought the ensemble together. 
The details on her dress perfectly resemble a beautiful, starry night.  
This outfit represents how much of a musical genius Swift truly is. Tying her Grammy's outfit with her latest album "Midnights" was absolute perfection.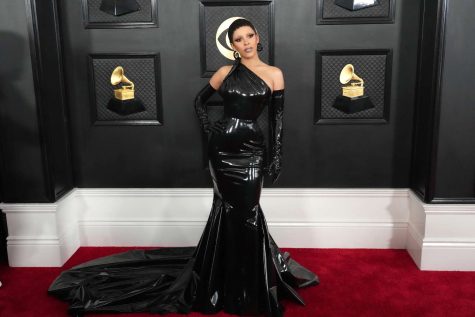 4. Doja Cat in a Vinyl Versace gown
This just screams Doja Cat.  
Her eyeliner was bold, her dress was bold and she was bold with this design.  
Her hair kept short seemed to give the dress more shape and movement, which took the look to the next level.  
Doja Cat's makeup, especially her lips, was also more on the natural side which brought more focus to the dress. 
She likely wanted people to pay attention to that shiny, yet slightly uncomfortable looking latex.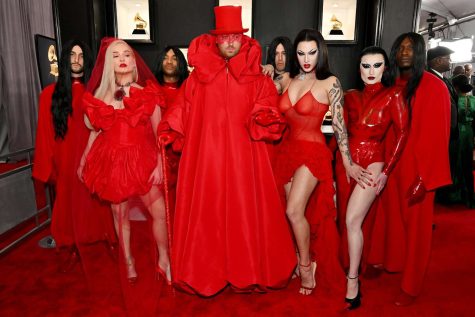 3. Kim Petras and Sam Smith
I was quite mixed on this one. 
Sam Smith looked like they were about to diabolically steal all the awards, dramatically walking out villain-style with that coat and hat. 
And Kim Petras looks like she found the perfect wedding outfit, but the boutique didn't have it in white. 
However, this set captured the vibe of their hit duo song "Unholy" perfectly. So no matter how oddly the pair was dressed, their commitment puts them on top.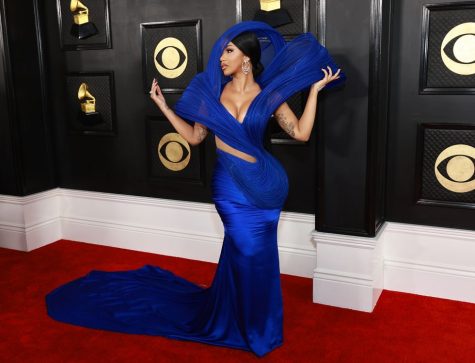 2. Cardi B in Sculptural Hooded Blue Couture Dress
I was shocked to see her walk through the crowd in that beautiful, eye-catching blue headpiece.  
"I loved the train; it was just so pretty. It just looked so, like, soft as well," said junior Bo Ortiz.  
She was giving blue macaw, but a bird has never looked better on anyone else.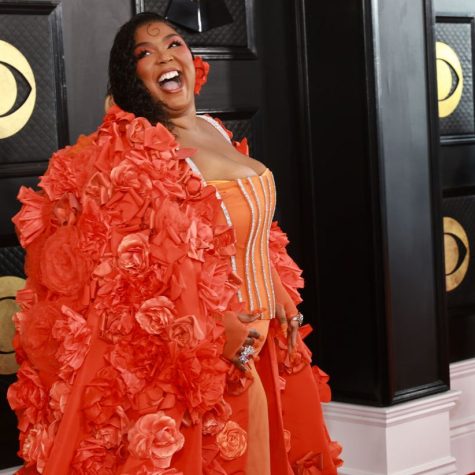 1. Lizzo in Mikado hooded cape
Her outfit was more than beautiful, it was almost a performance. The reveal of the orange dress under the large red cape was the key to presenting it as the masterpiece it truly was.  
"I love how it sort of gives a meaning for me, it symbolizes empowerment because it's so big and vibrant." Hoback said. "It's so majestic looking."