The 2023 Oscars: Fashion from the Champagne Carpet
The 2023 Oscars turned thousands of heads on social media. In recent years, people have expressed the belief that fashion has spiraled downward since the 90s, an opinion I share. 
After award shows, many influencers and magazines take to social media to criticize how celebrities' choices in fashion are going downhill. 
However, I have noticed that reviews online have been positive, and to my surprise there were little to no hiccups on the red, sorry, champagne colored, carpet.  
The Oscars, compared to other award events, tailor to a prestigious makeup of expectation. Celebrities tend to dress more conservatively and classically for the event.  
And then, the Vanity Fair after party is where celebrities step out in more outrageous attire, along with more guests.  
Here are my top ten looks from the 2023 Oscars.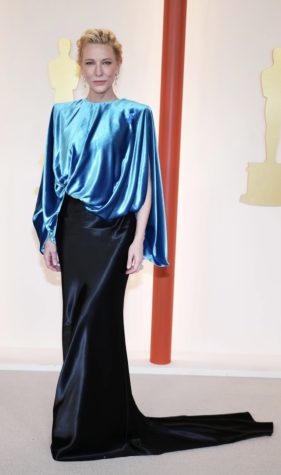 10. Cate Blanchett
Actress Cate Blanchett arrived in an archived two-color Louis Vuitton gown with a silk capelet top with statement shoulder pads, along with a black train. She also wore fashion house silver thread earrings with a mid-bun.  
This 80s-esque look reminds me of a businesswoman meets high fashion. It is timeless, and the colors and styling all pairs well.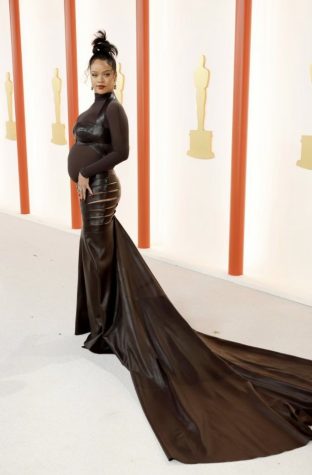 9. Rihanna
Singer, actress and businesswoman Rihanna stepped out showing her pregnancy proudly through her outfit, as she has done in the past. She explains motherhood's beauty through fashion, and she expressed that on the carpet.  
She wore a leather bra and floor length skirt combo, along with mesh to show her mid-section. Her entire outfit was dyed a brown color that compliments her skin tone and red lip. 
While this look is daring for Oscars' fashion, I believe she did it well.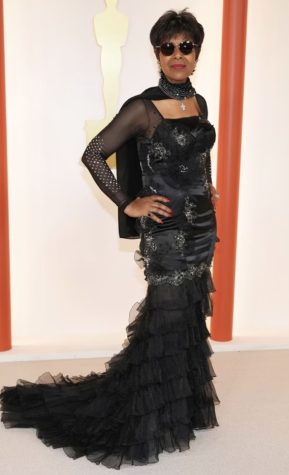 8. Euzhan Palcy
Director Euzhan Palcy stepped out in a daring mid-length dress with embroidered lace and diamond embellishments. The skirt had ruffles going down her legs. 
She paired it with a diamond necklace and glasses. This look is funky, and I love to see an elder rocking the carpet in something less classical.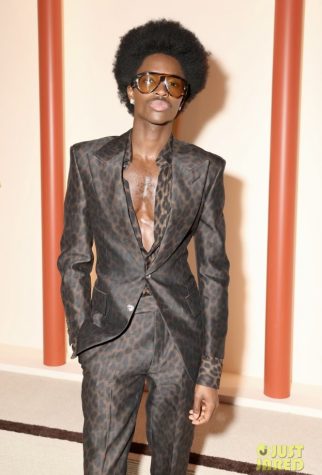 7. Alton Mason
Model Alton Mason stepped onto the carpet wearing a suit decorated with a full leopard pattern. With his chest exposed, diamond earrings, mustache combed and glasses on tight, men's fashion was brought to a new level. Straight from the 70s, this look was one of the best on the carpet.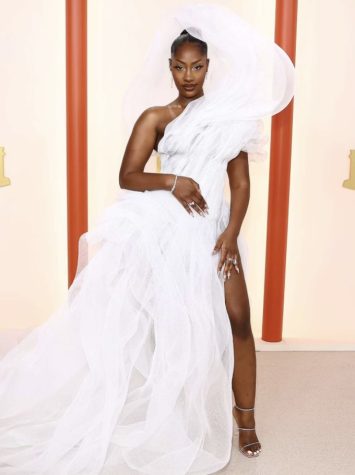 6. Tems
Songwriter and performer Tems shocked many with her outfit. Her white structured gown ignited talk on social media. The gown, designed by Lever Couture, had a white halo-like structure going over Tems' head.  
It made for a beautiful silhouette and was a daring, bold choice, for which I respect. The white dress along with her blue eyeshadow was extravagant and gorgeous, but maybe not the best choice for sitting in an audience.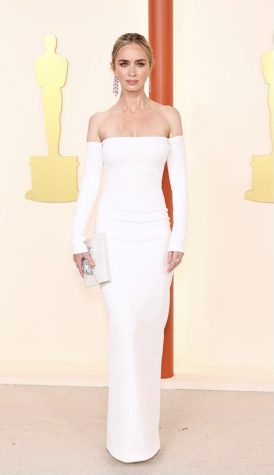 5. Emily Blunt
Actress Emily Blunt stunned as she walked with a simple white fitted gown with sleeves. With her shoulders exposed, it was just the right amount of class and elegance I needed to see on the carpet.  
The white looked beautiful on her skin tone, and she paired the dress with violet crystal raindrop earrings that matched her eye makeup. It was the perfect dress for her and highlighted the importance and integrity of the Oscars.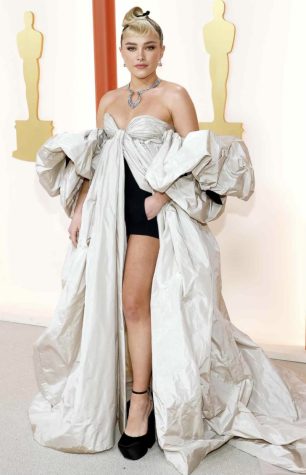 4. Florence Pugh
Rising star and actress Florence Pugh has never let me down when it comes to the carpet or events. She always has an outfit that encapsulates her perfectly as a human and a professional.  
She has found a style that works for her, which tends to be a gown with shorts that peak through. I love this; however, I do hope to see something a little different in the future. She wore a Valentino Couture puffed sleeved cream-colored gown that was cut short to reveal black shorts.  
Paired with a plethora of gems and a modern hairstyle, I believe this gown was a perfect melding between classic and pushing for a more modern twist. She did it correctly in my eyes.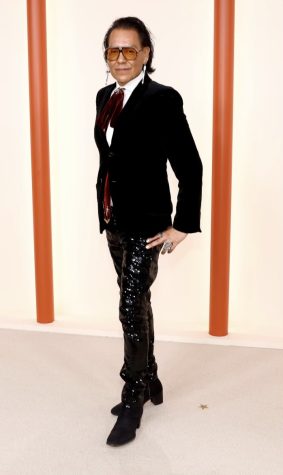 3. Bird Runningwater
Producer Bird Runningwater made my eyes twinkle. A fashion underdog for sure.  
He sported a velvet suit jacket paired with glittering pants, along with a loose red velvet tie and gold raindrop earrings. Slicked back hair, extravagant eyeglasses and heeled boots added to his look. 
He stole the show in my eyes and brought something new to men's fashion on the carpet.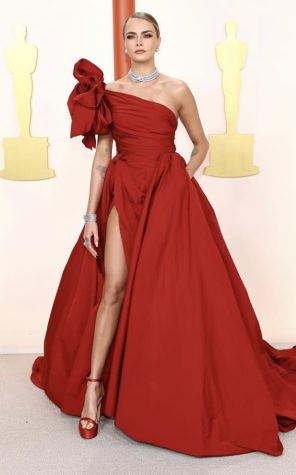 2. Cara Delevingne
Model and actress Cara Delevingne made her return to the carpet. She shocked the internet with her long red Elie Saab gown with a giant flower detailing on the shoulder.  
She wore a slicked back bun to show off her Bulgari diamond choker and earrings. Reportedly, she was paid six figures to do.  
This was a big move from her past looks and I love it. I admire seeing her in something very classic and extravagant after her tough time with substance abuse.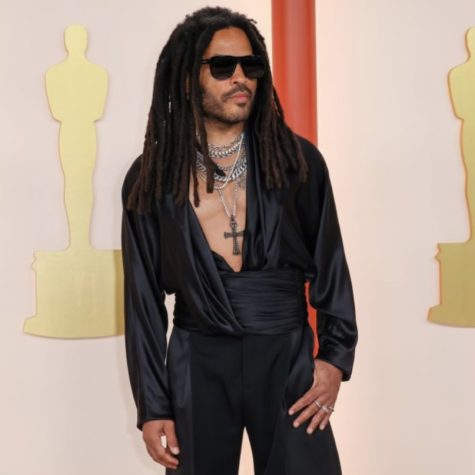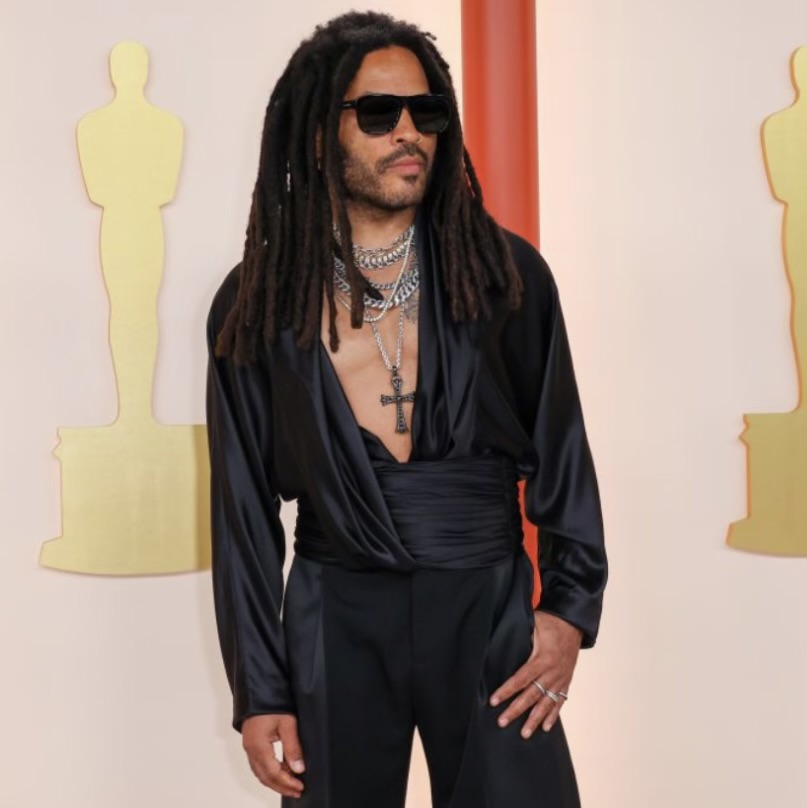 1. Lenny Kravitz
Singer-songwriter Lenny Kravitz wins this top ten for me. He wore a black silk top that exposed his chest, with the top structured artistically around his waist.  
To cover his chest, he wore many necklaces and chains, one being a giant diamond cross. He wore black pants with silk embellishments on the side. With his classic Lenny hair, and some sunglasses, this look was daring but classy on the carpet.  
His rockstar style was cool but effective and checked every box for me.