COVID-19 Sliced Through Quinceañera Plans Before Young Latinas Could Slice Their Cake
Selena's "Baila Esta Cumbia" playing in the background, bedazzled Converse, a dress so large I can barely walk, people holding Mexican food while they dance — I'm sharing one of the biggest celebrations I will ever have with an obscene number of loved ones. 
This is my quinceañera, and it's supposed to be the biggest day of my life, besides my future wedding. On this day, I officially am no longer a young girl, but a young woman. I celebrate this fact with over 80 people I love, all of us jam-packed in my backyard.  
Some of my best friends are in my court, a very special group of people. The girls are called damas ("ladies"), and the men are called caballeros ("gentlemen"). There is also the second most important person (only second to the quinceañera herself, of course): the chambelán ("escort").  
My chambelán just drove 275 miles from West Virginia. The chambelán is the main guy, and for this role I chose the boy who was my best friend.  
Unfortunately, this scene never happened.   
Quinceañeras celebrate 14-year-old Latinas turning 15. In Latin American cultures, a girl turning 15 is turning into a woman. Thus, a quince isn't just a birthday party but instead a celebration filled with traditions. COVID-19, however, sliced through my, and many other young Latina girls', plans. 
Freshman Bella Thomason had her big party planned for last Sept. 5, just 10 days before her birthday. 
"At first it was just supposed to be postponed, so I was like 'Oh, okay, at least I get more time to practice,'" she said. 
But the party ended up being cancelled because Thomason had so many Brazilian family members coming. They would be at risk, and borders were closed until July 2020. Quinces, called the festa of quinze anos in Brazil, take about a year to plan, so even with the borders newly open, it wouldn't have been plausible. 
She also ordered many of her decorations from South America. 
"We ordered all the flowers and stuff from Brazil, because everything quinceañera-themed is cheaper over there," she said. 
Thomason's gown, also from Brazil, had a blush, tulle skirt and a beaded bodice with a wide neckline. She was crushed when she had to return it. 
"Returning my dress was so sad because I felt so good in it," she said. 
"
Returning my dress was so sad because I felt so good in it."
— Bella Thomason
I hadn't gotten a dress yet, but I can only imagine what Thomason felt. 
I was thinking about getting a custom-made dress from Mexico. It was going to be inspired by 1700's French gowns. 
For now, my quinceañera has only been postponed, but when I mention it to my mom, she looks less and less hopeful each time.  
I suppose I'll have a dieciséiseñera (dieciséis means "sixteen")?  
My birthday is in December, but since I was planning a quince on a modest budget, the party was going to be in the backyard in the fall because it'd be too cold in the winter months.  
My theme was going to be "a night under the stars" because I love space. Everything was going to be navy and silver. Everything was going to be perfect. 
I also had my court mostly planned and had even asked a few of my friends already to be in it, but now I'm not friends with some of them. Talk about awkward. 
The court, which I previously mentioned, participates in a dance, with the birthday girl front-and-center dancing with her chambelán. 
Thomason was taking dance lessons, and her court was to join her just two weeks after her party was cancelled.  
One of her damas, Niala Kelley, said, "everyone was so disappointed" when they heard of the cancellation, especially because Thomason's quince was only supposed to be postponed at first. 
Freshman Yeymi Cruz never got the chance to practice her dance for her blush and gold-themed quince. 
Her family had been saving up for May 3, 2021, the date of her quinceañera. The Cruz family just needed to buy the decorations, venue and Cruz's $1,045 dress, which they had plans to purchase.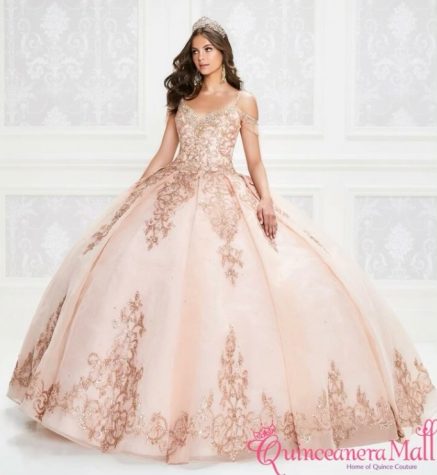 Unfortunately, the party was cancelled before the family had the chance to buy these pieces for the party. The money the Cruz family worked so hard to save was no longer put towards the quince. 
"Everything we had saved – it was just not for [my quinceañera] anymore," Cruz said.  
Cruz is Honduran, and she said quinceañeras aren't typically celebrated in her culture.  
"I'm one of the first ones that was [going to] celebrate it [in my family]," said Cruz. 
I'm so lucky my quinceañera hasn't been cancelled like Thomason's and Cruz's but instead postponed. Like my mom and many others celebrating weddings, baby showers and more, however, I am getting less and less hopeful with each day that passes where COVID-19 is the reality. 
COVID-19 cancelled and postponed so many important events in people's lives. Imagine a new, expecting mom not being able to have her baby shower, and a couple unable to tie the knot on their 10-year dating anniversary. Imagine all the Latinas who can't celebrate their quinces, which are such an important thing, culturally, to us.  
In the future, I hope my younger 'sisters' in the Latinx community have the chance to celebrate their huge moment of turning into a woman unlike Thomason, Cruz and maybe even me. 
"Having our family and closest friends celebrate you at this important milestone is culturally critical to me," said my mom. "We want everybody to go and not be prevented from going because of COVID."