There Are Two Footballs, And You Should Stop Only Caring About One
Seniors Noah Guertin and Andre Grant were quietly having excellent games.  
On a breakaway for Alpharetta High School, Guertin, a defender, slid across to make an excellent tackle to abruptly halt the counterattack before the Raiders could put a ball into the penalty box. He had barely gotten up when Alpharetta's star striker, who had been physical with him the entire night, grabbed his jersey and threw him back down again.  
"I wasn't about to just let him do that. I got up and pushed him back, set aside some choice words for him, and I'd do it a hundred more times. He needed to know that none of my teammates or I were going to take that from him. We weren't gonna back down from a fight," Guertin said.  
Later, with the clock slowly ticking up to 90 minutes, Grant won a contested ball in midfield, took it 50 yards by himself up the sideline, dribbled between defenders, and rocketed a shot into the top left corner of the goal. The goalkeeper stood no chance.  
Grant peeled away to the corner flag as soon as the ball left his right foot, not needing to see the net bulge to know he had scored a phenomenal solo goal.  
Waving his arms in triumph and screaming to the stars, he might as well have just scored a goal for his favorite team, Manchester United, in the Champions League.  
"To score a goal in my last game as a senior is incredible. That rush of adrenaline I got; I couldn't contain it. I didn't want to contain it," he said.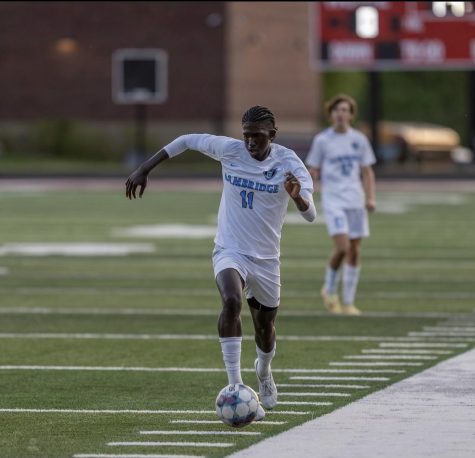 They were moments that deserved a crowd of supporters, clad in the blue of Cambridge, up on their feet and roaring for their team.  
The smattering of parents and friends on the bleachers, at the very least, did their best.  
"It's hard for some of our younger guys to show up and not have anybody behind them. I mostly tune it out because I get so locked in and focused, but I feel for them," Guertin said.  
Rarely are football games so devoid of energy.  
Football? You score goals in soccer, not football. Soccer is stupid and boring. Football's not devoid of energy. Get a load of this guy. He must have never seen the Kansas City Chiefs play. 
No, I've seen those guys plenty. Have you ever even tried watching the sport that the rest of the world knows as football? Here are some reasons why I dare say you might even like it more than football: 
The Stakes are Way Higher 
The NFL operates right now as a 32-team fixed membership league, with only one trophy to compete for: the Lombardi, via winning the Super Bowl. 14 teams currently make the NFL postseason, and there have been a few instances of extremely mediocre teams qualifying simply by winning their division.  
Some teams are truly terrible to the point where they tank intentionally in order to begin investing in their future via getting high draft picks. And there is no punishment for this, because they're guaranteed to get better almost immediately (bad teams get easier schedules the following season). They know that, no matter what, they'll be competing in the NFL forever. 
For our purposes, let's use the English Premier League for comparisons. There are only 20 teams every season, but they're never the same as the prior season: the bottom three teams get relegated to the EFL Championship, the second division of football in the country, and are replaced by the top three teams from the Championship. The difference in revenue for competing teams? Nearly 4 billion euros.  
In addition, there is no postseason. The team that finishes with the most points at the end of the season wins the league, and only the top four teams qualify for the Champions League, dramatically increasing the value of every individual game.  
In the NFL, having such a large postseason dilutes the quality of games, because a team can simply win enough to guarantee postseason contention and then take their foot off the gas. We've had some insanely meaningless final weeks in the NFL because of this.  
Senior Oliver Balle, a Danish soccer fan, believes this is the biggest thing that sets the two sports apart.  
"I think my single favorite soccer moment came in the last week of the 2012 Prem season, when Sergio Aguero scored that goal to give Manchester City the win and its first Premier League title. It literally came down to the last minute, last second, last kick," he said. 
Although he is somebody who enjoys the Super Bowl, Balle admits the big game can sometimes be awful. 
Internationally, there are no large-scale football competitions, let alone something that can match the excitement of the World Cup. America has its big game every year; the World Cup comes only once every four. 
"To put on the shirt of your country and play in the biggest sporting event in the world transcends everything. It's bigger than all of us, all of our differences," Balle said. 
When Gonzalo Montiel scored the winning penalty in the 2022 World Cup final, he fell down on the pitch and started crying., having won Argentina its first World Cup since 1986. 
Junior Gabriel Ruiz, another soccer fan, was emotional too.  
"It really was more than just a game. Lionel Messi scoring, Kylian Mbappe's hat trick for France, that penalty shootout. It's an art, a theater. It's where your dreams become reality," he said.  
The Action is Continuous 
Football games are 60 minutes long, soccer games 90. And yet, there hasn't been a single soccer game that has ever taken longer to finish than an NFL game. That's because in football you have timeouts, breaks between plays, and commercial breaks after essentially every score.  
In soccer, the two 45-minute halves are separated by only one halftime break. There are stoppages for things such as fouls and injuries, of course, but the action is never interrupted outside of those infractions. 
"It's a cycle. You attack, you score or you lose the ball, then the other team counterattacks, you defend, they score or you lose the ball. It's always moving, you've never stationary," said Guertin.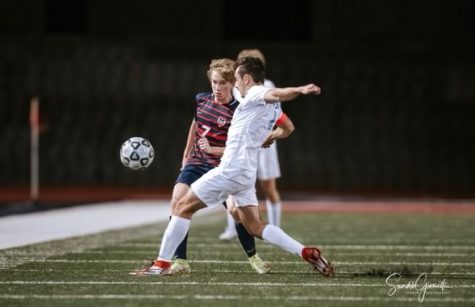 He said that the most enjoyable thing about soccer is that you always have to stay on your toes and keep your mind focused. 
The other thing about soccer games being short in length is that if you attend a game that's bad, you're out in approximately two hours.  
"I've been to a few Atlanta United games, of course. It's MLS, so the quality isn't like what you would get in a European game," said Balle. "But it doesn't drag out, and you're able to enjoy the experience for what it is: a world class stadium with amazing supporters." 
There's More Games to Watch 
Between league games across Europe as well as international club competitions like the Champions League and Europa League, there are a plethora of soccer games on at all time during the season, which runs from August to May for most teams around the world. 
The NFL season runs from just September to February and teams only play 17 games, once every week. Because of a limited schedule designed to protect players, teams don't play every other team. This can limit the amount of marquee matchups for fans to attend and can decrease interest in a team.  
Ruiz, a supporter of Juventus in Italy's Serie A, appreciates the amount of soccer available to him.  
"Oh, man, I even memorized their schedule one time a couple seasons ago. But seriously, you can't ever get bored. There's no waiting around, no anticipating. It's just incredible to be able to watch them play all the time," Ruiz said. 
The Passion Blows the NFL Out of the Water 
At Anfield in Liverpool, supporters sing an a cappella rendition of "You'll Never Walk Alone", the club's anthem, as the teams walk out of the tunnel. 
At Signal Iduna Park in Dortmund, supporters clad in black and yellow in the south stand comprise the "Yellow Wall", the most intimidating force of supporters in the German Bundesliga.  
At the World Cup, tourists across the games in Qatar held up tifos, or large, choreographed visual displays involving flags, cutouts of players, and soccer federation emblems.  
Yes, it's true that Kansas City's Arrowhead Stadium holds the world record for loudest stadium, and that Seattle's Lumen Field was once loud enough to register as a small earthquake.  
"But in soccer, you have supporters singing and chanting, screaming and crying throughout. It doesn't stop, it doesn't quiet down, even when their team is losing," said Grant.  
A World Cup in America 
It will be very hard for American football fans to stay isolated from soccer for very long.  
In 2026, the sport's biggest show will be hosted by the United States in tandem with Canada and Mexico, in cities such as New York, Los Angeles, Dallas, and Atlanta.  
"In 1994, you know, we set the record for the most attended World Cup ever. And that was 1994, when MLS wasn't even a thing and most Americans didn't even know how to play soccer," said Balle.  
The second time around, FIFA can safely bet on having more of the same, especially given that the United States has somewhat closed the gap on the rest of the world in soccer competitions. 
It has surpassed Mexico in recent years to become the prime soccer force in North America, and with a young but talented core of players such as Christian Pulisic and Tyler Adams, a run deep into the knockout stage is not an impossibility.  
"I'm just waiting for tickets to go on sale. That's gonna be probably the biggest sporting moment of my life," said Ruiz.