Spring Break in the Peach State
Biting into a bright colored snack, soft in one's mouth. The fuzz giving a tickle on one's skin. The crunch after biting into a juicy ripe peach.  
The world's best fruit and state.  
Many people use spring break to travel to another state or country but visiting places within Georgia can be just as enjoyable. 
However, the majority of those staying in town are not aware of the hidden gems Georgia has to offer.  
With some insight and information, hopefully this list of unique destinations and activities will help you discover more than your house this spring break.  
#1 Helen, Georgia – https://helenga.org  
Start your adventure on a day trip to Helen, Georgia, a city that is a little over two square miles in size but offers a multitude of activities for individuals to enjoy.  
Helen is the definition of a picturesque landscape.  It's home to ancient forests, beautiful waterfalls and hiking trails, such as the Andrews Cove trail and the Appalachian Trail. 
Feeling ambitious? The towering waterslide and zipline are calling your name.  
Or slow it down and spend a couple of hours drifting down the Chattahoochee River on an innertube with friends.  
Either way, overlooking the foothills of the Blue Ridge mountains at local restaurants is a must. If you have an activity in mind, chances are Helen, Georgia has it.  
The best part – it is only about an hour and a half from the Milton area.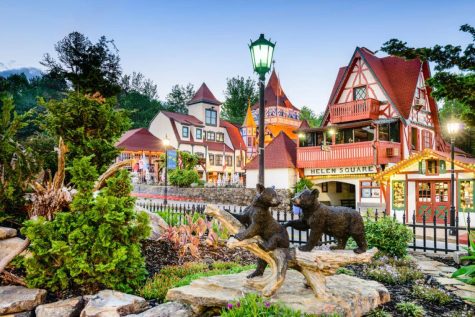 #2 Atlanta Botanical Gardens – https://atlantabg.org
Most people are familiar with the Atlanta Botanical Gardens, particularly during the holiday season. 
But there are so many things to do at this location besides admiring those dreamy Christmas lights. 
If you are looking for a day that simply resembles an oasis, this is your place. Here, plants are cultivated for display, education, research, conservation and enjoyment.  
Each garden is rich in history and has a meaning far beyond its looks.  
According to the Atlanta Botanical Garden website, "The Edible Garden is a feast for the eyes" with its overflowing terrain of fruits and vegetables. 
Inspired by the medieval knot gardens of 17th century France, the Levy Parterre is known as one of the most formal designs on campus.
And with spring just beginning, this garden is currently ablaze with spring bulbs and Korean boxwoods, which can be appreciated from ahigh on the Alston Overlook and the Lanier Terrace Day Hall. 
Additionally, there are many day events offered April 3-9.  
The "Trolls: Save the Humans by Thomas Dambo" is an exhibition featuring six folklore-inspired sculptures made from reused materials created by the artist Thomas Dambo.  
The "Tai Chi – Quarter II" class is an opportunity for people to learn about ancient Chinese exercise form, designed to increase flexibility and balance.  
All visitors, however, must have a pre-purchased ticket specifying a day and time of visit. Tickets can be purchased on their website.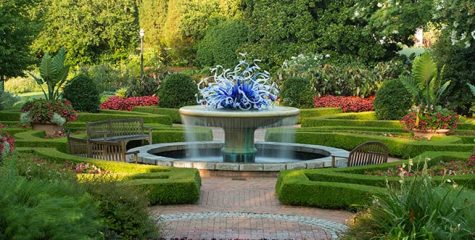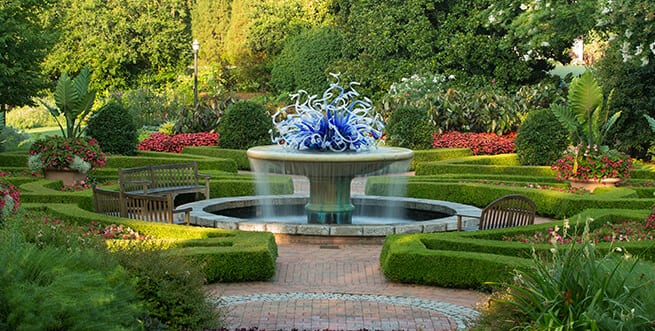 #3 Concerts  
The best night of your life is simply an understatement when it comes to concerts. 
Well… you're in luck because Fulton County's spring break coincides with various concerts being played across Atlanta.  
Indie pop artist JAWNY will make an appearance at The Masquerade Tuesday and OnlyOneOf, a Korean boy band, on Thursday.  
Anirudh, an Indian musical composer, will be at the Gas South Arena on his "Once Upon a Time" Tour on Sunday.  
Find a list of your favorite musicians coming to Georgia here: https://www.songkick.com/metro-areas/4120-us.  
#4 Tallulah Gorge State Park – https://gastateparks.org/TallulahGorge 
Tallulah Gorge State Park contains 2,739 acres of land, a 63-acre lake and a pioneer campground. 
The park offers bike trails, canyon climbs, geocaches, fishing, rock climbing, swimming, whitewater rafting and picnicking facilities. 
There is also a suspension bridge that swings 80 feet above rocky bottoms, offering views of waterfalls and rivers below. Alternatively, one may hike to the bottom of the gorge to observe Bridal Veil Falls. 
For families who enjoy camping, the park has a visitor center and 50 campgrounds to host tents, trailers and RV's.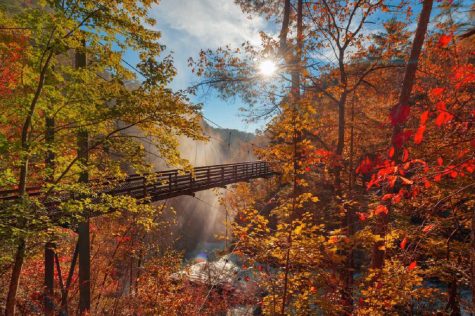 #5- Delta Flight Museum – https://www.deltamuseum.org  
The Delta Flight Museum is located seconds from the roaring hustle and bustle of Hartsfield-Jackson Atlanta International Airport.  
The museum offers a once-in-a-lifetime opportunity to explore the world of aviation through participation in fascinating interactives, exhibits and much more.  
A highlight of the museum is a one-of-a-kind flight simulator giving individuals an idea of what it's like to be a commercial pilot, where you sit in the cockpit and fly a Boeing 737-200 plane. The $425 session includes a 10-minute pre-flight briefing and 45 minutes of simulated flight time. 
Todd Adler, an aviation enthusiast, recently took part in the flight simulator.  
He said it was a fascinating experience that gave him a taste of what it feels like to fly a large commercial jet.  
Adler said that the cockpit is an exact replica of that of a Boeing 737. 
"My experience was as real as flying in a real airplane. It was super cool. I got to fly from John F. Kennedy International Airport to Boston Logan International Airport, which took about 35 minutes," said Adler.  
During your visit, don't forget to stop by the shop to find a collection of specially designed Delta Flight Museum attire.  
#6 Savannah, Georgia – https://visitsavannah.com  
Savannah could be considered a travel "hot spot" as many tourists enjoy the popular activities unique to the area.  
For example, Savannah consists of site-seeing tours, trolley rides through downtown, great shopping at the city market and plenty of great attractions. Being that Savannah is on the Atlantic Ocean, riverboat cruises and dolphin tours are well-liked.  
Deep in history and full of unique architecture, many individuals visit historic churches, museums and old cemeteries. 
Now let's talk about the good stuff: food.  
Southern style cuisine is a fan favorite; however, there are various restaurants that offer a variety of foods. One of these is Alligator Soul, which is known for its fresh ingredients and grass-fed meat.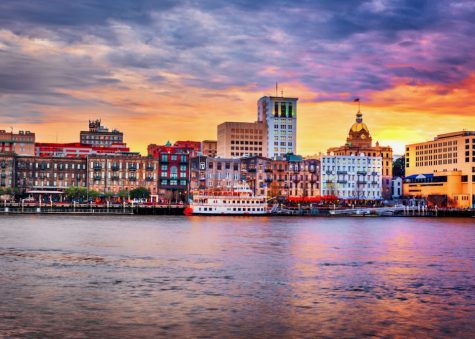 #7 Krog Street Tunnel 
The Krog Street Tunnel is in the eastern portion of Intown Atlanta. While people pass by this trendy and lively tunnel every day, many don't ever think to stop and see what is inside.  
The tunnel is alive with colorful artwork from local artists that inspires, captivates, informs and entertains. Its unique aesthetic and artsy vibe make for an excellent photo backdrop that will make your Instagram pictures stand out from the rest. 
Inside the tunnel you can find information about festival dates, racing locations, live events and local music around the city.  
#8 Stone Mountain- https://stonemountainpark.com  
Stone Mountain is a popular destination. It offers various activities, ranging from golf, rope courses and plenty of walking paths.  
If you are looking for a great workout, take the hike up the mountain. Beyond getting your heart rate up, the prize is an exquisite 360-degree view of the surrounding area. The total hike is 2.2 miles and takes about an hour and fourteen minutes to complete.  
On the top of the mountain, you can stop for a refreshment to "reboot" for your hike down. Still tired? Take the sky lift down the mountain, provided by the park for only $12. 
Stone Mountain is an activity everyone should experience at least once; it is just that cool.  
"I hiked Stone Mountain a couple of years ago and would love to go back. It was such a fun day, which is cool because it is so close to home," said sophomore Julia Mackey.  
#9 Georgia Aquarium – https://www.citypass.com/atlanta/georgia-aquarium 
The Georgia Aquarium is the largest aquarium in the United States and is the only aquarium to house a whale shark. The exhibits offer lots of cool facts and information about the animals.  
The aquarium also gives customers the opportunity to touch and interact with living lemon sharks and miniature stingrays. For a couple extra bucks, the dolphin show is also extremely entertaining and something fun to experience with family and friends.  
Remember that you don't have to go far from home to see more of the world. 
Counselor Fran Meredith is not going anywhere and plans to do "staycation" activities around town.  
"I'm going to try all kinds of restaurants that my daughter and husband will eat at, go to some new coffee houses around Alpharetta, like Warm Waves and get an hour and a half head massage in Johns Creek," she said.  
You don't have to travel out of state to have a spring break worth remembering.