"Wasteland, Baby!:" An Album Review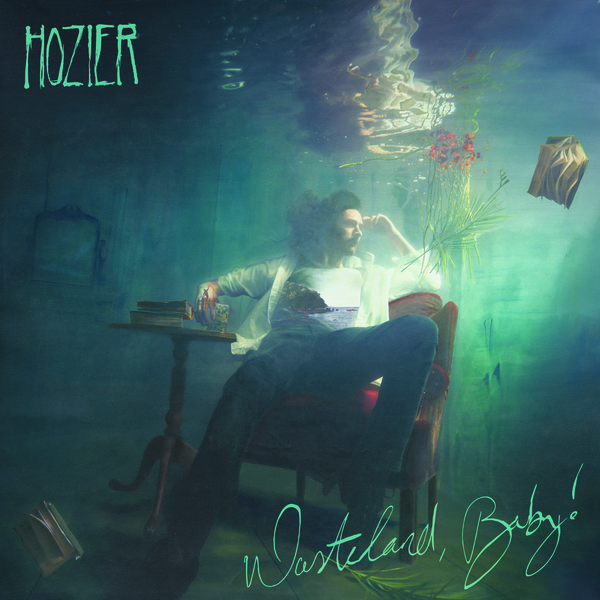 Irish singer-songwriter Andrew Hozier-Byrne, better known as just "Hozier," has finally emerged from his forest with a new album.
And with a name like Wasteland, Baby!, how can it disappoint?
Wasteland, Baby! was released March 1, five years after Hozier's self-titled album released in September 2014.
From beginning to end, Wasteland, Baby! shows Hozier's ability to write songs that each have a unique style but still feel unified by his signature use of allusion and symbolism.
Wasteland, Baby! is an album where the lyrics really shine. Its 14 tracks vary from a bold, determined protest song in "Nina Cried Power" to a folk song in a traditional Irish style in "Shrike" to a love song that almost sounds like it was recorded in a nuclear fallout shelter (but in a good way) in the title track, "Wasteland, Baby!"
Despite the differences in the music style, the lyrics help to unite the different tracks.
"It was very cohesive, but every song stood out on its own," said junior Erika Aaron.
The first song on the tracklist, "Nina Cried Power,"which features blues and gospel singer Mavis Staples, is a strong start to the album, paying tribute to the civil rights movement and protest songs.
Originally released as the title track to Hozier's 2018 EP, "Nina Cried Power" references Nina Simone's 1956 song "Sinnerman" and influential soul musicians like Billie Holiday and James Brown.
Sophomore Emily Arieh said "Nina Cried Power" was one of her favorite songs on the album.
"Even though it was released a while ago, Nina Cried Power is still so moving," said Arieh.
Following "Nina Cried Power" is another song that pays direct tribute to musical movements that have been closely tied with civil rights. "Almost (Sweet Music)," which was released as a single in January with Wasteland, Baby!'s announcement, is written almost entirely in references to jazz standards.
By leading with two tracks that not only celebrate famous songs and artists that have influenced his style, but put musicians of color and activists at the forefront of that celebration, Hozier reminds us how to use inspiration in a way that is appreciative, not appropriative. Many artists talk about their influences in interviews or on social media, but seeing that in the actual body of work is rare, and stands out since several artists have also been accused of appropriation recently.
Wasteland, Baby! touches on several heavy subjects, from the civil rights activism of "Nina Cried Power" to the United States' current immigration situation, referenced in "Be."
"I thought [the album] was going to be really sad and depressing," said junior Jovanikha Oreus. However, when she listened to it she thought many of the songs had a happy sound.
Although many of Wasteland, Baby!'s themes are heavier ones, Hozier approaches them with an air of hope.
While the verses of "Be" use allusions to the Bible and current events to evoke a desolate future, the chorus turns that around by asking the narrator's lover to "be good to me" and bring a feeling of hope and freedom in a difficult world.
"I liked the lyrics of ["Be"]," said Aaron. "I remember listening to it and thinking it would be something I would listen to when I want to feel more like myself."
The theme of destruction is present until the end of the album; it's prominent in the lyrics of two of the last songs on the tracklist: "Would That I" and "Wasteland, Baby!"
But again, both these songs use that fire and destruction as opportunities to find hope and love.
"Would That I" subverts the traditional depiction of fire as a threat, comparing a new relationship to a flame that brings light and warmth rather than pain.
Similarly, "Wasteland, Baby!" approaches the apocalypse as a place to find love and a new beginning.
Oreus said "Wasteland, Baby!" was her favorite song on the album.
"That is one of the most beautiful songs I've ever heard," said Oreus.
Ultimately, it's the throughline of using traditional symbols — mythical and biblical figures, nature, fire — in subversive ways that makes Wasteland, Baby! such a memorable album.
The use of allusions and very poetic lyrics is a staple of Hozier's songwriting, and while Wasteland, Baby! has a lot of differences from his first album, those elements do lend a sense of unity between the two albums even spanning different genres and topics.
"I like the differences between this and his last album," said Arieh. "It seems like it's modernizing while also keeping a woodsy vibe."
Leave a Comment
About the Contributor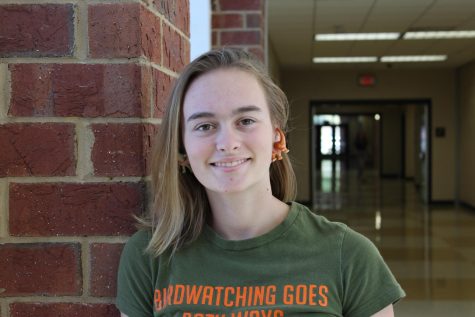 Libby Jones, Managing Editor




Libby Jones is a senior and a third-year reporter. She is one of the managing editors at The Bear Witness. She loves writing, art, and all...