"Horrific History": Insight into The History Behind Horror Films
Like most 16-year-old girls, I love a good chick-flick rom-com with a cheesy ending. However, if I have time to sit and watch a movie in October, my first choice will always be a horror film.
There is just something so exhilarating about eating popcorn, clenching your friend's arm and trying not to scream as you are scared out of your mind.
The experience of watching a horror movie is just as interesting as the genre's history itself.
The first horror film, "Le Manoir Du Diable," or The Haunted Castle, dates back to 1896. The film's director, Georges Melies, is considered to be the first horror film writer.
Monsters became an iconic staple in horror films when Universal Studios' Classic Monsters series debut with the likes of "Frankenstein", "Dracula" and "The Mummy" in the early to mid 1900's.
This period is called the "Golden Age of Horror", because so many traditional horror stories were produced during this time. These flicks still serve as templates for today's modified versions seen on screen.
Just take a look at our modern-day tv shows. "The Vampire Diaries", "Teen Wolf", "The Walking Dead", "American Horror Story" are based around the likes of vampires, werewolves, ghosts, zombies, witches and more.
Horror literary authors have seen interest peak in their work after having them adapted to screen.   
Author Stephen King's fame skyrocketed within the general population after his book "Carrie" became a successful film in 1976.  Other King's books that soon became films or tv shows were "The Shining", "Children of the Corn" and "It".
In the 1970's and 80's, the horror film industry verge into the topic of mass murdering. Most of these films would follow an antagonist who would hunt down a group of young people and kill them all in creative ways.
"The Texas Chainsaw Massacre", "Halloween", "Friday the 13th" and "Nightmare on Elm Street" are all examples of these films.
The cost of producing a genre movie has increased over the years for major film studios.  However, the horror industry has managed to actually decrease the cost of production somehow.
This allows for a bigger box office total since the movies are still very successful, but cost so much less to produce
A famous example was "The Blair Witch Project", which was produced with only $60,000, but ended up pocketing a $248 million worldwide box office total for its film studio, Lionsgate.
A more recent example has been the "The Purge" franchise, produced by Blumhouse Productions and distributed by Universal Studios.
The franchise is about a society that tries to lower the crime rate by legalizing all crime on one night each year. The night is filled with violence as the community attempts to settle their debts that have built up throughout the year.
To date, the four picture franchise has made $447 million at the worldwide box office against a combined budget of $35 million.
Speaking of "The Purge", I believe that movies like it are scarier than movies that feature things like supernatural characters, as "The Purge" could potentially happen in real life. This, in the process, makes them even more enjoyable to watch.
There's really only one horror sub-genre that really creeps me out to the point where I don't enjoy watching them. Those are paranormal movies, like "Annabelle", a film about a doll that ends up getting cursed and turns into a demon.
Some people, however, like that creepy type of horror.
"I like horror movies with paranormal stuff because that's what scares me the most. The ones with just like blood and stuff aren't scary enough to me," said sophomore Shelby Harbor.
In recent years, the film industry has been able to make special effects even more realistic than usual, thanks to the advancement of technology. Special effects are crucial elements within the horror film industry, as the more real something seems, the scarier it looks.
2018 alone has seen the likes of  "A Quiet Place", "The Nun" and the sequel-reboot of "Halloween" do extremely well at the box office due to a variety of things, which includes special effects.  
Not everyone, however, has contributed to that box office.
"I genuinely don't understand why anyone would want to watch a horror movie. I'm 16 and I still get nightmares!" said junior Alayna Stanley.
After watching the first five minutes of "Slender Man", senior Anna Kulaga could not bare to watch the rest of the film.
"I went to go see "Slender Man" with my friends but it was so scary we left after like five minutes," said Kulaga.
Although horror is not for everyone, some people enjoy scary movies because they subconsciously identify with characters in the movies and find out more about themselves while watching.
When a character is in a dangerous situation, the viewers can imagine themselves in that situation and see how they would react. This gives the audience a more personal attachment to the movie.
In the end, horror films wouldn't be what they are today without their history. Without their history, we would only be able to get thrilled by riding roller coasters.
We would also not be able to envision ourselves in scenarios that involve running away from zombies or hiding from a vampire.
We all live for that rush of adrenaline, excitement and fear that comes from watching a horror film.
About the Contributor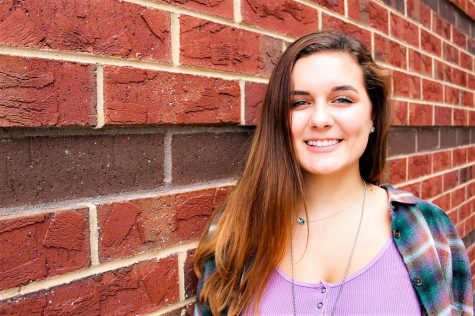 Sarah Hudson, Reporter
Hudson is a junior and a first-year reporter. She loves anything that's creative and has a passion for traveling.