"The Thrill of It All": An Album Review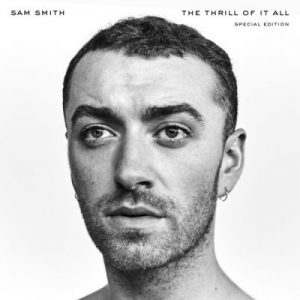 Hang on for a minute...we're trying to find some more stories you might like.
With a best selling album, four Grammys and an Academy Award by the ripe old age of 25, English musician Sam Smith seems to have quite the knack for translating heartache into a Top 40 hit.
His freshman album, "In the Lonely Hour", was released in 2014 following his debut with the electropop song "Latch," by the band Disclosure.
Now, three years later, Smith is back with his long-awaited sophomore album: "The Thrill of It All".
The album features tracks such as the emotional lead single, "Too Good at Goodbyes."
"'Too Good at Goodbyes" made me feel like I've been through a lot of breakups and relationships, even though I'm 15 and have never had a boyfriend," said sophomore Audrey Duke, a fan of Smith's music.
Smith also released three other singles prior to the album's release: entitled "One Last Song," "Pray" and "Burning."
While each of the singles most certainly has the potential to add to Smith's already impressive collection of accolades, the true depths of the record are revealed in its six additional tracks.
The songs evoke feelings of heartbreak and lost love, exploring deeper themes than in previous works. Smith's music is a vessel of raw emotion, utilizing references to religion and carefully juxtaposing a cheery tune to darker, grittier lyrics.
The sound of the album varies from song to song while still keeping in tune with Smith's signature lovelorn, hopelessly romantic Amy Winehouse-esque pop-ballad style that launched his first album to mainstream success.
Although the sound of some songs are reminiscent of "In the Lonely Hour" and can be repetitive at times, there are several that stand out as distinctly different.
For example, the presence of up-and-coming singer Yebba on the dramatic, sweeping "No Peace" adds unseen dimension to Smith's otherwise solo tracklist, and the light, ethereal "Say It First" takes an innocently sweet approach to the hefty topic of who will take the "I love you" plunge first.
However, the real standout of the album lies in the track "HIM," in which Smith boldly proclaims his identity as a gay man.
"I think it's always good to have good representation from a famous person who's gay," said sophomore Jacob Kim, who serves as secretary of the school's Gay-Straight Alliance (GSA).
The song deals with his own struggle to have his identity accepted in a culture that is not always welcoming, especially with the media attention he receives as a celebrity.
"It's important to see a strong, respectable person in the media who's gay," said sophomore and GSA member Camille Lamkin.
In the song, Smith makes his most noticeable departure from "In the Lonely Hour", where he specifically avoided acknowledging his identity. He did this by using gender-neutral pronouns that were few and far between.
In comparison to his first album,"The Thrill of It All" sees Smith's evolution, as both an artist and an ordinary person who has loved, lost and learned to move on.
Having already established a steady fan base of listeners, he doesn't take any of the same creative precautions as he did on his first album, and unapologetically sings of the experiences that shaped him.
Despite the similarities in sound to "In the Lonely Hour", "The Thrill of It All" includes some of Smith's best work to date. It includes songs that can be enjoyed regardless of time or place, whether it's in the car with friends or over a pint of ice cream and a box of tissues.

About the Writer
Cherise Kim, Editor-in-Chief
Kim is a junior, and a third-year reporter. She is excited to be serving as the Editor-in-Chief, and is ready for another great year on The Bear Witness!...