Ambuja Sharma: "President of Cambridge"
For many, the high school experience encompasses activities such as late night studying for rigorous courses, attending Friday night football games and carpooling with friends. 
For senior Ambuja Sharma, her experience was defined by keeping up with numerous commitments and leadership positions. Around Cambridge, she is often referred to as "president of Cambridge" or even, "president of everything."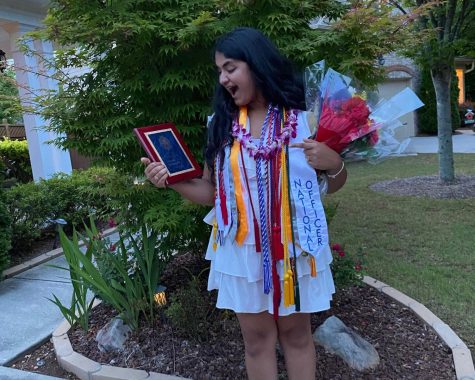 Sharma keeps herself busy by participating in debate, acting as president of student council, cohosting a podcast with one of her best friends and serving as Skills USA's national president.  
However, her priority is Skills USA. As national president of the nearly 400,000-member organization, she films social media content, writes speeches, learns curriculum and attends conferences. 
She estimated that extracurricular activities consume 20-30 hours per week. She dropped some commitments along the way, such as mock trial at the beginning of her junior year. 
Her advice to incoming freshman: "Get involved with everything possible so you can find what you actually like and then drop everything else later," she said. 
Sharma said to go to at least one club meeting to gauge your interest because you have three more years of high school to focus on what you want to do. 
She doesn't regret anything she has done while at Cambridge, even if it wasn't the greatest for her at that moment. 
"Beyond even just loving Cambridge, I love the students here. I do what I do because I think the faculty here is awesome and whatever I can do to support them, I'll do," Sharma said. 
One way she showed this was by renovating the faculty break room for her Girl Scouts gold award between November 2021 and February 2022. She painted the room and put new furniture in for the staff to enjoy. 
"She arranged it so it's much more welcoming," said English teacher and student council advisor Christina Sheara.  
Even though Sheara has worked with Sharma only this school year, she said she is amazed by Sharma's leadership. She particularly admires how Sharma can focus on her duties as student council president while often traveling out of state as Skills USA's national president.   
"With the level of maturity that she possesses and just her general abilities, she'll do whatever she wants. I told her, I was like, 'Don't delete me from your contacts, 'cause I want to find out how you're doing'," Sheara said. 
Sheara said Sharma will be missed as she goes off to college this fall. 
 "She's just a great person to know, whether you're a stranger or such a good friend to her, she's always there for you and she's [going to] make a huge impact on the world, no matter what she does," said senior Anvitha Suram. She has known Sharma since they were fourth graders serving in the same Girl Scouts troop. 
Suram said Sharma is especially talented at public speaking and connecting to people. 
She remained by Sharma's side as a friend while Sharma ran for chapter office, state office and national office for Skills USA.  
Senior Andrew Lehman has known Sharma since fifth grade. He said Sharma helped him with his college essays and was inspired by her hard work.  
 "She'll be dying with stuff to do," he said. "But if you ask her to do something, she'll still drop everything." He said Sharma is "the heart of our class." 
Despite Sharma's distinctive résumé, she was initially deferred and then rejected from her dream school, Georgetown University. 
"I was okay when I got rejected from Georgetown just because I had 'Ivy Day' still coming up," she said. 
She applied to five Ivy League schools but was rejected by all of them.
"At that moment, I was like, 'I don't even know why I've done what I did'," Sharma said. 
She also said the college decisions process is "brutal." 
"It's really hard to not get caught up on how the decision reflects your own self-worth," she said. 
Sharma has now committed to George Washington University, receiving the presidential scholarship. She will double major in international affairs and economics and minor in Arabic. 
"I hope that I've given [Cambridge] as much as possible," said Sharma. "I love the school; I love the people here and I couldn't be more happy to have spent four years here."