Recording From Their Trunk, Two Juniors Take the Wheel of Culture Podcast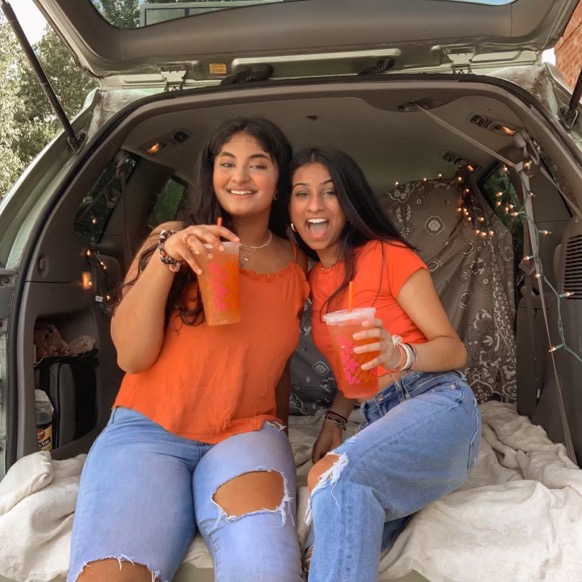 Every Friday, juniors Anvitha Suram and Ambuja Sharma press record on a laptop. They're sitting in a silvery-green Toyota Sierra minivan's trunk, beginning a new episode of their lifestyle and culture-focused podcast, Slam Trunk.  
The trunk is decked out with Christmas lights and a tapestry resembling a bandana. The girls sit on a blanket as they sip Dunkin' coffee and talk about things like their weird dreams (episode 15), colorism in India (episode 5), self–love and self–hate (episodes 10 and 28).  
Nearly every episode of Slam Trunk, which Sharma and Suram started in July 2020, is recorded in the trunk of Sharma's car. The juniors started the podcast after a month of consideration.  
They had been guests on their friends' (who also go to Cambridge) podcast in March and loved it. They said they had been contemplating beginning a podcast of their own at the time, but it had to be put on the backburner because they were swamped with schoolwork. 
Sharma said she has gotten good at juggling schoolwork, extracurriculars and Slam Trunk. 
"Oftentimes, I use my lunch and free periods to do work, edit, or upload," she said. 
Slam Trunk now has 31 (audio-only) episodes available on podcast-streaming platforms. As of Dec. 31, the episodes have accumulated over 11,000 listens, coming from mainly Georgia and California, but also India, Canada and the U.K. 
"We uploaded our first episode July 20, and here we are six months later," said Sharma. 
She and her co-host wanted to do something creative and different for their podcast, thus the idea of recording in a trunk. 
"I'm sure if I look at my Google history from July, [it'd be] 'podcast ideas,' 'where to film a podcast,'" Sharma said. 
For the podcast's debut, they picked a semi-controversial topic, so that added anxiety on top of the fact it was their first episode. Its title is, "Episode 1: Manifesting 101 – does it really work?!?" Manifestation is a spiritual practice. 
"It's honestly daunting trying to do something and thinking about how people are going to react," said Suram. 
Speaking of being nervous and the fear of failure, one episode is called "Episode 6: I'm scared." It is Sharma's favorite episode, mainly because it signified "a shift" in the podcast. She said she showed emotions online she barely ever shares with her friends. 
"I think [it was] the first time I was super vulnerable on the podcast," Sharma said. 
Talking to an audience comes easily to the girls, though.  
"Both of us do public speaking, so talking, we're pretty good at it," said Suram. "We're also best friends," she said, which means conversing with one another comes even more naturally. 
Sharma's and Suram's friend Liora Yehuday is an avid listener of Slam Trunk. She also came up with the podcast's name after being asked for ideas by the girls. 
"I was kind of stumped at first, so I literally looked up 'words that rhyme with car parts,'" Yehuday said. "I saw 'trunk' and I immediately thought 'slam trunk' like 'slam dunk.'" 
Sharma and Suram loved the name, and a logo idea came easily with it. 
"We were like, 'let's do a hoop and a car going through it,'" said Suram, who does a lot of the graphic design work, while Sharma works more on the technical side of things. 
Suram designs the infographics posted to social media and the title images that correlate to each episode. 
Sharma says she uploads the podcast to a distributor (which then sends it to platforms such as Spotify and Apple Podcasts), checks on monetization and contacts potential sponsors. 
Yehuday highlighted how convenient it is to listen to a podcast. 
"I've listened to almost all (of the episodes), whether I'm in the shower or just driving around, running errands," she said. 
Yehuday said she loves how Sharma and Suram take Slam Trunk seriously but also have fun with it. She is proud of them, specifically for how "organized and consistent" they are. 
Sharma and Suram upload three different things, each once a week. 
On Wednesdays, infographics are posted to the podcast's Instagram, @slamtrunkpod. Fridays, they upload audio-only episodes to podcast streaming services. Lastly, Saturday is their IGTV video series day, where they post lifestyle content to Instagram's YouTube-like feature. 
"We both really love the podcast," Suram said. "Even though sometimes it's a lot of effort, it's really our passion."