Twin Turbo: The Next Generation of Drag-Racing
What can you do in eight seconds?
Send a text? Eat a cookie?
How about traveling a quarter of a mile?
Senior brothers Chris and Zach Giannini are working towards building one of the cheapest eight second drag cars ever.
"We grew up watching Formula One and at some point were just kind of like, 'Hey, I want to do that,'" said Zach.
They got their start in the Cambridge engineering program, working on the school electric vehicle for racing competitions.
Once they got their licenses, they began working on their own cars – a pickup truck for Chris and a small Nissan for Zach – and working in an auto body shop.
Then they decided they wanted to take their mechanic work to the next level.
"We decided we wanted to get into the fastest possible motorsport without absolutely destroying our wallets," said Chris, "And we landed on drag racing."
Undertaking this challenge has had the two brothers scouring junkyards, bending and cutting metal to make their own parts and traveling all across the state in pursuit of cheap ways to improve their speed, all with the goal of building an under $15,000 car to compete against cars that are usually a minimum of $55,000.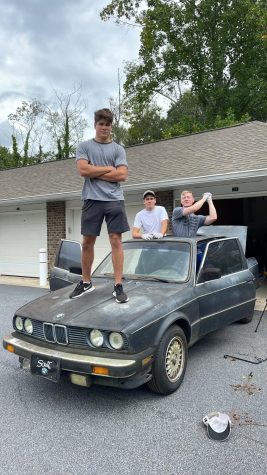 "It's an absolute mutt of a car," said the senior Kyle Vipperman, the Gianninis' friend and fellow engineer, "But the fact that they're going to be so fast at such a low cost is pretty much unheard of."
But before they could hit any tracks, the first stop on the Giannini racing circuit was to find a way to spend their time on the car while still effectively managing their senior year.
To do so, the twins looked to the Directive Study program, which allowed them to replace a class period each day with a certain number of passion project hours per week.
They started out with a body of a 1986 BMW 325E, which they passionately refer to as the "E-Dirty".
After entirely gutting the car to the point where it was just a shell, they had to meet safety standards.
"We had to rework the wiring, install a roll cage, remove rust from the engine bay," said Chris, "It was a crazy amount of work."
This was where they hit their first speed bump.
"When we started trying to weld in metal over the rusted areas, we didn't realize there was some leftover insulation in the engine bay," said Chris. "It caught fire, and when we grabbed our fire extinguisher it wasn't working."
Without an extinguisher, the twins ran back and forth between a hose over 100 feet away, filling up cups that had been sitting in the shop, as well as pouring dish soap they had been using to clean parts over the fire.
"It was definitely a huge lesson in fire safety," said Zach, "And I'll probably be checking the extinguisher before I weld next time."
With the fire tamed, the boys set their sights on the remaining safety standards.
The first order of business was to install a roll cage.
"The cage was brutal, we had to weld all this metal together and then figure out a way to drop the body and attach it without damaging the work we had already done," said Zach.
After finishing the installation, they moved on to the engine.
"We had to strip the rebuild with a new engine and transmission and entire driveline." said Chris, "It took a ton of time but it's the only way we'll be raceworthy."
Having sold the original engine and put together the new one, the boys have now started working on making the car driveable.
"It's safe, now it has to be comfortable and fast," said Zach. "So we still have a lot of improvements to make."
The Gianninis are on track to make their track debut this summer.