Humans of Cambridge: Coach David Akin
While everybody around him jumped for joy, high-fiving and screaming and hugging and knocking over chairs, boys' varsity basketball coach David Akin stayed put in the corner, hands clasped and head bowed, thanking the Lord. 
And he was trying not to let anybody see him cry, for appearances' sake, not that anybody in the tiny, dimly lit classroom that smelled equally of sweat and success really cared.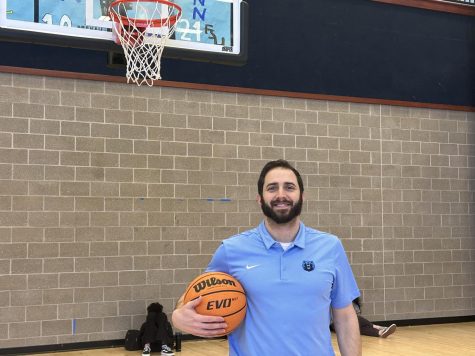 The team had just improbably downed Centennial, a team which had beat them by 28 and 21 points in two meetings in the regular season, on senior guard Will Taylor's game-winning layup with six seconds remaining. 
And they had just improbably clinched a spot in the state playoffs, for what junior guard Connor Scott said was "the best damn Valentine's Day gift I could have asked for." 
Akin would agree. He said it was certainly the biggest win in his coaching career, especially given the struggles the team faced to get that win.  
Mired in a four-game region losing streak to end the season, Cambridge dropped from the region's second seed to its sixth seed, which pitted them against Centennial in the first round of the region tournament. 
"Basketball's funny like that. We're the only sport that has a region tournament. You win one game in that, you make the playoffs," said Akin. "We don't look at wins and losses, we just look to improve because you only have to be at your best for one game." 
With that philosophy in mind, Akin decided to throw caution to the wind and essentially overhaul the team. 
He dropped the team's usual 2-3 zone defense and utilized a 1-3-1 formation instead, designed to shut down the wings and limit Centennial's three-point shooting prowess.  
And to combat some of the Knights' lengthier players, usual starting point guard Brody Barash was dropped to the bench so the Bears could roll out a lineup of five taller players: Taylor, Scott, forward Owen Edwards, and centers Mason Lawrence and Nate Isler.  
It worked.  
"Everybody in our region plays the same style of basketball, except us. The ability of our players to adapt to new roles and systems gives us a leg up," said Akin.  
"We wanted to come out with something they couldn't prepare for, and we did." 
The Valentine's Day victory wasn't just special for him because of its improbability, however.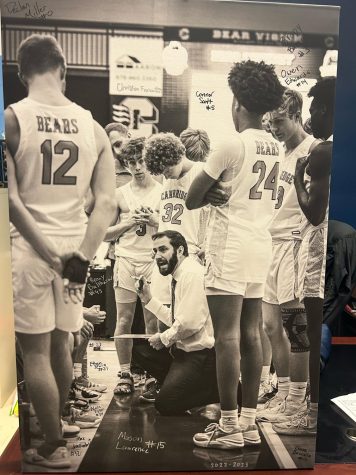 His father died on Valentine's Day, of esophageal cancer, in 1990. Akin was just nine years old. The only memories he really has of his father, he said, are of those in him in the hospital bed, sick. 
The void he left behind, said Akin, was filled by other father figures, including his uncle and his own high school basketball coach.  
"He was the best coach I ever had because he saw us as humans, not just athletes. He thought of the team as a family, his players like his own sons. He made sure we were doing well in school, that our families were doing well," he said.  
That familial element was passed down to Akin, and its mark is all over the basketball program.  
The players all watch film together, eat together before games, and pray together in the locker room. And the T-shirts they wear during pregame warmups all say "FAMILY" on the front. 
"Our chemistry and trust in each other drive us. We talk a lot about what my vision for the team is, but it takes a group of strong, composed young men to go out there on Tuesday and Friday nights and execute it," Akin said. 
The Centennial result, according to Lawrence, would not have been possible without Akin's trust.  
"Our playoff run was born from his confidence in us. He really believed we could learn a whole new defense in two days. He knew before he even drew it up that we were capable of it, otherwise he wouldn't have drawn it up," Lawrence said. 
Barash said that knowing Akin's plan for the team made it easier to accept his limited role in the region tournament.  
"I had no problem with it at all. He was putting the team first, and he told me that it was what he thought was gonna help us win, and I accepted that I would have to sacrifice some time to other guys. And when I did that, he said that it cemented my role as a leader," Barash said.  
And Barash was on the court at the end of the 41-30 win over Chattahoochee, two days after Centennial, that sweetened the pot by guaranteeing Cambridge a home playoff game, throwing acrobatic alley-oops to Lawrence that sent the Bears contingent into hysterics. 
In the ensuing court storm after the final buzzer, Barash was the first player Akin ran to hug and congratulate.  
The family stays together off the court, too.  
"One time I was stuck at the airport after a flight, and I was going to miss a tournament game that was scheduled that day. So, Coach Akin drove two hours and picked me up himself. I think I played, like, two minutes in that game, but the fact that he wanted me there that badly shows you the type of man he is," said senior Benny Balthasar. 
And at the season's conclusion, the team gathered to perform community service in neighborhoods around town, such as cleaning up trash and mulching lawns.  
"One old woman whose husband had passed that we did some yard work for came out and told us that we had no idea just how valuable our work was to her. To know that we can bring even the slightest bit of happiness to people with what we do, on and off the court, motivates us to keep going," Akin said.  
Other important elements that community service and practicing together every day instills in the team are discipline and commitment. 
Akin said that these skills are important to teach to young men so that they can become the husbands, fathers and community leaders that they need to become. 
"He's demanding of us, but it's because he loves us and wants what's best for us. And we won't ever let him down," said senior Nate Isler.  
Akin has also learned plenty from the many players he has coached.  
While an assistant coach at Milton, following an upset loss in the playoffs, a player named Dai-Jon Parker sat in the locker room, inconsolable, while the rest of the team was packing up. Akin and the head coach at the time had just given a postgame talk blaming themselves for the loss and for not preparing the players. 
Akin said Parker then stood up and addressed them both by saying, "No, coaches, I'm sorry, but I can't let you blame yourselves. You prepared us as well as you could. We just didn't play like you wanted us to." 
Akin said the experience taught him a lot about accountability.  
"It was hard hearing our team captain say that. But it taught me that you can never assume you're ready for anything. You can never settle for being good enough, because then you can't be great," he said. 
Cambridge Assistant Coach Carson Hollingsworth, who took on a larger role after coach John Lash's move to Roswell High School, said the lessons Akin teaches the team impact him as well.  
"He's preparing me to take over this team from him one day. He thinks he's already taught me everything he knows, but I learn something new from him every day," said Hollingsworth.  
Akin said he was grateful Hollingsworth stepped up when the basketball program was shorthanded. 
"His commitment to this program really is incredible. From being here at six in the morning to coach the JV team to taking care of the laundry, he'll do anything I need him to do," Akin said.  
His gratitude for his wife Sarah Akin, an algebra teacher at Cambridge, exceeds everything else, though. 
"It's just a lot of late nights that she has to deal with, a lot of times when I'm not around for her. But she has never ever wavered in her support for me. I couldn't do anything without her," he said. 
Speaking at a banquet to end the season after their first-round defeat to Tri-Cities, an emotional Akin promised his players that the journey from here would only be more difficult.  
"Nobody's going to forget what we did this season. Next year everybody is gonna look at us as the real deal," said Akin. "But I promise you, all they can give us is all we want. And I see it in all your faces-your hunger, your drive-you guys are gonna rise to the occasion." 
And, he added, it will be an honor to be by their side when they do.