Expert Zach Pascuzzi's March Madness Predictions
363 colleges and universities fielded an NCAA men's Division I basketball program in the 2022-2023 season.  
But the greatest tournament in American sports is an honor known only to 64.  
With underdogs and Cinderella stories coming out of nowhere, nail-biting finishes and epic plays, nothing quite matches the Madness.  
It is an impossible exercise to predict it; yet tens of millions of Americans, most of whom are far from college basketball experts, compete in bracket challenges every year hoping to overcome the most astronomical of odds.  
One in 9.2 quintillion are the odds of filling out a perfect bracket if you simply flipped a coin to determine the outcome of all 63 games, according to NPR. Of course, not every game is equally likely to be won by both teams (only one 16 seed, for example, has ever defeated a one-seed in the 83-year history of the tournament). The true odds are much better (and still very bad). 
Never tell me the odds. I'm Han Solo. I'm doing it anyway.  
Without further ado, here are the predictions for all four regions, for the Final Four, and for the team that will be cutting down the nets in Houston on April 3.  
South Region 
Predicted Winners: The Brandon Miller controversy isn't going away anytime soon, but neither will the Alabama Crimson Tide in this tournament after receiving an extremely favorable draw. This team sustained just two losses in SEC play and beat Houston on the Cougars' home court. Besides Arizona, which boasts a quick and stingy offense but a leaky defense, is their only real opposition. Other high seeds include a young Baylor, who is extremely poor defensively, and Virginia, which benefitted from a weak ACC and can't make free throws. Alabama is efficient, has a deep bench, and would be the least surprising team in the bracket to make the Final Four. No excuses. 
Upset Pick I Like: No. 13 Furman over No. 4 Virginia 
Furman hasn't made this tournament since 1980, but they don't turn it over much and take good shots, which should limit a solid Virginia defense's impact on this game. This feels like the next Cinderella story in the making, a classic March Madness upset pick. Tony Bennett's Cavaliers did win the entire thing in 2019, but in the other two of their last three appearances, they were bounced from the first round by a double-digit seed.  
Upset Pick to Avoid: No. 12 Charleston over No. 5 San Diego State 
The Cougars shoot a lot of threes but don't make an above-average amount of them, meaning the Aztecs' defense, which loves to make the game as slow, ugly and low-scoring as possible, will be bothersome. We know about the Mountain West's struggles when it comes to March Madness, but this upset pick feels like a trap. It's true that Charleston won 31 games, but few of those were really impressive and most of them were close. Look for the Cougars' dream season to end here. 
Team to Watch: No. 6 Creighton 
The Big East preseason No. 1 started the season poorly, but then recovered to finish strong and earn itself a decent position here. They were the best defensive team in their conference, they have five players averaging 12 points, and they still have the shooters to stretch any defense. They have a nice matchup with bubble team NC State first, and if they draw Baylor in the second round, a Sweet 16 run or beyond is a real possibility.  
Midwest Region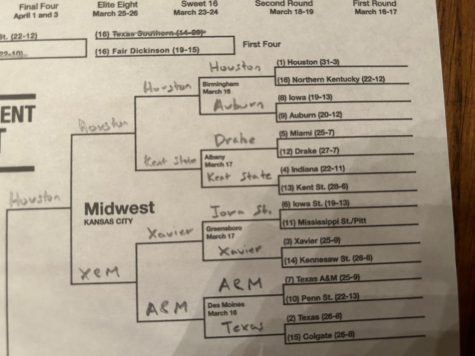 Predicted Winners: AP poll darlings, the Houston Cougars' only concern should be playing in a conference ranked ninth in the country. But the pure talents of potential All-American Marcus Sasser and potential lottery pick Jarace Walker, plus mastermind head coach Kelvin Sampson, makes this team a championship threat regardless. Their region is very winnable, with Texas and Xavier the only real big threats. Marcus Carr is a brilliant shooter, but the Longhorns struggle away from home and NIT champions Xavier will miss the presence of big man Zach Freemantle. With plenty of other high seeds on upset alert-Indiana and Miami in particular-a Houston run feels inevitable. 
Upset Picks I Like: Nos. 12 and 13 Drake and Kent State over Nos. 5 and 4 Miami and Indiana, respectively 
Missouri Valley conference champions Drake, led by a lethal Tucker DeVries, can upset anybody in the country. The Bulldogs have won 16 of 18, hit 40% from beyond the arc, and are great at forcing turnovers. Kent State has won 10 of 11 and lost to powerhouses Gonzaga and Houston by just a combined 12 points. And they have a guard named Sincere Carry, which is awesome. Miami struggles with interior defending and will be deeply hurt by Norchad Omier's absence, and Indiana enter this tournament with inconsistent form haunting them, plus a lack of any real depth beyond their two big names in Trayce Jackson-Davis and Jalen Hood-Schifino.  
Upset Pick to Avoid: No. 11 Pittsburgh over No. 6 Iowa State 
As always, Iowa State remains the streakiest team in the entire bracket. They started off with wins over Baylor, Kansas, Texas, and K-State, and then endured a 5-10 stretch that dropped them from Big 12 title consideration. But they are top-10 in adjusted defensive efficiency, remain sharp from three, and will have enough to outlast the Panthers, who struggled to put away a mid-table SEC team in Mississippi State and, like just about every ACC team this season, is under heavy scrutiny.  
Team to Watch: No. 7 Texas A&M 
An Elite Eight run is not out of the picture for the Aggies, but neither is a first-round elimination at the hands of Penn State. The Aggies are great at the charity stripe and love pounding the ball inside, but that's largely because they lack any dependable three-point shooters. A loss to the Nittany Lions, which had the worst defense in the Big Ten, seems impossible, but you always get some of that in March Madness, and my fear is that A&M could lose in a shootout. But they had an impeccable run in the SEC, sweeping Missouri and Auburn and beating Alabama and Tennessee, so… 
East Region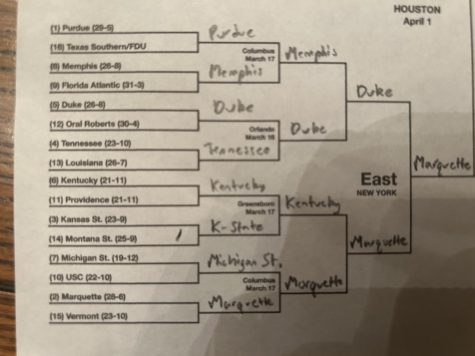 Predicted Winners: It is no longer a question of if Purdue will be upset, but when. One thing I'm sure of is that they won't be around by the Elite Eight, and so Zach Edey's size will not be of concern to the Marquette Golden Eagles. Shaka Smart should be the recipient of every coach of the year award ever for leading the Big East's preseason No. 9 to the conference title. With plenty of big wins, an elite offense and a turnover forcing machine for a defense, Marquette has no vulnerabilities stemming from its play. The interior defense is suspect, but that's largely because of their small size and should be easily offset. They won't play Purdue, and they match up well with Keyontae Johnson and Kansas State, which turns the ball over way too much to be taken seriously. Tennessee's offense has been stumbling since point guard Zakai Ziegler's injury, which means that somehow, the Duke Blue Devils might be Marquette's biggest threat.  
Upset Pick I Like: No. 8 Memphis over No. 1 Purdue 
Memphis and coach Penny Hardaway should handle FAU in the first round, and this team is heating up at exactly the right time. They beat Houston in the AAC tournament championship, Kendric Davis and DeAndre Williams have the best chemistry between teammates in the nation, and they average a whopping 73 possessions per game. Purdue's backcourt has never been able to keep up with Edey's production, and the Boilermakers peaked three months ago. They were .500 in their last eight games entering conference tournament play, and the turnovers and shooting struggles from three are concerning. 
Upset Pick to Avoid: No. 12 Oral Roberts over No. 5 Duke 
Oral Roberts had a Cinderella run before, but this time around, they've unfortunately been drawn against the one 5 seed that's too good for them: Duke. Max Abmas is a program legend for what he helped the Golden Eagles do in 2021, but when teams corral him, Oral Roberts has no other dependable source of production. They've won 18 games in a row and were undefeated in the Summit League, but the Blue Devils are an entirely different beast with Jeremy Roach, Derek Lively II and Kyle Filipowski on the court together.  
Team to Watch: No. 6 Kentucky 
Duke could be talked about here as well, but John Calipari's Wildcats are also in a groove entering this tournament, having gone 11-5 in their last 16 games. They were second in the SEC in offensive efficiency, reigning Wooden Award winner Oscar Tshiebwe is in tremendous form, and their collective health is better entering the tournament. A potential matchup against turnover-prone Kansas State is great for those who dream of a Sweet 16 run. 
West Region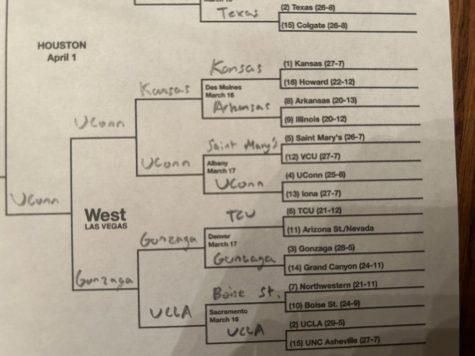 Predicted Winners: The analytics, which I admittedly trust more than I should, have a favorite team this year, and it's the UConn Huskies. They are top 15 in offensive and defensive efficiency, first in the nation in offensive rebounding and have two players shooting over 38% from three. Matching the run of the 2011 title team is very possible, with a banged up UCLA and an imbalanced Gonzaga teams they might play in the Elite Eight. Those teams, which run through Jaime Jaquez Jr. and Drew Timme, respectively, are powerful but not invincible offenses. That leaves defending champions Kansas as the biggest threat in the region, but repeating as champion is a hard feat to do when everyone is prepared for you. 
Upset Pick I Like: No. 11 Arizona State over No. 6 TCU 
The Sun Devils impressed me in the First Four with their beatdown of Nevada, and TCU star Mike Miles Jr. is still a shell of himself after returning from injury. Add that to the fact that the Horned Frogs are horrendous at threes and free throws, and ASU, which was top three in the Pac-12 in both forcing turnovers and interior defense, has a dream matchup on its hands. 
Upset Pick to Avoid: No. 12 VCU over No. 5 Saint Mary's 
All due credit to VCU, which forces turnovers at an elite rate, but coach Mike Rhodes has yet to record a tournament win. Saint Mary's plays at an agonizingly slow pace, and their tournament loss to Gonzaga raises questions about their ability to compete with elite teams, but the Gaels tend to do well in March when they qualify, and the WCC is better than the Atlantic 10. 
Team to Watch: No. 13 Iona 
A weird team to have written here, I know, but I just love Rick Pitino. Iona isn't going to beat UConn anytime soon, but with Pitino lined up for a huge gig next season at St. John's, the performance of a high-caliber Iona team against a difficult first round opponent will be worth watching, solely to watch a master tactician at his best.  
Final Four 
E2 Marquette over S1 Alabama 
MW1 Houston over W4 UConn 
National Championship 
MW1 Houston over E2 Marquette 
The Cougars can't blow what will be their best chance to win this thing for a long time. They'll have the capabilities and size necessary to slow down Marquette's pacy offense and limit their time of possession. Anybody except Alabama, please.