Student Council Finds a Homecoming Theme
Anticipation and excitement flood the school as the 2016 homecoming nears. The student council has spent long hours planning a night that will captivate students with all of its unique beauty and charm.  
After a four-hour school lock-in over the summer spent throwing various ideas around, the student council decided on the homecoming theme, "Worlds Away."
"The whole idea is to make school seem a lot less like school," said senior Lauren Lee, student council's historian.  
Lee said students are constantly bombarded with the stresses of school life, and this homecoming theme will provide an escape, taking them away from the everyday world of Cambridge to somewhere entirely different. The student council said "Worlds Away" means any place, not of this Earth.
One way this will be shown is through the different class hallway decorations. The idea is to have an adventure through new places; one minute you're in Disney World, then you turn a corner, and now you're in outer space, said Lee.
The term, "Worlds Away" is broad to fit all ideas of this year's homecoming under one subject.
"You don't want to give a theme; you want to give a concept," said Michelle Morris, student council advisor
On that note, the hallway themes will have no relation to the homecoming dance.
Suzanne Kebanli, student council president, said "Worlds Away" has at times been misconstrued. People tend to envision space and galaxies as the whole concept when "Worlds Away" is a much broader idea, she said.
The theme for the actual dance is Neverland from "Peter Pan." The dance will not focus on the characters of the story, but instead, have a minimalist look inspired by that magical world.
The setup of the dance is supposed to capture the journey that the children in the story go through with Peter Pan. The entrance, courtyard and cafeteria of the school will each represent a different part of the story's adventure– from London– to the mermaid cove– to the forest.
Kebanli said the dance is supposed to be very pretty, filled with lights and trees, creating a classy look for the event.
So what inspired the student council to pick this theme?
"Peter Pan" is so simple, and everyone has their own vision of what Neverland is like, said Lee. She said the student council wanted to bring those visions to life.
Lee also said this theme enhances the idea of not growing up and staying young, which is relevant to high schoolers as they near adulthood.
Lee said the homecoming theme gives people an image of what to expect on Homecoming night. Organizers also said having a theme serves to fuel excitement in the days leading into the dance.   
"The homecoming theme gives everybody something to rally around, and a story to tell.  It gives spirit," said Morris.
Members of student council said they have many hopes for what this year's homecoming will bring.
One aspiration is to get as much student body participation as possible. Kebanli said she wants homecoming to be an event everyone attends.  
Morris said homecoming is organized to continue strengthening traditions, such as decorating parking spots with chalk and dressing up in costume. She said she wants people to come back to the school to visit and, seeing these traditions and say "Oh, I remember when we did that."
Lee said she wants students to think of this year's homecoming as a night to remember, a night unlike anything else. She said she wants students to look back on this night with their kids when they're helping them get ready for their own homecoming.
The student council encourages all students to attend this event.
"Homecoming is a time for students to feel free and make memories," said Lee.
"As people get older, and they're growing up, they want to jump into new things as quickly as possible and move on.  It's things like homecoming that you'll remember from high school," she said.
About the Contributors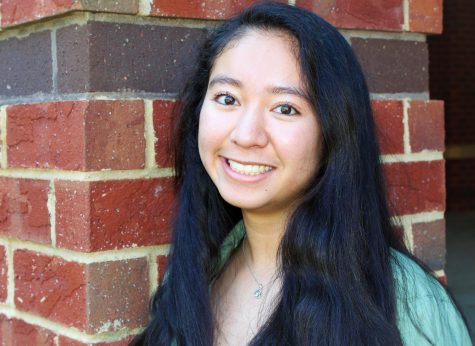 Angeline Fu, Managing Editor
Fu is a senior, and a third-year reporter. Fu serves as one of the Managing Editors on staff. Fu is active in Bridging Generations, National Honor Society...
Halle Larson, Editor in Chief
Halle Larson has been a part of the Bear Witness for four years, and was previously the Features Editor. She has a great love for writing, literature and...