Where Are Former Cambridge Athletes Now?
After turning their tassels on the Cambridge football field, many graduates who play a sport for the school leave their athletic career behind, their legacies solely remembered in the yearbook. 
Yet others continue to pursue their sport in conjunction with higher education. 
Three 2018 alumni in particular, student athletes in high school and in college, recently acquired their degrees and completed their four years on an athletic scholarship. 
Where are they now? 
Raegan Dunwoodie, a recent graduate of Bucknell University in Pennsylvania, is now in vet school at Mississippi State. Dunwoodie has been adjusting to her first year off a soccer team, as she is taking this time to focus on her studies.  
Soccer has been part of Dunwoodie's life since the age of six, when her parents first placed her in a recreational soccer program.  
She quickly dedicated herself to the sport, and after moving to Georgia in middle school discovered her passion for goalkeeping. In fact, some of the first goalkeeper training she received was from the Cambridge feeder organization.  
A couple of years later, Dunwoodie began also playing basketball in high school. As a multi-sport athlete and exceptional student, she began lifting her sports teams off the ground.  
She played all four years on Cambridge's varsity soccer team and was offered a full scholarship to play soccer in college.  
Dunwoodie said high school and college soccer have a similar dynamic in terms of classes, school and practices, but college sports function on a much higher level of competitiveness and talent.  
The college soccer team also brought Dunwoodie several memorable moments, as well as a "family-like" team.  
"You're with the people every day, you live with them, you play soccer with them, you study with them, and it was just — it was just awesome," said Dunwoodie.   
As of right now, Dunwoodie said she does not have plans for soccer in her future other than kicking the ball around for fun.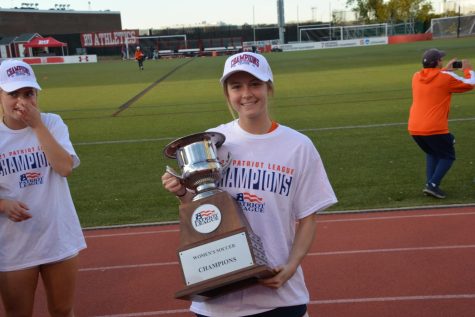 Like Dunwoodie, graduate Kyler Ingram no longer plays on a sports team. Ingram, who aspires to become a basketball coach, is now at Emanuel College.   
As a little boy, Ingram played many sports, but soon realized he had a natural talent for basketball. 
Ever since he started playing, Ingram has dreamed of being in the NBA. Playing in college was a realistic step towards reaching his dream.  
Ingram played on Cambridge's freshman, JV, and Varsity teams starting in ninth grade, and when asked about his experience, he recalled learning many lessons from Coach Chip Flemmer.  
One stand-out moment Ingram recalled was when he blocked several shots against Alpharetta High School. "That was super cool," he said.    
Ingram graduated with a scholarship to play four years of basketball at Emanuel College. However, after only playing ball for two years, he tore his ACL, keeping him out of the game for the rest of college. 
Since graduating in January, Ingram has strived to get his masters in coaching.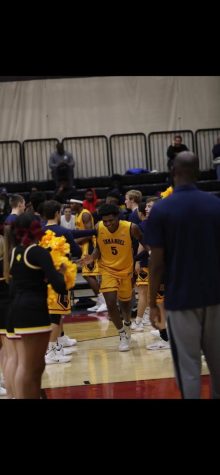 Alumni Blake Kollin wasn't balling on the court but swinging clubs on the course.  
He joined Cambridge's golf team in the spring of sophomore year, after just learning the sport the previous summer. He spent his next three years of high school golf enjoying practices, building up teamwork, going to tournaments and his personal favorite: leaving class early.   
Kollin originally became interested in golf soon after professional golfer Jordan Spieth won the Masters. Although Kollin started playing at a late age, it didn't stop him from becoming a great player.  
When Kollin started playing at the University of West Georgia, he had to get accustomed to a different academic atmosphere while still managing to work on a schedule for golf that makes him better and stronger. 
"You must be independent to survive the lifestyle of balancing both school and sports," he said. 
Kollin graduated in May from UWG, with a degree in marketing and finance. Now he is at the University of Indiana to get his master's in finance. 
Although he is no longer part of a team, he said "golf is a life-long sport" you can take advantage of forever.