Cambridge Students Talk About Their First (and Second) Time Voting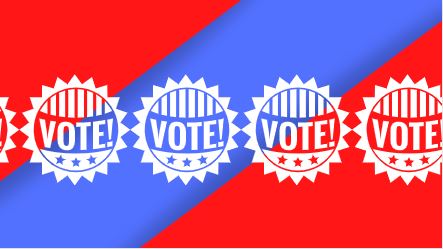 A mix of excitement, nervousness and curiosity swirled through senior Connor Torkelson's mind as he walked through the doors of the Milton Public Library at 8:00 AM on Dec. 6.  
It was the day of Georgia's runoff election between incumbent Democrat Senator Raphael Warnock and his Republican challenger, Herschel Walker. For the first time, Torkelson wasn't just thankful to have a day off of school.  
It was a month after his 18th birthday, and he was about to cast a vote.  
"I remember how quiet it was, even for a library. A lot of people and volunteers were moving around, but at the same time everything seemed really still," Torkelson said. 
After a 40-minute wait in line, a quick voting process, and a stop at Einstein Bros. Bagels, he was back under his covers. Only later in the day did the importance of Torkelson's morning strike him.  
"I mean, I just voted. Like, voted. For the first time. That's probably the most adult thing I've done since I became an adult," he said, chuckling.  
Torkelson was one of many Gen Z voters that turned out in some capacity, whether by mail or in-person voting, for the 2022 midterms. The Washington Post estimated that 28% of eligible Gen Z voters casted a ballot, the second highest figure behind only the 31% observed in the 2018 midterms.  
Overall, young voter turnout is credited as a big reason why the projected Republican midterm "red wave" failed to happen, as Gen Z tends to vote liberal. It was even more monumental given that President Biden's relative unpopularity halfway through his term was a sign that a historical trend– the opposing party taking control of Congress–would happen again. 
But Torkelson is not in the majority. He voted for Walker and said he is "generally conservative from a generally conservative family." He admitted that he was disappointed upon finding out that Walker had been defeated but said he wouldn't linger on it.  
"America's a democracy and we all get the chance to vote to change things. It didn't happen this time, but there are gonna be many more chances down the line to get that change," Torkelson said confidently. 
Cayley Brock is another student that just voted. Unlike Torkelson, who participated in just the runoff, she voted in both the Nov. 18 general election and the Dec. 6 runoff, triggered because neither Warnock nor Walker received more than 50% of the popular vote.  
Brock voted early in-person both times due to shoulder surgery, and both times for Warnock. 
"I consider myself a moderate. I did a lot of research on both candidates, and I just thought that, given their histories, Warnock was far more electable even if I don't necessarily agree with everything that he says," she said.  
Brock voted at the Alpharetta City Center for the runoff, which she said was "extremely busy and chaotic" when she went to vote at 5:00 PM.  
"I guess I was a little indifferent about the first time I voted because I knew there would be a runoff. The second time I was really looking forward to it," she said.  
Brock was happy to see Warnock prevail but was even more excited to read about Gen Z's presence and impact on the nationwide election results.  
"It's really important that young people vote for the candidates they think will best represent them. It's their future that will be decided," she said.  
She cited Maxwell Frost, a 25-year-old Florida Democrat and progressive activist that was elected as the very first Gen Z member of Congress, as an example of this.  
Torkelson also believes that efforts should be made to induce more young people to vote but is hesitant to say that young people voting is outright a good thing. 
"In my opinion, young people are very reactionary and angry rather than knowledgeable when it comes to voting. So, if young people are gonna vote, they need to do their research," he said.