Redistricting of North Fulton Schools to Affect Some Cambridge Students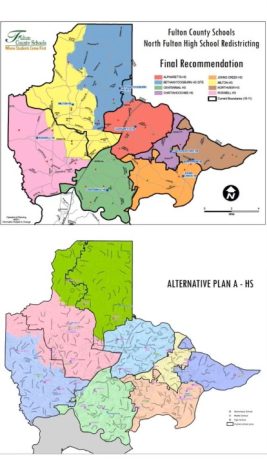 Some students who ride the bus may soon need to find another way to get to and from school.  
The redistricting of North Fulton schools has stirred up quite a bit of controversy, with many parents apprehensive about the possibility of being zoned to different schools.   
The new proposed boundaries of the districts were set in place due to overcrowding. The new maps mostly impact elementary schools, but middle and high schools will also feel the outcomes of the decision.  
If the new maps are approved by the board of education on Wednesday, some families zoned to Cambridge may be zoned to Alpharetta or Milton starting next year.  
Current Cambridge students who find themselves outside the new boundaries may continue to attend the school; however, they will no longer be able to ride the bus.  
Freshman Reese Rech lives near the boundary between the Cambridge and Milton zones.  
"I really hope I can still go to school here; I really love the ag program," she said.  
Many students were clueless as to whether they could continue attending the school in the following years, as rumors led to a downpour of misinformation. 
However, Principal Ashley Agans put those rumors to rest.  
"Anybody who is currently in our school can grandfather themselves in, given they provide their own transportation," said Agans. "Yet anybody not enrolled in this school currently must report to their designated school with the new districting map." 
She said these up-to-date maps will be used in the planning and opening of more than 40 schools and three school closures. 
Primary criteria reviewed at the initial board meeting on Sept. 12 included capacity, projected enrollment and geographic proximity when redistricting. Students are not always assigned to their closest school, so the criteria will help determine the factors as to why certain subdivisions are redistricted. 
Secondary criteria included traffic patterns, school feeder alignment and balancing of special programs. 
Staff and facilitators of the multiple public meetings had a goal of balancing multiple perspectives and logistical limitations, yet not all input was able to be accommodated regarding the changes. 
"If the map cuts my neighborhood out of the school zone, it's going to be so weird for my younger sister to go to a different high school than me when she's older," said freshman Connor Burnisky. 
All forums began with a presentation, ensuring equity in the process, and discussion focused on the criteria. 
The board reviewed staff recommendations for attendance zone modifications over November, and community input will be considered this month.  
The students impacted by redistricting will be notified in early 2023, yet these changes will not go into effect until the 2023-2024 school year.