To Be Or Not To Be…Real? That Is the Question
A silent room can turn to utter commotion from one notification. People rush to fix their hair and touch up their makeup the moment they see that, "It's time to BeReal!"  
Over the summer, the app BeReal blew up as it rewired social norms.  
With only two minutes to take a picture with the front and back camera, the point of the app is to be yourself on social media and get rid of the necessity to photo shop and edit every image. This concept of showing what one is doing at a spontaneous time has drawn in millions. 
Student users of the app said not being able to see others' followers or who likes their posts makes BeReal a laid-back approach that avoids much of the "toxicity" of other social media platforms.  
Even though the app's name implies its goal of authenticity, many argue that its users are not truly "being real." 
"If I get the BeReal notification before I'm about to go out to a football game or something, I just wait until then to take it. It's not like anyone cares," said sophomore Hailey Hancock. 
This brings many to question whether the app shows people's true selves. Or is the curated version people put out there defeating the purpose of it all? 
BeReal can encourage people to go out, have fun and capture memories. But critics of the app argue that the app can ruin perfectly good moments that didn't need a phone involved at all. 
"I don't care what I'm doing, when the notification goes off, I always take my BeReal," said junior Georgia Pooley.  
Some students, however, like freshman Angela Mendoza, think the app has no true purpose at all.  
"You can take the picture as late as you want, and at any time you want, it's not real at all," Mendoza said.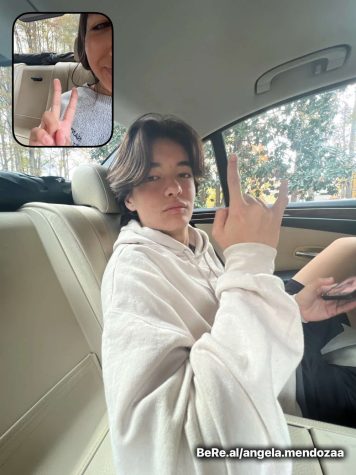 No matter how many negative opinions these students have, they continue to BeReal daily.  
The app creates a space where people can see a glimpse of their friends' and family's lives that they possibly couldn't see every day. 
Users of the app among the school repeatedly come back to the conclusion that the app lacks the "realness" it was originally meant for. 
There have been possible solutions to this dilemma, such as only making it possible to post a BeReal two hours late, and after those have passed, posting late isn't possible anymore. 
So now it's just up to the people, to BeReal or to BeFake?