"Midnights" is Proof Taylor Swift is a "Mastermind"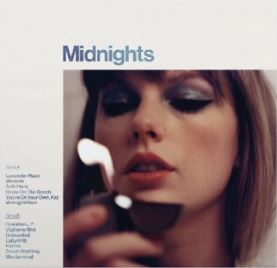 Taylor Swift is one of the most famous artists of our time and, in my opinion, one of the best.  
Swift is the only artist I love listening to on repeat all day long, because listening to her music makes me feel a variety of emotions, and she produces several genres of music, perfect for whatever mood I'm in. 
With the new release of "Midnights", she is gaining more traction, as new followers and fame are constantly increasing. 
On Oct. 23, Spotify said Swift's "Midnights" is the most streamed album and artist in a single day in Spotify history, which I believe is well-deserved.  
While Swift's 8th album, "Folklore", is my favorite, "Midnights" is a close second. 
"Midnights" is an album for everyone. I love how there is a large range of beats, and how much variety Swift includes in her music. 
The album combines the fantasy of "Lover" (2019) and the angst of "Reputation" (2017).  
"Lover" is displayed in this album by the feel of the songs. They feel airy and happy, and they even make me want to get up and dance. Most songs, such as "Lavender Haze", have an up-beat tone. 
"Reputation" is an angsty album, and some of Swift's new songs sound like they could be a part of that collection. For example, "Vigilante S**t" has the same theme as most "Reputation" songs: revenge. 
The top three tracks of the new album are, "Bejeweled", "You're on Your Own, Kid" and "Sweet Nothing". 
Counter to my opinion, freshman Naomie Napier said, "Bejeweled I think, is overrated." 
To me, "Bejeweled" is, in a way, a more grown-up version of "Mirrorball" from "Folklore" because they both discuss the topic of changing yourself and not liking yourself for who you truly are.  
One "Mirrorball" lyric states, "I can change everything about me to fit in," while "Bejeweled" says, "When I walk in the room, I can still make the whole place shimmer."  
The song "Snow on the Beach" was disappointing. I was expecting a more even collaboration between Swift and Lana Del Rey. I was super excited for this, only to find out that Del Rey only has background vocals. 
I know she helped write the song, but I was truly looking forward to hearing both artists together.  
Sophomore Ana Clare Grann said, "I was really disappointed that Lana was like, in the background, and she was just like, breathing."  
What I love about this album is that each of the songs have a specific meaning and their own beat that sort of contradicts the meaning. Some of the songs are about mental health struggles, while others are about being confident.  
For example, the song "Anti-Hero" discusses body image issues and mental health struggles, all while staying upbeat.  
Additionally, Swift has produced two music videos so far for "Anti-Hero" and "Bejeweled".  
Freshman Lucy Dinnsen said, "I liked the 'Anti-Hero' one, that one was so funny."  
I really loved the "Bejeweled" music video because it was very creative and made me want to watch and listen to it over and over again. 
Also, the main theme of this album seems to be revenge, which is similar to her 2017 album, "Reputation".  
Most of the "Midnights" songs were a shock to me because Swift's two previous albums had a melancholy feel.  
In addition to her amazing 13 tracks, her 7 bonus tracks are just as good, if not better. 
My favorite of these tracks is definitely "High Infidelity." I was surprised to see that "Bigger than the Whole Sky" was similar to her album "Folklore" and different from "Reputation".  
I was really impressed with "Midnights" because I feel like it gave me all the emotions of Swift's previous albums, mixed with a new, more up-beat feel.  
This album is what I believe to be one of Swift's best albums, with a wide variety of songs, perfect for any mood I'm in.