Bears Across Borders: Former Cambridge Students Reflect on Their Experiences Studying Abroad
From the window of her flat in London's Bloomsbury neighborhood, Grace Muskovitz can admire the distinct Victorian style of the city's West End.  
From the window of his apartamento in the bustling commercial hub of Valencia, Spain, Tyler Morris can breathe the crisp Mediterranean air and look directly across at the Torres de Serranos, a Gothic gate built in the 14th century as part of the ancient city wall.  
From the window of her dirah in the quaint city of Meitar, Israel, on the southern edge of a mountain range, Adi Avishai can gaze at the vast Negev desert.  
While it took time for these three former Cambridge Bears to settle into their new homes, now that they have cleared the initial hurdles of spending time abroad, Muskovitz, Morris and Avishai said they have no regrets. 
They've found homes away from home. 
Grace's Journey 
Grace Muskovitz, who attends NYU, said she was enthusiastic about studying abroad. 
"The best experiences come when you're out of your comfort zone," said Muskovitz, who is majoring in International Affairs.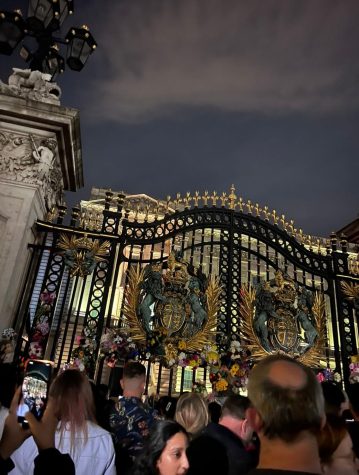 She said studying in the United Kingdom made sense to her because it would mean she would not have to become accustomed to speaking a language she was not fluent in.  
Muskovitz lives in a suite with four other girls, and her student center is adjacent to the British Museum, the world's first national public museum. It houses Greece's Elgin Marbles and Egypt's Rosetta Stone, among other artifacts.  
But she said her favorite part of the U.K. hasn't been the extensive sightseeing. It hasn't been riding the London Eye, seeing Big Ben, visiting Karl Marx's grave at Highgate Cemetery or watching "Much Ado About Nothing" at Shakespeare's Globe. 
It's the politics. 
And quite a bit of political upheaval has occurred since she arrived in August.  
Polarizing prime minister Boris Johnson left office following his resignation in July and was succeeded by Liz Truss as both Prime Minister and leader of the Conservative Party. 
 Two days later, Queen Elizabeth II passed away at the age of 96. 
Muskovitz had the chance to view Truss's first address to the public. After a disastrous six weeks, it was announced Thursday that Truss would quit her post.  
As for the Queen's death, the line to see her coffin at Westminster Hall was 13 hours in her area. 
The feeling was weird, said Muskovitz, because as an American, she was removed from the national mourning but still felt a great deal of reverence for the Queen. 
"I love feeling as though I'm present when history is being made," she said. 
Tyler's Journey 
Tyler Morris didn't travel to Valencia, Spain to witness history. In fact, he's present in Valencia entirely on a whim.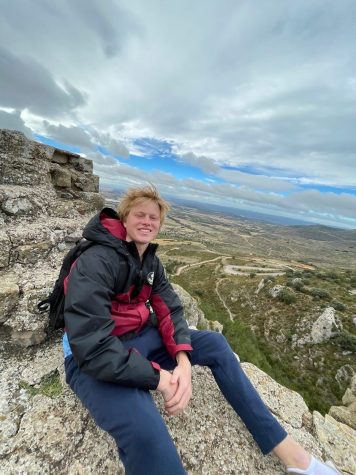 A star lacrosse player while at Cambridge, he initially wanted to continue his sporting career in college. When that didn't work out, Morris committed to FSU and chose a path some might consider outlandish.  
"I'd never traveled outside of the country before. I guess I just wanted to put a few miles on my soul and experience something different," he said.  
Two weeks into his studies, it all seemed too different.  
Morris said the language barrier was challenging, even though he had taken Spanish 3 Honors in high school.  
After bonding with his group, cliff jumping on the Balearic Islands and hiking in the Pyrenees Mountains, his perspective gradually became more positive.  
His view of other crucial aspects of Spanish culture has changed, as well. 
Soccer, a national pastime in Spain, was not a sport Morris followed, but he quickly became a fan after attending a La Liga match in which Valencia defeated Getafe 5-1 at the Estadio de Mestalla. 
"The roars when they scored were deafening," said Morris. "It felt like everybody in the stadium shared the same heartbeat." 
The 2022 FIFA World Cup, which Spain will play in later this year, will have "the streets and bars around here going wild," he added. 
Morris will visit Germany as part of his study program for nine days beginning this month. He said he's looking forward to it as much as he's ever looked forward to anything.  
Adi's Journey 
Adi Avishai was born in Israel and moved to the United States when she was six because of her father's job. The move to study abroad, she said, was prompted by a desire to reconnect with her Hebrew roots.
"I guess I felt a little too American, if that's possible," she said.  
Unlike Muskovitz and Morris, she isn't in Israel for college. She is instead one of 30 members of a gap-year program called Kol Ami, which translates to "Voice of my People."  
The program resembles the Israeli "mechina" education program, which is designed to prepare students to serve in the military through physical training and development of leadership skills.  
In addition, students perform community service, learn about their culture through exploration of the country and develop strong relationships with each other via their communal living situation.  
"We cook together, clean together, study together. We've just gotten so close," Avishai said.  
Every Saturday, which marks the Jewish Sabbath, her group travels to a lookout, where they sing and enjoy a nice dinner together.  
That sense of closeness and familial warmth extends to the entirety of the Israeli people, she said, and is her favorite part about the country.  
What is most inspiring to her is how communities in Jerusalem and across Israel have banded together and supported each other in the wake of the conflict with Palestine.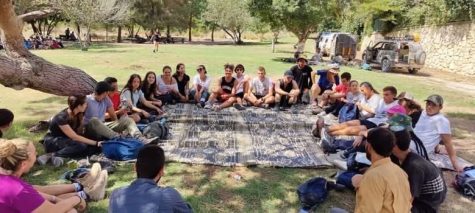 The violence, which the United Nations says has killed more than 6,000 people in the region since 2008, has even spilled over into Avishai's life.  
Just weeks after she arrived, a pro-Palestine terrorist attack occurred in a plaza 15 minutes from her in which six people were stabbed and killed.  
"I think it's unfair how people judge us as the oppressors just because they read things on social media. Israel wants to defend itself and protect its people, just like every other country," Avishai said.  
Avishai hopes to eventually serve with Mossad, Israel's intelligence agency, before returning to the States to serve in the CIA. ________________________________________________________________________________
Adjusting to studying, and more significantly, living in another country, can feel overwhelming and weird at first, said all three.  
Muskovitz said she hasn't been able to find a doctor to treat her bronchitis due to long wait times.  
Morris said he misses the thrill of driving around in his car since few people own cars in Valencia, as the city is entirely walkable and bikeable.  
And Avishai said she learned the hard way that people don't wear sweatpants in Israel after receiving many disapproving looks. 
But whether one wants to reconnect with their roots, witness history or just have fun, the three said traveling abroad is a worthy experience.  
"It's just been magical," Avishai said.