Cambridge Steps Up Security With ID's, Alarms
Last year, students looking for their school IDs might have found them at the bottom of their backpacks, scrunched up and covered in dust.  
However, this year may be different.  
During school hours, Principal Ashley Agans said students will need to wear their IDs while on campus including when arriving to school late, reentering the main building from the vet building and checking out items from the media center.  
Additionally, students must wear their IDs to be admitted into athletic events, said Athletic Director Lesley Broadwell.  
According to Agans, students coming from the vet building and students without a first or second period can now enter the building through the math hallway door instead of walking around to the front of the school thanks to the new video doorbell.  
This doorbell connected to the front office will be where students will present their ID for an administrator to grant them entry. 
Although many are discussing the enforcement of IDs as a novelty, this school policy is nothing new.  
"Last year I asked people to do it just because I was told that's what they always asked kids to do, but then I'd walk around the building and be like, 'No one is wearing their ID'," said Agans.  
The wearing of student IDs will be enforced with reminders, and Agans said she does not want to implement consequences for those who will not listen to the reminders. 
Along with a push towards convenient identification, the school has added new door alarms.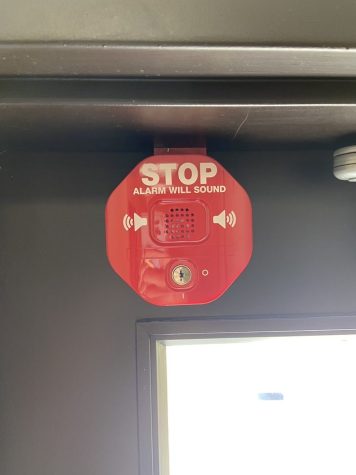 The alarms will serve to prevent students from leaving without signing out and from letting people in, whether it be a stranger or a student from a neighboring school such as King's Ridge or Alpharetta High School, Agans said. 
"The alarms should sound when the doors are opened at all times," said Assistant Principal Darius Maize in an email. 
These security measures will be enforced to keep the school safe as students continue their school year.