Former Innovation Academy Students Return to Cambridge and Share Their Experiences
In September 2021, Innovation Academy opened its doors to its first class – and Cambridge students were intrigued. 
 Last school year, Innovation Academy drew 103 rising freshman and sophomores districted for Cambridge, Principal Ashley Agans said in Spring of 2021.  
 However, at the beginning of this year, some of these Innovation students could be seen walking through Cambridge hallways, wearing Cambridge gear and planning for Cambridge events.  
 A total of 18 students transferred from Innovation to Cambridge this year. One of these is junior Andrea Mujica.  
 Mujica attended Cambridge as a freshman and left for Innovation for a semester of her sophomore year. By the second semester, she was back at Cambridge.  
 "I originally wanted to follow a STEM pathway, but then I changed my mind and decided I wanted to be a vet," she said. "Coincidentally, Cambridge had a great vet program." 
 According to Mujica, classes at Innovation started at 8:55 a.m. and ended at 4:15 p.m. Many of her classes mirrored those available at any other Fulton County school, such as AP World History, Chemistry, Algebra II and AP Seminar. 
 However, what sets Innovation apart from other Fulton County schools is its focus in three areas: healthcare, information technology (IT) and engineering. 
 Sophomore Anika Rao spent her freshman year in its entirety at Innovation. 
 She chose the healthcare pathway before changing to the IT pathway. 
 "I felt like I was limiting my options because I didn't have exposure to other pathways – I only had exposure to those three," Rao said. 
 According to Rao, Cambridge has everything Innovation has – and more. 
 "[At Cambridge], I can be a lawyer," she said.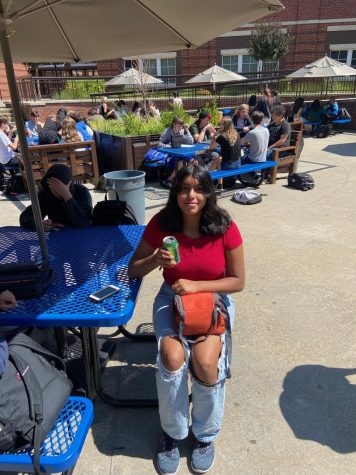 Sophomore Lauren Daniels, like Rao, also spent her whole freshman year at Innovation and chose healthcare as her pathway. She was initially drawn to the STEM school because of her learning style. 
 "I was a very hands-on learner," Daniels said, "and [Innovation] was a very hands-on school, so I was like 'I think this is going to be perfect for me.' Turns out I'm not a very hands-on learner, and it wasn't really my speed." 
 Despite this, she still thinks Innovation is an amazing school. She met a really great group of friends there, some of which are her best friends now, she said. 
  She also enjoyed the "Innovation Academy Olympics" where, according to Daniels, the whole school would get assigned team names and each team would have to face challenges. The Innovation Academy Olympics happened during the first week of school and every Friday after. 
 "It was a really, really great school," Daniels said.