Un-Bear-ably Cute Homecoming Proposals That Could Make Anyone Say 'Yes'
Fall semester brings adrenaline-filled student sections at Friday night football games, students gathered in the gym during homeroom for a riveting pep rally in preparation for the big game, and of course, the annual homecoming dance.  
In the weeks leading up to the big night, activities include dress and suit shopping, concocting outfits for spirit week and anticipating the announcement of homecoming king and queen.   
Along with the common tasks, students also come up with creative ways to ask others to the dance.  
This year, several original requests were seen both on and off campus. Each grade level had its share of memorable proposals.  
Freshman Cale Coleman came up with a creative way to affirm plans with his soccer player girlfriend, Brooke Bowman. 
In Coleman's fourth period, he excused himself, claiming he needed to use the restroom. With English teacher Renee Westlake in on the plan, Coleman returned to the room in a soccer uniform accompanied with a whistle, a poster and a ball. 
With the class's attention on him, he grabbed his poster and popped the question. The class erupted into a standing ovation at the adorable scene. 
"I was so embarrassed, but it was such a cute gesture," Bowman said. 
"I like to say, 'go big or go home'," Coleman said.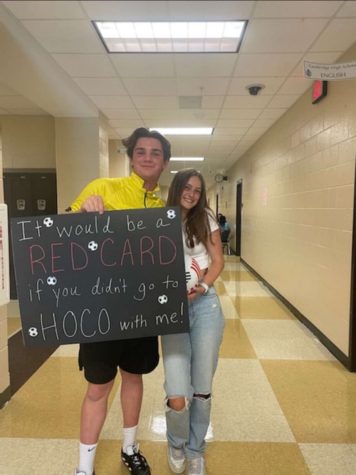 The sophomore class did not fail to compete with the freshman proposals, with one proposal sticking out  for its creativity and thoughtfulness. 
Homecoming court nominees and sophomores Ansley Everett and Kyan Brett posted their homecoming proposal that made everybody's hearts melt. 
Brett said he arrived at Everett's house after school with a box of Crumbl Cookies and a poster in hand that said, "My heart will crumbl if you don't go to hoco with me."
"I wish someone asked me to homecoming in a cute way like Kyan did for Ansley," freshman Kate Hughes said. 
Other students showed a lot of creativity this year, with some even being between two grade levels. For example, sophomore Jack Mitchell showed up on junior Saylor Adamski's doorstep with Chick-Fil-A and an accompanying poster. 
It was Adamski's "pleasure" to accept the proposal.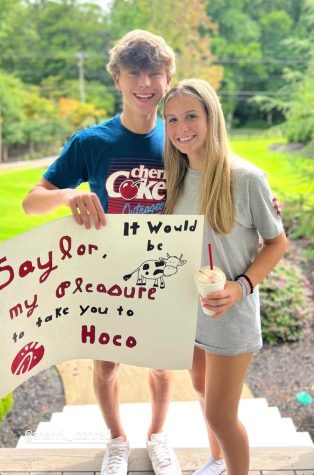 For their last homecoming, seniors have left a mark with memorable proposals. 
Homecoming court couple Ava Ritter and Ian Chaffin, who have been dating for over three years, were on a horseback riding date on a sunny afternoon when he surprised her with his proposal. 
As the two returned to the stable, Ritter said she was happily shocked to see the homecoming sign attached to a horse's saddle.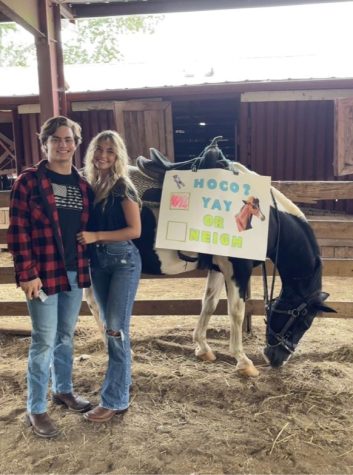 Homecoming will truly be special this year for these bears, and they will have a wonderful story to tell for years to come.