Do Fewer A's Mean More W's?
As the school moves down to class 5A, some Cambridge athletes and coaches downplay the change and say the Bears will continue rising to the occasion.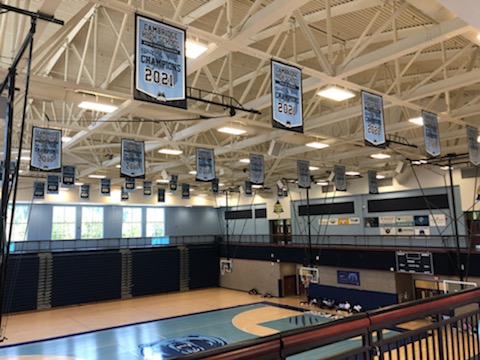 Practice schedules and meticulous notes are strewn about his desk. On the whiteboard behind him, a plethora of offensive plays are drawn up neatly in black marker.  
Craig Bennett, head coach of the varsity football team since the school's opening, has put plenty of time and effort into a program that won just its second playoff game last season. 
"Our goal is to keep playing into November. Same goal every year," he said with a cheeky smile.  
With his team approaching every game with a "business-like, professional mentality," his lofty ambitions aren't unsubstantiated.  
Following a successful six-year tenure in the Georgia High School Association's (GHSA) 6A class that began in the 2016-2017 season and which saw Cambridge High School win 10 team state championships, produce 15 individual state champions and win a Director's Cup in 2019, the school, as a result of a drop in student population, has moved down to the 5A class. 
From the end of last year to the beginning of this year, Cambridge lost about 6.6% of its student population, enough to lead to the change. 
There are seven classes in the GHSA, which are referred to as "As", with 7A containing the largest 10% of schools in the state and 1A containing the smallest 20% of schools.  
Within every class, there are eight regions that are based on the geographic proximity of schools.  
Cambridge competes in Region 6, which includes some teams also previously in 6A, such as Chattahoochee, Centennial and Kell. It also includes some teams that remained in 5A, such as Northview, North Springs and Greater Atlanta Christian, the latter of which Cambridge has never played in its history. 
As for being in 5A, the school does not find itself in unfamiliar territory. When Cambridge opened in 2012, it competed in 5A sports for four years. 
The return has sparked concerns about whether Cambridge's athletic teams are still competitive, as schools in lower classes generally receive less attention and respect than those in higher classes. After all, said Bennett, schools with smaller student bodies will likely have fewer athletes at their disposal, which might translate into less talent.  
It's a line of thinking that suggests a state championship in 5A can't compare to a championship in a higher class. 
But Bennett doesn't buy into that idea.  
"There's no inherent value in being in a higher division," he said. "The class we're in doesn't reflect talent or mentality. Heck, there are some 1A schools out there that could give us a real fight."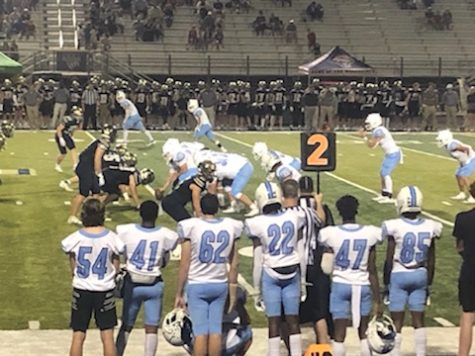 Athletic Director Lesley Broadwell said her confidence in Cambridge athletics for this season is higher than ever.  
Part of her reasoning is that, like Bennett, she believes class corresponds only to how large or small a given school is and that it doesn't describe the talent, hard work and mentality of teams. 
"The mentality to compete and win never changes, whether you've heard of your opponent or not," she said.  
Broadwell's confidence in the school's football program is reflected in the team's schedule: She signed off on 6A and 7A opponents for the team's first four matchups of the season.  
To have a stretch of non-region games to begin the season is uncommon, she said, but it was intentionally done because the school "had a very strong team this season and [it] wanted to make a statement early on." 
Bennett agrees. Every game is "not so much about our opponent's level as it is about us," he said.   
"We want to go out there and play our best game no matter who we're up against. Playing some strong teams right off the bat will tell us a lot about ourselves." 
The experience of playing against and defeating competitive 6A schools, he said, should give Cambridge a leg up on some of its opposition in the region.  
But the transition down also means Cambridge will no longer play some traditional rivals.  
Senior Jack Marlow, who leads varsity football in receiving yards per game, said he will miss games against Johns Creek, with whom he said, "we had a really good rivalry."  
And senior Amari Givers, who plays first base for varsity softball and who leads the team in batting average, singled out Blessed Trinity, another previous opponent, as a team she'll miss playing, because she has friends who play for the Titans. 
Regardless, both athletes are proud of their teams' starts to the season. 
Varsity football is 2-2. Its victories — a surprising 28-0 shutout of Creekview in the home opener and a thrilling 43-38 comeback win against Alpharetta, both 6A schools — show that Cambridge is capable of defeating 6A opposition as a 5A team. 
Meanwhile, varsity softball has dominated the first half of its season, boasting a 16-4 record that includes an undefeated streak in the region. In eight combined games against region teams, they have racked up 74 runs while only conceding six. They are also on a 10-game winning streak. 
Marlow and Givers share the same secret for success: Go into games confident, they said, but not overconfident.  
"Obviously, you still have to play the full 48 minutes," said Marlow.  
"We have absolute confidence that we can beat any team we play. Our run last year proved our worth. That worth is still there, 6A or not." 
As for Givers, she is aware the spotlight doesn't usually shine the brightest on smaller schools. But if respect has been lost, she has a simple formula to gain it back. 
"We play those bigger schools, and we show them that we aren't afraid of them. We leave it all out on the field," she said. She cited an Aug. 20 game against Buford, a 4-5 loss, and said that even though the final score was not in their favor, it still "felt good to have played a competitive game against such an incredible team."  
No matter how many As the Bears have attached to them, Marlow and Givers are undeterred.  
"We've made history the last two years," Marlow said.  
"We're gonna keep making history."