Electric Student Section Lights Up Friday Nights
On any given Friday night in autumn, as play calls and whistles ring out across the field, the chants of the student body take over the stands.  
Energetic students cap off their week with a night of jumping, chanting, screaming and celebrating.  
Body paint is passed from one student to another, all dressed in the theme of the night to show their unity. Cambridge reaches the endzone, and the group of rowdy students erupts, throwing up the "C" with their hands and cheering as loudly as they can.  
The student section has been showing out this year, bringing excitement and electricity to every moment.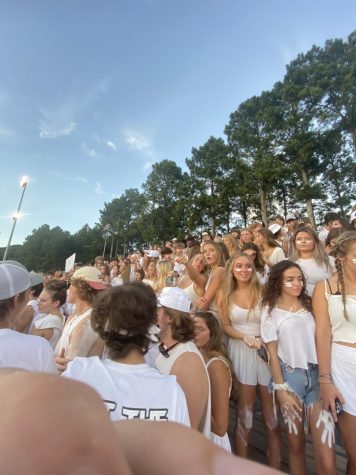 When asked at the Denmark game how he would describe the student section, toga-clad senior Alex Jacobs said, "An unbeatable student section. Spirit that can't be stopped. Unstoppable. Nobody could shut us down this year." 
This mentality is being adopted by many students, showing out at both home and away games to cheer on the team.  
"The student section is great, we have so many people. I love the energy here," junior Natalie Leibel said.  
Despite having to travel to another school, Cambridge students packed in 12 rows of the Denmark bleachers. 
"The energy is different this year. It's the best student section of all time," said senior Nate Isler. 
 Isler has spent the last few years showing up every Friday and cheering on the team from the stands.  
Junior Julia Malever said her favorite thing about the student section is "when it gets super hype and everyone chants C-B-O-D." 
The student section isn't just for upperclassmen, though. Many students new to the school's tradition are having just as good a time as anyone.  
Freshman Cooper Brown attended the games as a middle schooler but in high school, "the energy is so much higher. It's harder to pay attention to the whole game but worth it to hang out with my friends and meet girls."  
With freshmen like Brown joining the festivities every year, the student section is always booming with school spirit.  
The spirit is powerful enough to keep kids coming back no matter what.  
Even with many students working, playing sports and focused on academics, the student section creates a space for students to enjoy themselves despite the difficulties of high school. 
"I'm taking the SAT tomorrow, but it was worth it to come out and support the boys while having a good time," said junior Noah Kalarickal.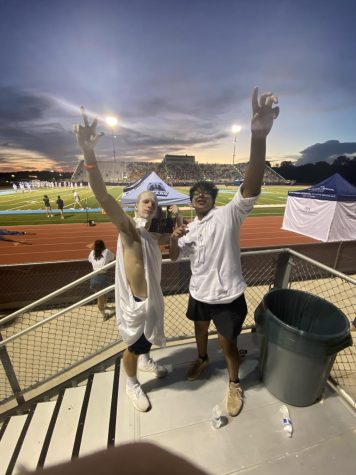 Many other students said they were doing the same thing, enjoying time with friends before taking the SAT or working a job over the weekend.  
The memories within the student section live on past the end of the fourth quarter.  
"Running around with the American flag during the Bearica game last year was fun, said senior Mason Truncale.  
"I can't wait to do it one last time this year."