Balancing Books and Boyfriends: Dating Students Talk About Pursuing Both School and Romance 
Staying on top of nightly homework, attempting to maintain a solid GPA and being involved in extracurriculars to spice up college applications is more than enough for some students. 
Others, however, add nightly FaceTime calls with their significant other, attempts to find time for café dates and involvement in their partners' lives to their list of duties. 
Balancing school and a romantic relationship may seem daunting, but some Cambridge bears seem to have a steadiness figured out. 
Senior Tej Murudkar will soon be heading to Augusta University to start a seven-year-long Bachelor of Science and Doctor of Medicine (BS/MD) program. He's the president of Cambridge's HOSA (Future Health Professionals) chapter, a member of FBLA and a math and science tutor. 
His girlfriend, junior Samantha Schaich, is the Vice President of FBLA, and her schedule this year included five APs and two dual-enrollment courses. She founded The Study Buds, the tutoring business Murudkar works for, and she wants to be in the FBI.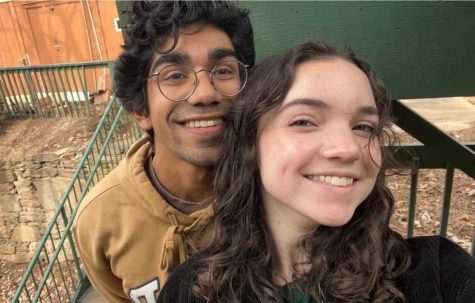 They met through mutual friends before Murudkar joined the business, and they started dating one month later. 
"They were like, 'he's really smart,' so he started tutoring for me, and then we actually started talking," Schaich said. 
Murudkar doesn't help only his clients but also Schaich herself, as she is a grade behind him. 
"A couple of classes I'm taking now, he took last year, like AP Chem, for example, so he's kind of taught me the best way to study for those classes," said Schaich. 
Murudkar said since beginning to date Schaich in October, his grades have increased. 
"She motivates me a lot; she studies with me a lot," he said, looking up from his AP Statistics homework. 
They had a weekly tradition of studying at a new coffee shop, but with AP exams going on, they've cut down on the sessions. They said they consider themselves studious and don't want their relationship to affect their studies, which are very important to them. 
"When we first started dating, we even talked about how that was never [going to] be a thing; we were always [going to] be able to put school first," Schaich said.  
Murudkar will be attending his medical program starting this August, but he said he and Schaich will be continuing their relationship the long-distance way. Augusta is roughly a two-and-a-half-hour drive from Alpharetta. 
"She's dating a hopefully future physician, and I'm dating one of the hardest working people I've ever met, and we both know what we're in for," said Murudkar over Instagram direct message. 
His advice for others trying to find an equilibrium between dating and studying is to "prioritize school" and "prioritize sleep." Schaich echoed these sentiments. 
"So many people are up until 4 a.m. talking to their significant other," she said. "They'll still be there in the morning, go to sleep." 
Sophomore Megan Lindey's boyfriend of ten months, junior Jack Carlson, attends Milton High School, so they rely on video-chat to keep in touch during the school week. Even then, they can't talk for long due to their schoolwork.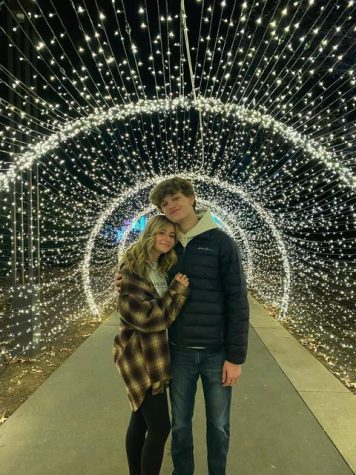 "We only FaceTime 30 minutes to an hour a day, if we even can during the day, and we only see each other on weekends," she said.  
Lindey doesn't have her license, so when she and Carlson do get the chance to spend time together, she relies on him to drive her. She said this doesn't bother her. 
She also said since dating Carlson, she hasn't had a change in her grades nor in her study habits and that there's an advantage to not going to the same school as her boyfriend, whom she met through mutual friends. 
"I think the benefit is not seeing him every day. I would get so sick of someone," she said. 
When she was playing junior varsity lacrosse and he was busy with Milton's varsity swim team, "we didn't talk, like at all," said Lindey. She also said, "it's kind of good to not get too attached." 
Her advice for fellow students who are dating is to "set boundaries, have times where you take breaks and don't constantly be talking and spending time with them." 
Freshman Boston Fox said he spends time with his girlfriend, fellow freshman Ria Rao, "three to five times [a month] after school for a few hours and once or twice a month for actual dates."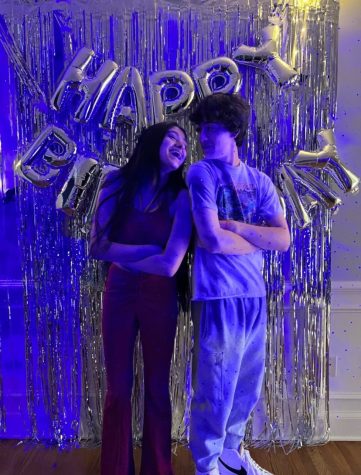 Since they take some of the same courses, specifically biology and Algebra 1, they study together at Rao's home or Starbucks. Rao said after a coffee study date earlier this semester, she received an A on the math test she and Fox had been preparing for together. 
"I personally work better when I talk to people, and I have him to study with," Rao said. She also said her grades have gotten better since she started dating Fox around nine months ago. 
Fox said while his GPA hasn't really changed in this time, Rao has motivated him to complete his school assignments when they work together. He also was on the junior varsity lacrosse team this season and said, "I play better when she comes to my games." 
Fox also said communication is key when it comes to having a relationship as a student. 
"If you're doing homework, tell the other person you're doing homework, so […] they know you're not mad at them," he said. 
Rao also had advice to offer. 
"I wouldn't put your entire life depending on making somebody else happy," she said.