Tote Bags are "Totes" Trendy
Mechanical pencils, spiral notebooks, folders, laptops.
Most students keep all of these school supplies and more in their backpacks, where they can be organized by pockets and kept safe from falling out with the help of buckles and zippers.
Recently, though, some people have ditched the use of the backpack, which according to NPR, was popularized around the 1980s.
Now, the backpack's new competitor is canvas tote bags.
These bags don't have extra pockets or zippers. They're just a void of fabric.
"Fashion: ten out of ten. Convenience: four out of ten," said senior Nikita Roy. She does not use a tote.
Sophomore Presley Gibbs has recently started using one of these bags she got from Michael's and painted herself because she thought the idea was cute.
"I thought it'd be fun to try because I get to customize it," she said. It took her an hour to paint a tree and bright background onto her bag.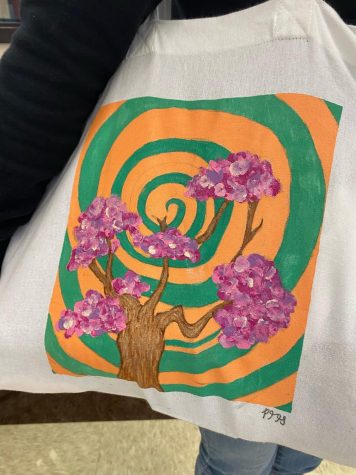 Gibbs also said she's found no disadvantages to her tote bag though it has no structure to it.
Senior Aria Sharma said her current backpack has the pockets she needs, and she also likes how the weight of her school things is distributed between her shoulders, not just sitting on one.
"I'm concerned about your shoulders," said sophomore Juliana Villafane about those who use totes.
Gibbs said her tote holds her laptop, two notebooks, a book, her lunch and a pencil pouch, which is what her old backpack fit, too. She also said, "it doesn't [hurt your shoulders] because it's more lightweight and it's not as big as a backpack."
Sharma said she mostly sees fellow seniors sporting the trend, though, because they have fewer materials to carry due to having more online classes and free periods than underclassmen.
"As a senior, I have absolutely nothing to hold," said Liora Yehuday. She still uses a backpack, though.
Senior Adeline Woods bought their tote bag off curseddrawings.com, and its design has doodles with smileys on it. They said they don't bring many supplies to school, either.
"We stopped using paper cause of COVID so all I needed was my computer, so it was just more efficient," said Woods.
Now, with the re-introduction of paper in school, Woods said their tote has gotten "just a little messy," but they still find it helpful since they have "bad back issues."
Not only can tote bags be helpful, they're also fashionable.
Roy said the trend is very "girl boss."