Students React to UGA's National Championship Win
The last time the Georgia Bulldogs won a national championship, no one in the student body was alive.  
The game Monday made up for the long wait, though. The Dawgs defeated the Crimson Tide 33-18. 
There were impeccable plays down to the very last minute when defensive back Kelee Ringo scored a 79-yard pick six. 
Alabama fan Fisher Bryant, a sophomore, said this interception caused him to turn off the TV and go to bed. 
"I'm happy for the Georgia football team," he said, but adding that "it'll be another 40 years" until the Dawgs win again. 
Freshman Eric Moelter, a Georgia fan, said he thinks the Dawgs will be able to "clinch the natty" again soon. 
"I thought it was a great game," Moelter said. Like a lot of people, he said he hoped for a Georgia win but did not expect it.  
Moelter said he "thought Alabama was too strong," as did most Georgia fans since Alabama put on an impressive show this season, per usual, despite a Texas A&M loss along the way. 
Two lucky students were attendees of Monday's much-anticipated match up. 
Sophomores Tripp Beaty and Brooks Payne both traveled to Indianapolis to watch their beloved Dawgs. 
"The atmosphere was phenomenal," Beaty said, but he said anxiety never escaped him. 
"I remember standing there with, like, eight minutes left, and I literally felt like the game was never going to end," he said. "It could have gone either way; you just didn't know. It was so intense," he added.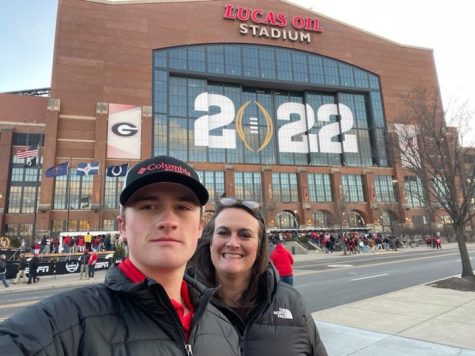 Payne enjoyed the vibrant environment of the game. 
"There were way more Georgia fans than there were Alabama fans, which kinda made it feel like a home game," he said. 
Like Beaty, he was anxious for the outcome of the game. 
"From the Orange Bowl to then, I was very nervous the whole time, especially in the first half when offense wasn't doing anything," Payne said. "When Brock Bowers scored the touchdown to get us up by eight, I think that sealed us and kinda all my nerves went away."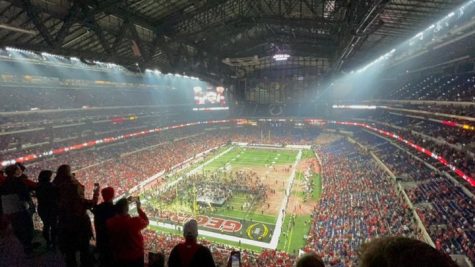 While their team finally defeated Alabama, both Beaty and Payne said they have respect for the Alabama football team. 
"Bryce Young is like a player I've never seen before," Beaty said, adding that "he was a really tough opponent to beat." 
Nick Saban, Alabama's head coach, has seven national championships and has only been defeated by two former assistants, one of them being Kirby Smart on Monday. 
"Nick Saban is just one of the greatest coaches, and finally we climbed that summit to beat him," Beaty said.