A Passion for Fashion: Alumna Paras Dhillon Launches Clothing Line
From a young age, Paras Dhillon's love for fashion was evident in her princess gowns and plastic "glass" slippers. 
Little did she know her enthusiasm for style and glamour would blossom into a career someday. 
Dhillon, who graduated from the school in May and now studies business at the University of California at Berkeley, inaugurated her clothing line "Paras Dhillon" last month. The project has been in the works for about two years. 
In eighth grade, that's when she truly knew she wanted to go into the business world, she said, but "the idea of a brand never really came to [her] until 10th grade." 
Taking the first step was scary. There was a lot about sole proprietorship she didn't know, but she had to start somewhere. 
After her sophomore year, Dhillon spent countless hours researching, watching YouTube videos and reading books about entrepreneurship and retail. Perhaps the biggest thing to grasp was the legal aspect of business: taxes, permits, a license, etcetera. 
At 16, it felt overwhelming, she said, and even now, "I feel like I'm learning as I go." 
"Over the next couple of months, I got into contact with a couple of wholesalers, a couple of suppliers," she said. "As a permit holder, as a registered business, only a few people have access to these wholesalers." 
Dhillon searched their websites for clothes she wanted to sell and ordered them in bulk. However, before purchasing, she examined the material of each piece. 
"Getting the quality right was a really big thing for me," she said. 
She said many online clothing companies trick shoppers into thinking their product is well-manufactured by presenting a misleading photo that makes it seem like the fabric is durable and feels good. She didn't want to cater such apparel to her customers. 
Dhillon said she is happy with her wholesalers, not only for their soft and comfortable design but for pieces that are trendy before they hit the market. 
"That's a big thing in this industry. They're so many brands, so many online brands. If you don't keep updated, you're out of the game," she said. 
Shaping her brand and vibe and making an impression on consumers was important to Dhillon. She wanted an overall theme of "sleek, clean, sophisticated, classy and a little luxurious" to be seen not only in the clothing line, but in the website, as well, which took two to three months to curate, she said. 
She said she studied companies like Calvin Klein and Abercrombie to evaluate how they promote and create a brand for themselves. 
Dhillon said with social media and website analytics, she can figure out who her audience is and what platform they come from. She's been running ads on Google and Facebook and finds that most people discover her shop from the latter. 
Dhillon said she primarily sells on her Instagram account @shopparasdhillon. However, people don't go on Instagram with the intent to buy something, she said, which is why she plans on expanding the business to Ebay, Etsy and Amazon. 
She's already surprised at the response she's received, though. Her work, alongside support from friends and family spreading the word, helped her sell out of three pieces. 
Camryn Bryant, who also graduated in May, is a close friend and proud supporter of Dhillon's entrepreneurship journey. She was one of the few people aware of Dhillon's clothing line before it launched. 
Bryant bought her cable knit V-neck wrap sweater. 
"You can tell she put a lot of effort into making sure that the piece is really comfortable. I felt like I was wearing pajamas," she said. 
Though Dhillon will not make a profit until later, as she is paying the expenses of just starting up the business, she's "definitely making enough to cover up what [she] spent initially just for the inventory," she said. 
On top of that, she is also "generating enough to be able to have a bigger collection, a bigger lineup, for [her] next launch," she said. "It will be a spring collection, is all I can say."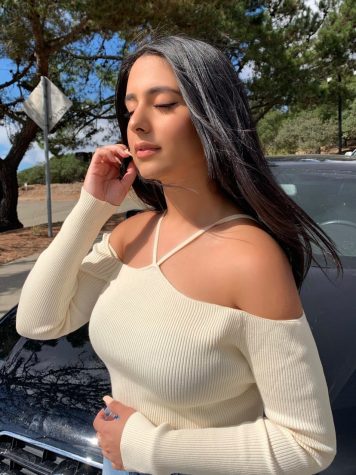 Dhillon credits her participation in the marketing pathway and in Distributive Education Clubs of America (DECA) at Cambridge in preparing her to build up her business. 
Her marketing classes and DECA competitions taught her how to formulate ideas and take initiative, she said. She learned advertising, financing, how to start a business plan and how to create a social media campaign. 
"It's really nice that I've had the opportunity to learn that for four years," she said. 
School doesn't have to interfere with your future, said Dhillon, nor should your future be put on the back burner while you pursue an education. 
"You don't have to wait to finish your education, finish your college, and then start working. If you have an idea now, start it now," she said. 
Dhillon offered some advice to young people considering entrepreneurship: "Don't let the fact that you don't know where to start stop you. Don't let your age stop you. Don't let uncertainty stop you." 
You just have to take the first step, said Dhillon.  
"It's Cambridge newspaper today, Forbes tomorrow," she said.