Teachers Have "Pennant Fever" After Braves' World Series Win
First baseman Freddie Freeman caught the ball for the final out. Immediately, every Atlanta Brave sprinted to the center of the field, embracing each other with the biggest smiles on their faces.  
Even though this victory occurred at the home of the Houston Astros, there were plenty of people clothed in red and navy-blue leaping in the stands. As Braves Manager Brian Snitker held up the Commissioner's Trophy euphorically, confetti poured from above. 
It has been 22 years since the Braves were last in the World Series — 26 years since they won it all. 
After Tuesday's triumph for the Braves, while countless students were caught up in the excitement in this historic moment and sported Braves attire in the halls, several teachers had pennant fever as well. 
Leading up to the World Series, history teacher Brad Coulter's students decorated his classroom door with grave markers for the Los Angeles Dodgers and Milwaukee Brewers, teams Atlanta defeated along their road to the championship, along with pictures of Braves players Freddie Freeman, Joc Pederson and Eddie Rosario.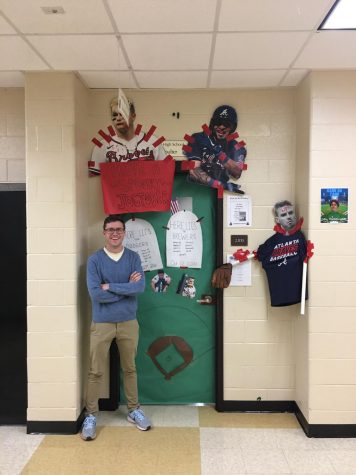 Coulter said he and history teacher John Lash, another huge supporter of the team, went to a playoff game together between the Braves and the Milwaukee Brewers this season. 
"The thing that's fun about this team is that they genuinely enjoy playing and genuinely enjoy being around each other," Lash said, adding that "Freddie Freeman's a handsome man." 
He said his initial reaction to them winning Tuesday night was one of disbelief. History teacher Mark Schuler agreed. 
"If you've been an Atlanta fan long enough, you're waiting for the shoe to drop," he said.  
He said he was surprised at the Braves making it to the World Series in the first place. 
"When you have a winning record in August, that's usually not a blueprint to the World Series," he said. 
Lash compared the tension in the game to the Atlanta Falcons' infamous loss to the New England Patriots in the 2017 Super Bowl when the Falcons were up 28-3 at one point but ended up losing. 
Schuler experienced some anxiety while watching the game, as well. 
"Even up three-nothing, I was not comfortable," he said. 
Lash said his favorite play was Jorge Soler's colossal 446-foot three-run homer in the top of the third inning. 
"I think that thing went into orbit," Lash said. 
Like Lash and Schuler, math teacher Emily O'Dowd was cautiously confident in the team she has admired her whole life. 
"After the first home run and they were up, I was like, 'I think we're looking good,'" she said. O'Dowd said she still watched the whole game, though, "just in case." 
Unlike most fans, who prefer Freeman or Dansby Swanson, her favorite athlete on the team is catcher Travis D'Arnaud. 
Nevertheless, she said, "I'm really glad that Freddie got a home run last night. I think he deserved it." 
Math teacher Gene Kim is a very devoted Braves fan, as well. 
He and his daughter record every game and watch it together later. He posted a video on his Instagram of him jumping and screaming in response to the Braves winning the Series. 
"I could not believe; I was in shock. And then when it finally sunk in [that] they won — all those years of just hoping and being let down and feeling bad for them — it was all released. It was like a redemption," Kim said. 
"They let me down a number of times, so I was never going to pre-celebrate." 
He attended the victory parade on Friday. He and his family went to The Battery, the area outside of Truist Park in Cobb County. They even had tickets to enter the stadium, too, where there was a ceremony and concert. 
"It was such a great experience for my family," he said.