"Gracias a Mi Familia:" Latinx Students of Immigrants on Academic Motivation
Millions of immigrants have moved to the United States seeking to pursue their American Dream. 
Hispanics, or people whose lineage traces to Spanish-speaking countries, comprise a large percentage of immigrants living in the United States.   
In celebration of Hispanic Heritage Month, which lasts from Sept. 15 to Oct. 15, the country spotlights achievements made by Hispanics to raise awareness of their significance to history and to inspire future generations of Hispanics.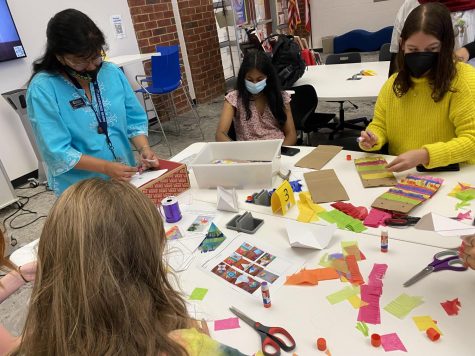 To reach their goals, many Latino children of immigrants are driven to work hard in school. Some attribute their motivation to the opportunities their parents have given them by moving to the United States. "Latinos," a broader group that includes anyone originating from a Latin-American nation, made up approximately 50% of the U.S. immigrant population in 2018 according to the Pew Research Center.   
In a 2015 study conducted by the Helios Education Foundation, 56% of Latino students surveyed said their source of motivation to perform well in school was making their family proud. 
This is part of what drives freshman Sarah Uchoa, who said she realizes she has a chance at an education that her parents never had. 
"I feel like I should do better because they didn't get the opportunity that I have," said Uchoa, whose parents are from Brazil.  
According to ReVista, an online magazine published by Harvard University, "At least one in three people in Latin America now lives in poverty. […] The poor are those with lower levels of education."  
The magazine also states that 14% of adults in Latin America can't read or write at all. 
Junior Irene Palacios-Rodriguez, vice president of the school club Hispanic Organization Promoting Education (HoPe), said she feels a lot of pressure to succeed in her education. She is a first-generation American in her family, and she said she will be the first among them to attend college.  
"When I go out into the world, I'm not just representing myself or my family; I'm representing the Mexican community as a whole," Palacios-Rodriguez said. 
But no matter how far she climbs, she said she feels as if other students who might have American parents are always one step ahead.  
"Everyone was already born here, and their parents were born here, and it feels like everything for them is already established," she said. 
This mentality can encourage students to strive to do better in their classes, but in some cases, it can leave them feeling hopeless.  
Spanish teacher Rosangel Rodriguez said she's seen her Latino students fall into two categories: either they're extremely motivated or they've completely given up.  
"It feels like they kind of just already lost hope because they feel like their status is already hindering them and that they might not be able to afford or even make it into college," she said.  
Since Palacios-Rodriguez would be the first in her family to go to college, "there's a lot of pressure to get that financial aid, because it's something we really need."  
Regardless of the obstacles Latino students face, most of them are all working to grasp their own separate versions of the American Dream, Palacios-Rodriguez said.  
 "I have my own dreams and own aspirations that I'm working for- for myself and for my parents," she said.