A Candy-less Club Fair: Selling Clubs Without the Sweets
On Wednesday, more than 40 school clubs marketed themselves to the student body — only their means of promotion were untraditional. 
In previous years, it was common for clubs to display bowls of candy and chocolate, boxes of homemade cookies or knickknacks in front of their trifold presentations to attract passersby at the yearly club fair.  
Prior to Wednesday's club fair, the administration announced that such goodies, as well as flyers and paper sign-up sheets, were prohibited as a precaution against COVID-19. Nothing was to be touched or shared. 
Without confectionary to incentivize club membership, how did clubs adapt their methods of persuasion? 
Junior Zoha Khan, who managed the Future Farmers of America (FFA) table along with junior Mahitha Veeram, said that since "most people only come to the club stands just for candy, flyers and little trinkets," FFA had to think creatively about how to draw genuine attention to their set-up.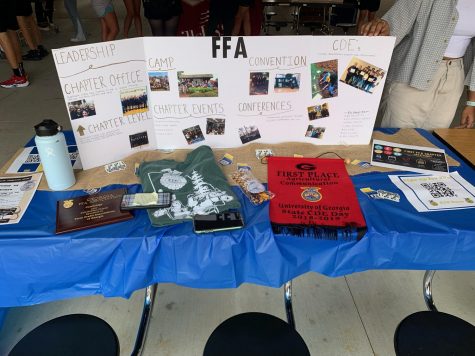 FFA had already prepared flyers to hand out at the fair when they got the notice that exchanging tangible items was forbidden, said Veeram. Initially, they disregarded their flyers but then decided to upload a digital copy of them onto a QR code. 
Usually, the candy does the talking, but now, enticement to join the club required more talking on the girls' part, Veeram added. They especially highlighted scholarships offered within FFA, how good FFA looks on college applications and the graduation cords one may receive. 
Seniors Ekta Mistry and Anvitha Suram represented Future Business Leaders of America (FBLA). To convince students into considering joining the club, Mistry said she and Suram "are really marketing what we have to offer" in terms of competitions, leadership opportunities and volunteering.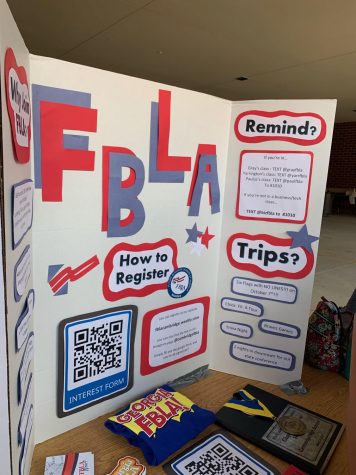 Suram added that emphasizing the various trips the club participates in is important to their cause, as well, "because kids like to travel." 
Senior Anthony Zehnder, at the fair on behalf of the math team, faced unique obstacles in his effort of "selling" the club. 
He squeezed in next to the National Spanish Honor Society, and his presentation consisted of five sheets of paper taped to the table.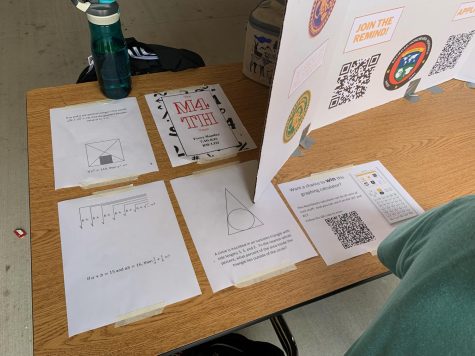 Without a trifold, the math team's presence at the club fair would be easy to miss. However, Zehnder pulled students from FBLA, just three trifolds down the table. 
"They bring in all the people," he said. 
The math team's persuasion strategy was a raffle for a free NumWorks graphing calculator that belonged to one of the club members wanting to get rid of it, said Zehnder. Attendance at the first meeting is a requirement to win.