"A Tool for the Current Generation": Students Anticipate Their Shift to Innovation Academy in the Fall
Innovation Academy, a STEM magnet high school, will open in the fall for the 2021-2022 school year, and many Cambridge students have been accepted there. 
According to Principal Ashley Agans, 103 rising freshmen and sophomores districted for Cambridge were accepted to Innovation Academy, but students have until the summer to make their final decision and register. 
Many students, like freshman Grady Waple, are looking forward to their transition to Innovation.  
"It's a tool for the current generation," Waple said regarding the academy. It focuses on practical skills that can be used in the workforce by having students choose one of three career-based pathways: healthcare, engineering and computer science. 
"When I saw how this was going to be, how next level it was, I was completely in," Waple said. 
The main two factors that led to his decision to go to this "school for the future" were the academics and the social element. 
Innovation Academy will offer unique hands-on opportunities, such as working in a fully equipped operation room or a model ambulance. This appeals to Waple, who has chosen the healthcare pathway since he is interested in pursuing a job in that field. 
Waple has been online all year and hasn't "really gotten to know Cambridge" or its students. He said most of his friends are at Milton High School, and they plan to attend Innovation with him next year. 
What he is most looking forward to, though, is the "experience," he said. IA will function much more like a college campus, with more independent work and projects.  
On Fridays, students have an independent workday called "Flex Friday."  
"It's a day for you to catch up," Waple said. Traditionally, schoolwork "often goes into the weekend," which Innovation is trying to prevent. 
He also is a fan of the atmosphere around the campus.  
"There's town right outside campus," he said. "I can get breakfast at Maple Street and go to Comeback Vinyl." 
Waple has toured the campus twice and loves the open architecture and abundance of glass. 
"You feel happy to be there. It doesn't feel like a prison, like most schools," he said.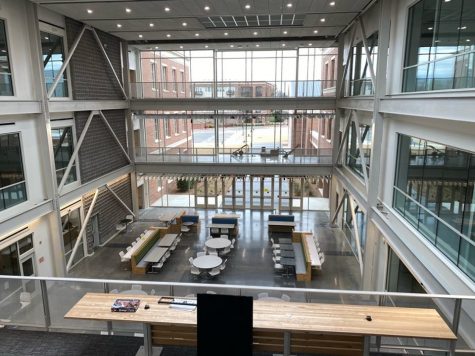 Freshman Bella Gee wasn't initially as excited as Waple, especially since she doesn't know many other students planning to go to Innovation, but she has since begun to look forward to next school year. 
"I thought it was a private school, which is why I didn't want to go," she said. 
A magnet school, though, is a public school that focuses on a specific group of subjects, like Innovation will be doing with STEM, and offers specialized programs in those areas. 
Now, she thinks it is a "good opportunity," she said, because of how it will look on college and job applications. 
She will miss the orchestra program, even though she said the absence of arts "was to be expected." However, students are encouraged to join as many clubs as they want, so participating in an orchestra club is a possibility. 
Gee has chosen the computer science pathway but is also taking a block combo class, which is usually reserved for freshman who are still deciding on their pathway. 
The limited choices within a pathway are one of the disadvantages of attending Innovation, she said. 
"You have to choose a pathway right away," she said. "You can't think through your decision really well." 
Freshman Logan Rush has chosen the engineering pathway, an interest he is already pursuing at Cambridge. Leaving his current engineering program was one of the things he had to consider. 
Though he knows many people who will attend Innovation, he said what he will miss most about Cambridge is his friends.  
Rush is also a member of the band program, which he is upset to be leaving, but he shares Gee's mindset that the school "will attempt to have clubs like band, orchestra and chorus," though on a much smaller scale. 
There are ups and downs to every school, but Innovation Academy's future students are looking forward to the ride. 
"I'm excited to go to this new STEM high school," Waple said. "I'm excited to be the first class going there, to be able to structure this school. I'm ready for August."