Where "Laser-focus" Can Get You: How Principal Ashley Agans Overcame the Challenges of the Pandemic During Her First Year at the School
Amid a global pandemic, beginning a new journey sounds intimidating to most.
Starting her role as principal in August, Ashley Agans joined during an incredibly difficult time for the school.
Though Agans was intimidated by starting at a new school in such uncertain circumstances, she said she was overwhelmed by nice messages and responses from parents and staff. She loves getting to know her peers but finds trouble in finding authenticity and natural interactions through Microsoft Teams meetings.
"When I tried to get a principalship, this is certainly not what I imagined," said Agans.
Starting a new school during a time where many students haven't even stepped foot on campus, Agans said she does her best to make sure students know who she is and what she stands for.
"My biggest hurdle has been making sure that I'm sending communications as often as I can so people can see my face without a mask on it," said Agans.
Often Agans will send students, staff and parents videos explaining new policies, big announcements and other news she finds relevant. During these videos, Agans takes her mask off to show her full face to the camera.
Agans, who describes herself as a "social butterfly," said she faces many challenges creating relationships the way she could before the pandemic.
With her passion to lead starting during her time at Northview High School, with support from her previous principal, Paul Brannon, Agans went back to college to get her master's degree in leadership at Georgia State University.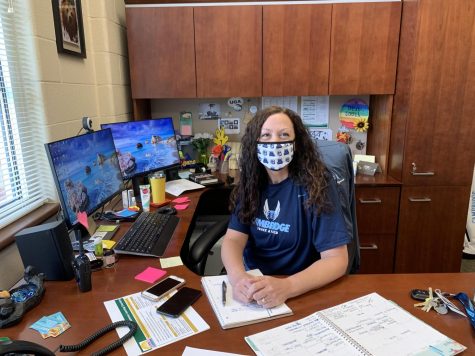 Along with Brannon, Agans also found mentorship in her former coworker and principal from Johns Creek High School, Christopher Shearer, a colleague Agans still calls regularly.
Shearer watched Agans teach and work at Johns Creek, analyzing her skills and talents as an educator, and believes she is a great fit for a leader.
"Mrs. Agans leads with the best interest of the students in mind," Shearer said in an email. "She is always laser-focused on the student and their experience, and she has always been a strong student advocate."
Shearer, like many of Agans's peers, sees how she has faced adversity and challenges with grace and admires her calm and positive outlook on her leadership position.
Assistant Principal Cindy Weatherford has worked at many of the same schools as Agans.
"As soon as it was announced that I got the job, I was overwhelmed with texts and calls from many people about how much I will love working with her," said Weatherford through an email.
Weatherford, entering the school alongside Agans for the 2020-2021 school year, said she admires Agans's passion for helping students find their path.
"As a first-year principal, she has faced many challenges related and not related to the pandemic. She has demonstrated a passionate energy for education and for students as she has worked tirelessly this year to provide what students need … and to help balance all the changes for teachers and staff," she said.