How is the School Celebrating Black History Month?
Traditions like Thanksgiving and New Year's have rapidly changed in the past 11 months, but one celebration that has remained consistent is that of Black History Month. 
The school has found many ways to be involved in the celebration of this historic month, including displaying a collage in the 2200 hallway, constructing a book display in the media center, sharing daily Black History Month facts over the intercom and encouraging teachers to include Black History Month inspired topics in their lessons. 
Administrative Assistant Tonekia Phairr is glad to have the opportunity to celebrate Black History Month because she thinks it "allows the opportunity to have open conversations about different cultures' backgrounds." 
It is a tradition she has celebrated since she was a student. 
"I remember February coming up and always learning new things," she said. "We want to make sure history, no matter where it comes from, is maintained. We can look at the past and figure out how we can make things better for the future." 
Phairr created the visual display in the 2200 hallway, built around the 2021 theme: "Then and Now: Women of Black History." She chose this theme because she "wanted to show the strength of women." 
"You hear very little about women," she said. "We always kind of turn to the men. Having taught about the civil rights movement, I always thought 'What about the women?'" 
Phairr is also responsible for the daily Black History Month facts that are shared over the morning announcements. It was something she started when she first came to the school.  
"Not everything people do make it into the history books, but that doesn't mean it doesn't make an impact," she said. 
She tries to share facts that "spark conversations" instead of just birth and death dates that students most likely won't remember or care about, she said. She also tries to include facts from a wide variety of subject areas, so that teachers can use the facts in their lessons. 
In the future, Phairr would like to have more student participation in Black History Month, something that happened in previous years, but has been limited this year due to the pandemic.  
Media Coordinator Laura Morgan agrees that it is important not to overlook the contributions that African Americans have made to history. 
"A lot of times our history tends to be white–centric because that's who writes the history books," she said.  
Black History Month gives us the opportunity to seek out the lesser-known players in history, even though this level of awareness should be present all the time, she said. 
"I think that as a librarian, I'm sharing diverse voices. I want to make sure anyone who comes in my library can find books they can relate to and books written by people they can relate to, so by focusing on different themed months, I can make sure I have all those books in my collection and be able to display them," she said. 
She also thinks that by reading books written by people of different backgrounds, it helps her to understand others better, and encourages empathy. 
Morgan is in charge of putting together the media center book displays. 
"When I put together my display, I try to get a wide variety of books that would interest people and educate them," she said. She said she tries to keep her collection current and meaningful for students. 
Morgan thinks there has been a change in what students have been choosing to read since the display went up. 
"We want people to walk by and see something that appeals to them and grab it and read it," she said. "That's why we have the display, not just pictures of the books." 
Band director Jacob Mercer thinks it is important to celebrate Black History Month because he feels "the education system doesn't necessarily include great things that are happening for people of color." 
He has worked to incorporate many Black History Month related topics into his lesson plans. In his band classes, he has taught about African American composers, orchestra and band music. He has also included lessons about ragtime piano music, which influenced jazz. 
He hopes to touch on African American spirituals and how they influenced choral music as the months draws to a close, as well. 
He thinks African American influence is important for students to know about simply because they don't already know about it. 
"It's important to put it on their radar, even at this young of an age," he said, "because I know that I wish it was on my radar back then. I feel like I'm doing my job as a young teacher that's relatable to them to say, 'Hey, this is who I am and you don't have to necessarily believe what I believe, but you should just know some things that I've learned.'" 
African American musicians have also greatly influenced different genres of music. Among these are jazz, disco, blues, gospel music and house music, a type of electronic dance music. 
"We wouldn't have the music we have today, pop as well, if it weren't for that influence," Mercer said. 
He doesn't think the school's music programs include much African American–influenced music, but "we can work towards making that change," he said. He tries to pick diverse music when choosing his own programs, but he thinks "it's on me as the teacher to lean about what else is out there from African American composers," he said. 
According to Phairr, the importance of Black History Month lies within having students "understand the importance of history, period," she said. "We are all pretty much history makers right now and what we do has an impact on what people do in the future. If someone were to write about you, what do you want the history books to say?" 
About the Contributor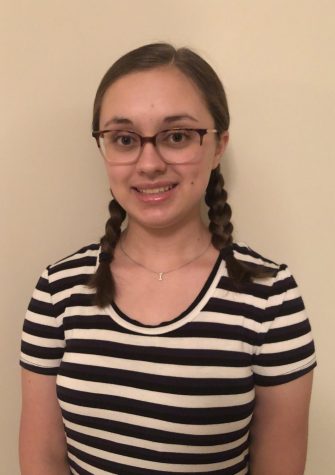 Ingrid Schmitz, Staff Writer
Ingrid Schmitz is a freshman. This is her first year writing for The Bear Witness and she is thrilled to be a part of it. She is also involved with...