Valentine's Day Isn't Only for Those Hit by Cupid's Arrow
Stores like Target, Walgreens and the Dollar Tree are stocked with heart-shaped boxes of chocolates, pink teddy bears and various candies with limited-edition red wrappers.   
Florists work extra hard to meet the demand for colorful bouquets of sweet-smelling roses. 
Those in love see la vie en rose even more than usual. 
Some single people roll their eyes at the lovey-dovey sights, and others embrace the warm and fuzzy feelings. 
I fall into that second category. I'm a hopeless romantic, so a day to celebrate love? Count me in. 
There's an unspoken expectation when you come across a single person during Valentine's Day season: they'll be bitter towards the holiday just because, in theory, they have nobody to spend it with. But that isn't the case with me or with junior Liam Cawley. 
Cawley modifies the holiday to fit his life as somebody who's single. For him, it's an extra day to celebrate the special women in his life, like his family and friends. 
"I would do something for them because I love them," he said. 
I, too, will sometimes get gifts for my best pals, but I might also watch a romcom or two (Set it Up is my go-to) and grab some Valentine's Day–themed coloring pages. The cafeteria has some, and may I just say I'm so excited to whip out my crayons. 
Junior Olivia Ver Steegh doesn't want to take a "jab" at anyone, but she thinks single people usually think differently than people in relationships regarding Valentine's Day. 
"I feel like single people think it's stupid," she said. 
In fact, when she was single, she said she used to think the same way. 
Last year on Valentine's Day, though, her single status changed with one question. 
"I guess there's no time like the present, so will you go out with me?" junior Zakari Filbern asked after Ver Steegh had confessed she liked him the day prior. 
They've been dating for almost a year now.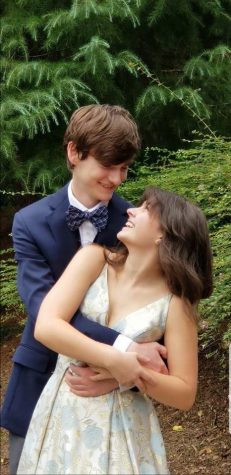 Ver Steegh likes the holiday because it's a day separate from a couple's anniversary where they can celebrate their love even more. In Ver Steegh's and Filbern's case, though, their anniversary and the holiday clash. 
So, I guess, two times the love? 
Some may argue the day is useless — even if they're in a relationship — because isn't there always supposed to be love present between two partners? 
"People remember the reasons as to why they're together and why they enjoy being in each other's company," said Filbern. 
I completely agree with him. 
You're not surrounded by pink and red hearts and the idea of love every day of the year, but the one day there are both of those things is a perfect day to remember things like why you're in love with this specific person, how they make you feel loved and why you like spending time with them. 
We single people can also celebrate this cutesy holiday. Maybe we'll ask ourselves things regarding self-love, the love we have for our family and friends, our personal definition for love, etcetera.  
Other single hopeless romantics like me might also enjoy watching Lady and the Tramp. 
Cawley describes the day as being "surrounded by love," and though he is single, he is able to see that. I wish there were more single people who smile at the couples swooning over each other in the hallways instead of giving them the death stare. 
"Valentine's Day is for everyone," Filbern said. 
About the Contributor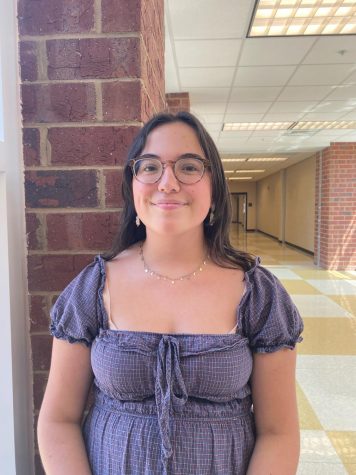 Isabella Dudley-Flores, Managing Editor
Isabella Dudley-Flores is a sophomore and The Bear Witness' Managing Editor this year. She is also co-president of the school's Gay/Straight Alliance...