Style in the Age of a Pandemic: How Quarantine Changed Students' Clothing Game
From pastel crop-tops to oversized band tees and skinny jeans to tennis skirts, students have been making distinct modifications to their closets over quarantine.
As for freshman Ben Terry, his style isn't cookie-cutter, but rather, a combination of trends and pieces that blend to express his personality. Instead of conforming to the typical teenage boy style, he broke norms and took fashion inspiration from TikTok.
Terry said he doesn't feel like he has to fit into a certain aesthetic.
"I'm waking up and realizing you don't have to be one thing," he said. "I'm just me — I'm Ben."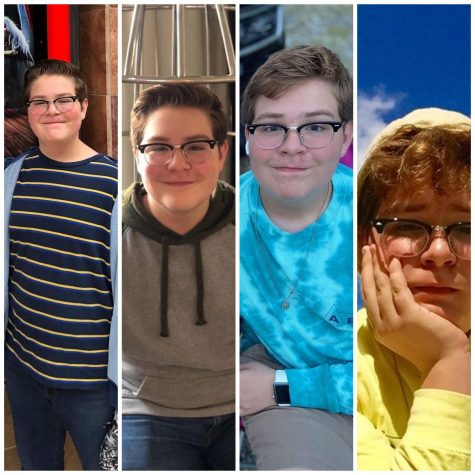 Urban Outfitters is his go-to store when it comes to achieving his new usual outfits. Recently, he bought a bucket-hat and comfortable shorts. However, he said Target is getting better with their clothing selection, which means finding cool clothes doesn't have to be expensive. According to Terry, Urban Outfitters is about 50% more expensive than Target.
He said at one time stereotypes influenced him and still affect other boys.
"I'd wear a t-shirt and jeans to school because that's what we're supposed to do."
He said the change in what he wears may not be very drastic, but he has acquired a newfound self-confidence. When in quarantine, he wasn't observing what other boys at school would wear, so he used that time in self-isolation to branch out and be himself.
"I think boys–their styles will change [due to quarantine]," he said.
"We're figuring out what we want to wear," said Terry.
Terry said he doesn't think his confidence will change once he goes back to school, but that his style will always be "shifting and changing."
Senior Audrey Gilfillan also used to keep up with trends because that's what her former friends did and she's a self-proclaimed "people-pleaser." Now, Gilfillan is free from basing her closet off other people's opinions and what's considered 'in.'
Now she wears darker, hippie or 1960's-inspired clothes, similar to her new friends.
"You can tell I'm more comfortable and that I like what I'm wearing better," she said.
Gilfillan said she takes inspiration and recommendations from her friends and TikTok.
She thrifted before quarantine, but now she's been online shopping. One of her favorite stores is Pacsun, much like freshman Bella Thomason.
Thomason said she gets fashion inspiration from social media, including Pinterest and Instagram. She also likes to scroll through "#streetwear" on TikTok, where baggy, low-rise jeans and Nike Jordans are seen in practically every other post, unlike her previous style, which was centered around crop-tops and leggings.
Thomason said her new clothing choices are "a lot cooler" and that she's "in love" with the popular skate wear shop, Zumiez.
Much like Terry, Thomason said revamping your wardrobe doesn't have to be an expensive renovation. Recently, she DIYed $11 Walmart jeans so they would resemble a pair she saw online for $70, and like Gilfillan, she enjoys thrifting. She also takes pieces from her brother's closet once in a while to layer with her outfits. Shein is a cheap company Thomason recommends, usually not topping $20. Thomason got the popular Nike Jordans for $400 less than their retail price on afotics.com.
Thomason said after she substituted her old clothes for pieces that better matched her aesthetic, she made new friends. She went to middle school with one of her newer friends but didn't talk to him much until he direct messaged her through Instagram, saying he loved her style and they should meet up to take pictures since their clothes meshed well.
Now she feels "on top of the world" due to her new fashion.
"I feel like I wasn't changing," she said. "I feel like I was evolving."