Bears Welcome New Principal Ashley Agans
An important yet foreign face has appeared in the administration realm, but due to online learning, students haven't yet had a proper introduction. 
This unconventional start to the year certainly presents challenges to get to know the school's new principal, Ashley Agans. 
Even with her weekly newsletter videos, she remains unfamiliar to many. So, who is Agans behind the camera? 
Agans grew up in Stone Mountain, Georgia where she paid her way through college by working at Stone Mountain Park as a "Glow Girl." At the park's nighttime laser shows, she would sell freezing cold glow bands as their condensating, dry ice exteriors dripped down her arms. 
Agan's career pathway and ending up where she is now was busy, to say the least. 
After graduating high school, she attended the University of Georgia, where she earned a bachelor's degree in speech communication. She later took on jobs in sales, interior design, real estate and being a stay-at-home mom. 
But when her two boys, Garrett and Rhett, were old enough to go to school, Agans knew she wasn't interested in picking up her previous occupation. 
"I think sometimes when you have kids, you really start thinking about, 'What are you contributing? What kind of world are we making?'" she said, "You start thinking about service. You start thinking about what kind of world you're leading for [your children]." 
She consulted her grandmother for advice on what she should do. 
"I just don't know. I don't know what the next step is, but I also don't want to lose time with my kids," said Agans during their conversation. 
While they were talking, Agans's grandmother reminded her how much she enjoyed history and learning in general. Being a teacher could allow her to engage in her passions and simultaneously manage family time. It was then that Agans realized her calling. 
She enrolled in distance classes at the University of Georgia to acquire the "equivalent of a history/political science degree," she said, and subsequently obtained a master's in education at Georgia State University after having accepted a teaching position at Northview High School, later to fill the Social Studies Department Chair and 504 Chair. 
Agans then earned an Education Specialist in School Leadership degree from the University of North Georgia. Her final two jobs before becoming a Cambridge bear were being an assistant principal at Autrey Mill Middle School and at John's Creek High School. 
Ironically, despite Agans's career centered around education, she was never fond of academics as a child or a teenager and was more focused on the social and extracurricular aspects of school. 
"I don't think any of my high school teachers would ever, ever have thought that I would become a teacher and eventually a principal," she said. 
Agans made many positive impressions on her former coworkers, one being Assistant Principal Becca Myers at Johns Creek High School. When Agans was an eighth-grade assistant principal at Autrey Mill Middle School for one year, Myers worked under her as a science teacher. 
Myers said although she was disappointed they couldn't work together again at Johns Creek, she was happy Agans seized the opportunity to embark on this next chapter of her career. 
According to Myers, Agans's best quality is never giving up when assigned a task to tackle. 
"If you ask her to do something, she's going to do it and she's going to do it to the best of her ability," she said. 
Even though Agans has only had been principal for about three months, her new colleagues already notice her kind and determined personality. 
"She has a great sense of humor, she is very open to have conversations with, and she definitely has a love for students and wants the best for them," said Assistant Principal Cindy Weatherford, adding that Agans is a "go-getter" with superb organization skills. 
Outside of work, Agans enjoys spending time with her sons, her husband Ken and her 11-year-old Yorkie named Daisy. 
She also loves yoga and getting lost in a good book. 
"My husband calls me a 'book ruiner' because he'll buy me a book and I'll finish it in a day," she said with a laugh. 
Singing is a secret talent of hers, and she said she "can belt it out in the car like you would never believe." 
Agans's life goals are just being a good principal, mom and friend and maintaining balance between work and play. 
But her number one objective at the school is giving students an exciting high school experience and having them feel confident in their future endeavors. 
"I want our students to walk away saying, 'That was a great four years,'" said Agans.  
"I want them to feel that this was a great place to be and that they learned a lot, but that they also had a great time and that they really feel prepared for whatever the next level is." 
About the Writer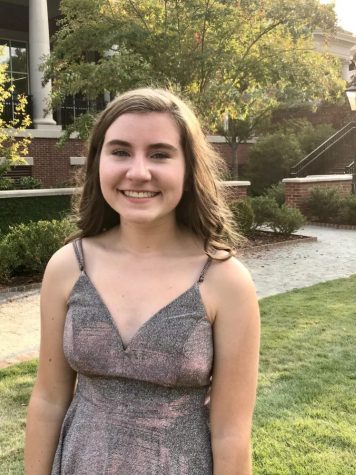 Rachel Lichtenwalner, Managing Editor
Rachel Lichtenwalner is a junior and excited to kick off her third year with The Bear Witness as managing editor! In addition to writing for the publication,...