In Memory of Mann: Students Reflect on History Teacher's Warmth and Passion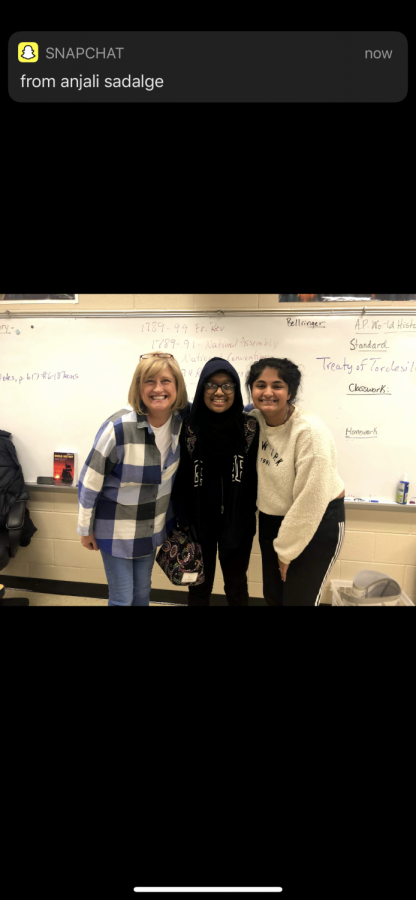 When walking down the social studies hallway, almost anyone could hear the roar of laughter emitting from her room.
Her classroom was known to be filled with screams, laughter and uncontrollable energy, which usually came from Patricia Mann herself.
Her grand Mason jar of colorful jellybeans always sat front and center in case she accidentally hit you with the inflatable globe during a round of her famous test review game. When you got a question right, or if you got hit in the head in the heat of the game, three or four jellybeans would be placed in your palm.
The tragedy of her passing hit students and faculty like a slap in the face, everyone waiting to wake up from this new reality without Mann who died unexpectedly on August 21.
Her students, both present and past, said they miss the woman who used to flail her arms in historical reenactments and tell tales about one of her adventures in the 49 countries she visited.
Senior Ashley Cotsman remembers walking into her electric room on her first day of sophomore year and being shocked by Mann's energy.
"She was always happy to listen to whatever you wanted to complain about," said Cotsman in a phone interview. "She was always so empathetic and laughed off things with you."
Her death stunned all her students and coworkers, but it didn't stop them from embracing their memories with her in her honor.
In the days following the news of her death, many students posted videos and photos of Mann in the classroom on social media platforms like Instagram and Snapchat. The videos, filled with excited screams and chaos, describe Mann's personality perfectly.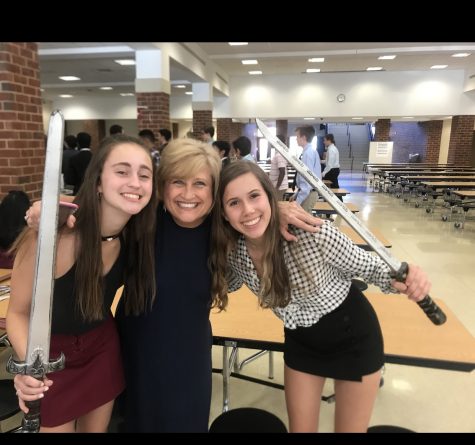 In a statement to the Social Studies department, April Pezzolla, one of Mann's fellow teachers and close friends, recalls how the two met.
"The first day I met Patty, we were so excited to meet that she accidentally hit me in the face with her hand," said Pezzolla in her statement.
"From that point on…after a hug, we knew we would have a wonderful, fun, and exceptional friendship."
Mann's kindness was contagious, radiating throughout her classroom and the hallways where she greeted students before each period began. Regardless of the day, she always had a smile on her face for anyone who came her way.
Another history teacher, Alicia Sims-Bailey, recalled Mann's permanent beaming grin and gratitude as one of the trademarks of her presence.
"It's amazing how a smile can light up your whole day," said Sims-Bailey through a phone call. "She's always been able to smile, all the time."
Students also remember her passion for history, which they said made the class more memorable.
Junior Ambuja Sharma, one of Ms. Mann's former AP World History students, said she never saw someone have so much love for craft besides the school's other history teachers, Lauren Hall and Mark Schuler.
"I think the biggest takeaway I got from [her class] is I realized I wanted to be as passionate with what I do as she is with history," said Sharma during a phone call.
"There's a lot I learned from her. The most important one is school shouldn't be about stress, worry, anxiety," said Cotsman. "It should be about fun and learning and experience."
There was a lot to learn from Mann. Her drive, her knowledge and her charisma never ceased to glow said Cotsman.
Hall said she believes the best way to remember Mann is to reach out if students need support, as Mann would always want her students taken care of.
"I think if we all try a little harder every day to seek to understand rather than judge and ask the good questions, then that would be a great [way to] honor Ms. Mann," Hall said.
About the Writer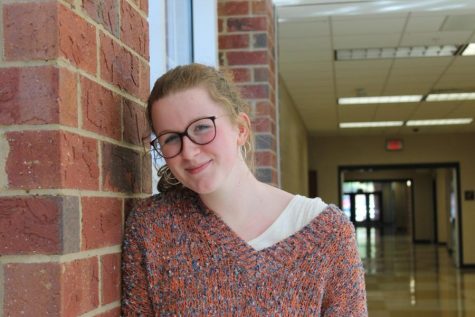 Brooke McDermott, Editor-In-Chief
Brooke is a senior and it is her third year on The Bear Witness as the Editor-in-Chief. Brooke is part of the environmentalism club, Young Democrats and...