"People Come Here and They Work": How Students Use the Student Center
Walking into the student center in the morning, students can be seen sitting and chatting with friends, lining up to print out assignments, cramming for a test first period or maybe even checking out a book.
From freshmen to seniors, the student center has always looked like an open, modern area with plenty of opportunities to work, study and collaborate. The colorful, futuristic furniture is a mainstay of the space.
Just before the class of 2020 arrived at the school, however, the student center was a very different place.
The student center, according to Student Center Paraprofessional Marian MacLeod, has seen a steep increase in use since it was refurbished four years ago. MacLeod has worked at the school all eight years it's been open and witnessed the changes firsthand.
"I'd rather them be here than out in the hallways like they used to," MacLeod said. She said she thinks it's a good thing so many students make use of the student center now.
Her fellow student center employee, Media Education in Technology Instructor Laura Morgan, has worked at the school for four years, and has only seen the student center in its current form.
"For the most part, people come here and they work," Morgan said. At first, she said, it could be chaotic, especially when the school began to allow students to visit the student center during lunch every day.
Now it's calmed down, with students being more productive. It's busy, but students get work done.
But despite how popular the student center is, many students who use it have never checked out books from it.
The most common thing students use the student center for, both Morgan and MacLeod said, is to do work for online classes. Morgan said during seventh period there are often 80 students in the student center, many of whom have online classes.
Before it was refurbished, MacLeod said, "A lot of kids were coming in for books." Now, while some do still check out books, it's much less common.
MacLeod said she has seen seniors come to the student center who have never been to a library before.
But many students who use the student center haven't given up on reading. They haven't even given up on libraries.
"If I get library books, I usually go to the Alpharetta library," said senior Mia Danner.
Several students had similar sentiments.
Both junior Isabelle Filipek and senior Meaghan McAfee said they have never checked out books from the student center, but have borrowed books from other libraries in recent years.
So why don't they use the student center to check out books?
Morgan said the goal of refurbishing the student center was to make it a welcoming, collaborative space. To those who wish the student center was used as a library more often, that goal may have been reached a little too well.
Danner said she doesn't check out books from the student center because she sees it as a space to do other work.
"When I come here, I do homework," Danner said, sitting with friends in the student center.
Others only check out school-related materials from the student center. Senior Molly Booker said the only time she has checked out a book from the student center was for her AP Lang class.
To many students, the student center is so ingrained as a place to work on online classes, catch up on homework or just hang out with friends in the morning that they don't make use of every resource available.
MacLeod said she just wants students to know about the resources available in the center, from the physical books and research databases to the poster maker, green screen and 3-D printer in the lab.
"We have all the databases you could want," MacLeod said. "They just need to ask."
About the Writer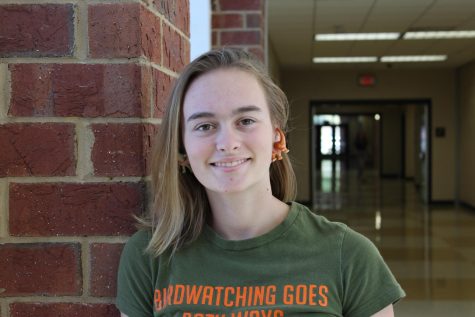 Libby Jones, Managing Editor




Libby Jones is a senior and a third-year reporter. She is one of the managing editors at The Bear Witness. She loves writing, art, and all...