These Girls are on Fire: Fighting Back Against Climate Change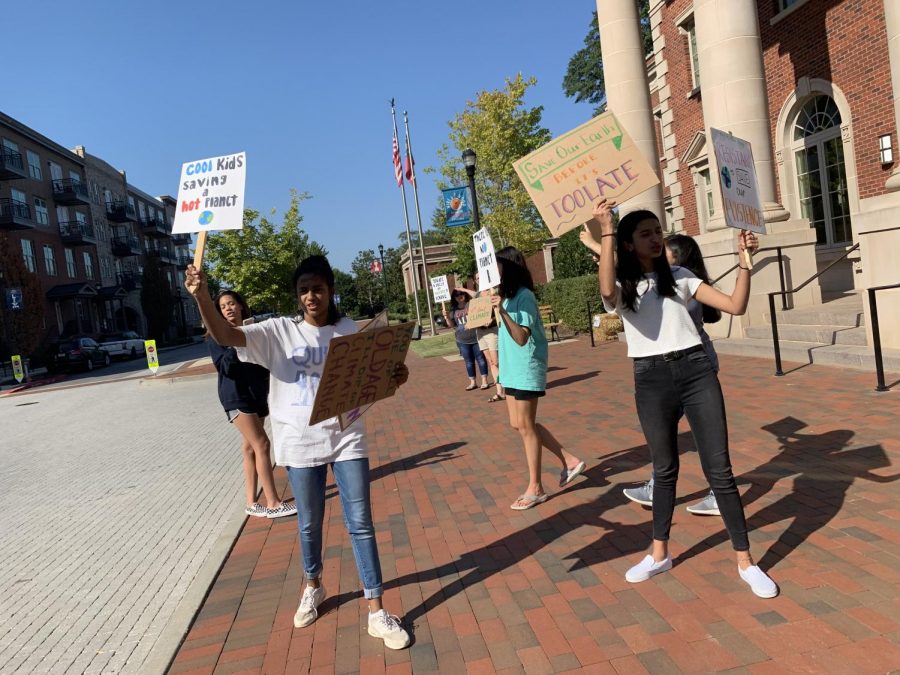 People drove past as if they didn't see or hear a thing.
"Brainwash!" a woman yelled from across the street.
One man gave the middle finger as he passed by.
Still the girls persisted.
A climate change strike led by sophomore Annaliza Morris was held at Alpharetta City Hall on Friday from 4 to 5:30 p.m. Five students and two adults, one being Morris' mother, attended.
They stood in a line in front of the building facing the traffic. The hot sun loomed overhead as they proudly held their cardboard signs and shouted chants.
The girls received mixed reactions from their audience. Some people ignored them or blew them off, while others expressed their support verbally or with a thumbs-up.
Morris said her passion for preventing climate change began around the seventh grade. Since then, she has been looking for ways to help.
She said her mother told her about Greta Thunberg, a 16-year-old environmental activist from Sweden who started the organization FridaysForFuture. It advocates for climate change mitigation and promotes striking on Fridays in front of local town governments.
Morris registered her name into its system and became a "leader."
This role requires her to inspire people "to not only be a part of the movement but also spread that influence to others," she said.
The strike on Friday had a different goal than previous ones. It was a global student-based strike "to show that, 'Why should we have an education when there may not be a future for us?'" said Morris.
Junior Aarni Iyer said she has been interested in helping increase awareness of climate change for some time.
Iyer said she noticed a while ago that no strikes for climate change alleviation had happened in the Atlanta area, so she checked the FridaysForFuture website.
When Iyer saw that Morris was holding an event, she retrieved her contact information and DMed her through Instagram.
Iyer said she joined the strike because she believes climate change is an urgent matter that needs more attention.
"We need to get some eyes on this. We need to raise awareness, and we need change right now," she said. "Literally the point of no return is creeping up on us, and if we don't do something now, then we're screwed."
After encountering Morris' Instagram story publicizing the strike, sophomore Nikita Roy DMed her, eager to participate.
"In politics nowadays, I see that a lot of people are buying into what isn't science, and it makes me mad that they don't care about our future when that's what I'm thinking about. We have such older people in legislature and stuff, I wanted to bring a young voice to the topic," said Roy.
Iyer touched on the same subject. She said people who don't believe in climate change should, because the facts and the science are there, proving it exists and that it's a real issue.
"It's getting hotter. It's getting worse. Pollution is happening. Species are going extinct. Forests are burning. You can't say there's nothing we can do about it. You can't say it's normal. You can't say that it's not climate change," Iyer said.
Throughout the strike, Morris and her mother took videos and pictures of their group to send to FridaysForFuture. Morris said the organization contacted her asking her for camera evidence of the event so it can be used in a film set to release in 2020.
Morris' next step is to start a group at the school that not only strikes for climate change, but helps in other ways like cleaning up litter outside and volunteering.
She plans on holding another strike this Friday in the same location and hopes to gather more people.
Although the turnout was minimal, that didn't discourage the girls at all.
"No matter how small you are, I believe you can always make a change," Roy said.
About the Photographer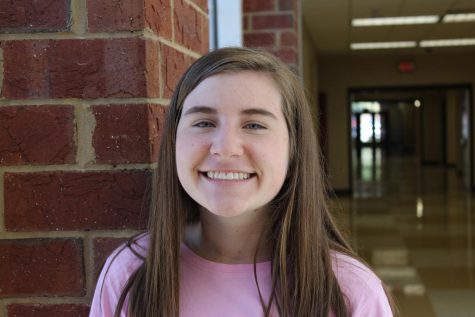 Rachel Lichtenwalner, Staff Writer




Rachel Lichtenwalner is a sophomore and a second-year reporter on The Bear Witness. Lichtenwalner likes coffee ice cream, singing in the...