What Do AP Teachers Do During the AP Exams?
It's that time of year where students traverse the hallways cradling thick prep books, and with hours of study sessions, their school days no longer end at 3:30 pm.
These signs mean only one thing: AP exams are coming.
Having prepared for them all school year, some students may feel stressed, nervous or tired. And for some students, these feelings only heighten on the days of the actual exams.
But what emotions are running through AP teachers when the big day for their students arrives?
"I'm certainly not as nervous as the students are," said AP U.S. History teacher Bob Bordas. "But you're a little apprehensive, like 'Hey, did I do everything I could've done to get them ready?'"
However, the feelings teachers experience on their end is not always apparent to students.
"I try to make sure I keep my feelings out and support and encourage them," said AP Statistics teacher Nancy Barker. "I have to be careful that I don't put my anxieties on my students. I don't want them to think I doubt their ability."
Like Bordas, Barker's nerves come not from her students, but from questioning if she has done all she can to fully prepare them.
"I want them to be as successful as they can be, and I also like success for myself in some way. This is a measure of my success in teaching them," said Barker.
But even with histories of very successful exam results, some teachers cannot help but be a little anxious on testing day.
While his students are taking the exam, Bordas grades papers and prepares for his other classes.
"I'm thinking about it a little, 'Okay, it's nine o'clock. They're done with the multiple choice'," said Bordas. "And you always wonder what the DBQ [document-based question] is going to be."
While Barker's students are testing their statistics skills, she often is proctoring a different exam, which helps distract her from her worries.
"Oh, I'm very nervous because I know that it's important. It's high stakes for students," said Barker. "It's what we've been working for. I feel kind of like a mother sending them out."
But for other teachers, no stress is experienced as their students are testing.
"I feel fairly comfortable students in my class do fairly well on the exam," said AP English Language and Composition teacher Randy Gingrich. "Usually how they do on the AP exam is how they've been doing in the classroom."
Gingrich spends his time during the exam cleaning up his classroom in preparation for the close of the school year.
He said the AP exam is not a stressor for him because it only represents a small portion of his course.
"The student might not have passed but still learned a lot," said Gingrich. "I'm more concerned with how well I prepared them for what they're going to do in college."
But, ultimately, past all the nerves they feel, some teachers just hope the students do their best and don't look back.
Bordas exemplified this point using a former student of his, whom he described as very passionate about U.S. history and one who did exceptionally well in his class, and thus, would seemingly receive a five on the exam.
"He came in with a four. Maybe it just wasn't a good day," said Bordas. "We exchanged emails, and he said, 'Thanks for everything. I'm not going to define myself by that score.' If they take something away from the class, that's what's really important."
About the Writer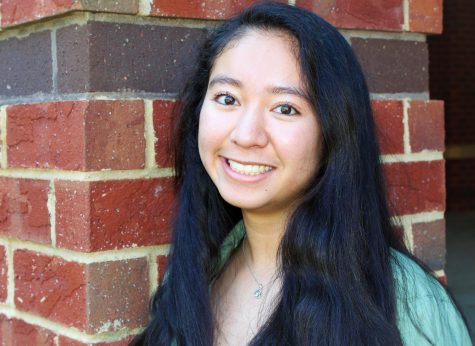 Angeline Fu, Managing Editor
Fu is a senior, and a third-year reporter. Fu serves as one of the Managing Editors on staff. Fu is active in Bridging Generations, National Honor Society...