"One Eye on the Future": Varsity Soccer Prepares for Departure of Seniors, Welcomes New Players
Displayed outside the stadium is the boys varsity soccer team banner. Five players kneel in the foreground and the remaining 13 stand behind them. All 18 are seniors.
This is a ticking time bomb of a problem for Cambridge boys soccer. When the class of 2019 graduates, the team will be left with holes in the team as they lose multiple experienced, key players.
The entire defense will need a complete rehaul when starters Ethan Rose, Jack Tindle, Harrison Fields, Brendan Vine and Jack Gaertner all leave in May.
Midfield will be stripped of the core of exceptional playmakers composed of Ben Barfield, Trey Rielly, Omar Dhrif and Nico Restrepo.
Up front, the team will be lacking this season's key attackers in forwards Jaber Obeid and Christian Guzman.
Even the top goalies will need replacements, as starting keeper Nic Sides and first alternate Daniel Schmidt are both seniors.
The team faced a similar situation after the 2018 season when essential goalscorer John Crawley and playmakers Jarvin Ramirez and John Barton graduated.
Their respective areas declined noticeably. In the first 10 games last season, the Bears scored 33 goals while they have only met the back of the net 20 times this year.
Without the current thirteen seniors, Cambridge boys soccer will definitely feel their absence next year.
"Being a public school, we're victim to chance," said Boys Varsity Soccer Head Coach Brian Wallace. "And there hasn't been a class that has dominated the starting eleven spots like this one has, so next year is going to be a rebuilding year."
To deal with this issue, the team must focus on getting the current underclassmen acclimated to a more competitive environment without the support of more experienced seniors.
"With the freshman team, we have an opportunity to grow them as players to be ready for the varsity team when they're juniors or seniors," said Boys Freshman Soccer Head Coach Jose Franco.
Being the only school in Georgia with a freshman team, Cambridge is able to select a wider pool of players and take those who would normally not make the junior varsity or varsity teams their first year to develop them into capable athletes for their later years.
"We have players that start for varsity right now, like Harrison, that played on the freshmen team their first year. Without it, they wouldn't have been able to get better and varsity would be without them right now," said Franco.
The freshman team works closely with the JV team during practices to both get experience in a more competitive, higher-skill environment and to learn from the older, more seasoned players.
"Working with the JV team is really helpful because the players can see what they need to learn," said Franco. "This is especially good for building confidence which is one of the biggest challenges for players this young."
With the freshman season concluded recently, there were several positive takeaways.
"I watched several of the games this season and they were good. There are several players that show potential and will definitely be playing on varsity when they are sophomores or juniors" said Wallace.
Additionally, there are already several underclassmen on varsity stepping into fuller roles. Sophomores Jeffrey Rael and Lucas Pegorer have been getting significant playing time this season contributing to the Bear's strong performance by scoring goals and making key plays.
"It's important that we give them playing time now so they are know what to expect when they're playing the full ninety minutes as seniors," said Wallace "It's sometimes hard to do this when there are much more acclimated and strong seniors in their positions like with Erik."
Sophomore midfielder Erik Holmen is another underclassman on the varsity squad that will be expected to take a larger role next season.
"I'm excited to get more playing time next year but I understand right now there are more technical and seasoned players in my position right now so I've just got to wait and keep working." said Holmen.
When the season concludes in May, it will be the end of a very special era in Cambridge boys soccer. These seniors have been through the highs and lows of the program and have contributed an invaluable service to build the legacy of Cambridge soccer.
"The games are always exciting and they've done so much in four years, like winning region and finishing second in the state last season. Cambridge is definitely a soccer school," said senior soccer fan Carson Ertwine.
With the season approaching the final stretch, Cambridge is focusing its sight on the remaining region games and a chance at state while also getting ready for the future of the program.
"We've got one eye on the present and one eye on the future," said Wallace.
About the Writer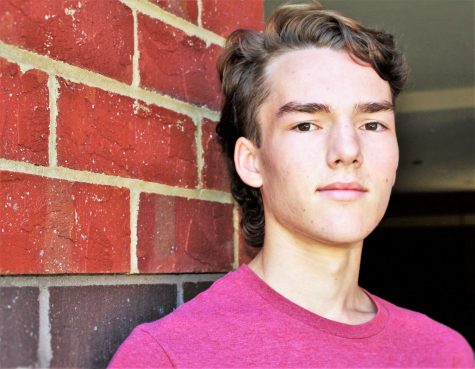 Sasha Severtson, Reporter
Severtson is a senior, and a first-year reporter. He enjoys watching and writing about films. Sasha is a runner for the Cross Country and Track and Field...