We're a "Sucker" for the Jonas Brothers' New Song
As a six-year-old in 2008, I used to listen to "Year 3000" and "S.O.S." by the Jonas Brothers on my purple iPod.
It's now 2019, and I'm a 16-year-old junior in high school listening to their newest release, "Sucker," on my iPhone 8.
The revival of the band spread like wildfire all over social media earlier this month.
"I was obsessed with the Jonas Brothers. I even went to their concert when I was six years old," said Senior Ashley Spina. "I was so excited when I first heard their new song."
As a dedicated Jonas fan, I was shocked and excited when I first heard about their reconnection. My next thought was if I will still like them as much now that I am a teenager. I got nervous that my expectation was too high and that I would be let down.
Thankfully, I am obsessed with their newest song.
Although their style of music has changed from American rock band to pop singers, the adjustment is what will make them successful.
I don't think that a continuation of their previous style would not have appealed to a large audience; however, pop music is extremely popular and a perfect fit for the band.
The brothers, Kevin, Nick and Joe Jonas formed their American rock band in 2005.  Then, in 2008, they were in their first movie, "Camp Rock" with Demi Lovato. The movie created huge success for the brothers, and they were able to make two of their own shows on Disney, "Jonas" and "Jonas Brothers: Living the Dream." Unfortunately, both shows were discontinued in 2010.
Camp Rock was one of my favorite movies as a kid. It was so popular that they were able to make three Camp Rock movies. I own all three.
"The Jonas Brothers were a big part of my childhood. I used to watch their TV show and Camp Rock," said junior Olivia Dangoia. "I listened to their music, too."
During their time as a band, the brothers recorded four albums before they split up in 2013 to pursue individual careers.
Lead singer Joe continued in the music business by forming a new band, DNCE, in 2015, again taking the role of lead singer. The group recorded their most popular song, "Cake by the Ocean," which reached the top 10 on Billboard's Hot 100.
Nick also continued to work with music, producing three of his own albums all with great success. He recently married Indian actress and singer Priyanka Chopra in 2018.
"When I was little I was in love with Joe, but now Nick is definitely the cuter one," said junior Lexy Williams.
The oldest Jonas, Kevin, took a different route after their break up and founded a real estate construction company called JonasWerner. He has also appeared as a celebrity guest on many TV shows, such as "Celebrity Apprentice."
After six years of seeking out their own occupations, however, the brothers have come back to their roots and begun to record their fifth album.
On March 1, 2019, they released their newest hit, "Sucker."
In just a matter of two days, the song reached number one on the Apple music top charts.
Their music video has also been successful, with over 55 million views in the first week. The video features the three brothers and three women: Nick's s wife Chopra, Joe's fiance actress Sophie Turner and Kevin's wife Danielle Jonas.
The video was filmed at the Hatfield House in London. The three couples are shown galavanting in the mansion and across the beautiful gardens. The video projects an elaborate lifestyle with champagne, beautiful gowns and dancing.
It feels like you're watching a scene from "The Great Gatsby" and "Alice in Wonderland" in one video.
Despite the Jonas brothers' wild success and exposure to media recently, some students didn't give the brothers the best reaction.  
"I like the old Jonas brothers better," said Junior Jasmine Bakert.
Although they might not be everyone's favorite band at the moment, nobody can deny the fact that their comeback has been successful based on the numbers.
By waiting almost six years to reconnect, their previous audience of elementary school children, have grown into teenagers.
Although it might not have been planned, I think the strategy is brilliant. This way their music will appeal to a wider range of ages.
It's similar to the audience of movies like Incredibles that took almost 14 years to make a sequel. Every teenager or young adult who watched it when they were little wanted to see the second movie. Since it's still rated G, little kids were able to watch the movie too.
When I went to the theater to see it, everyone was there from two-year-olds to 20-year-olds, as well as parents and grandparents accompanying the little ones.
I think that this same thing will happen with the Jonas Brothers. A wide variety of ages will be engaged in their music making them successful and benefit from their six-year break.
Their revival has already engaged the teenage population when their comeback video was reposted by an abundance of high schoolers helping to spread the news quickly.
All the brothers have to do now is make more music, and the success will follow their committed fans along the way.
About the Contributor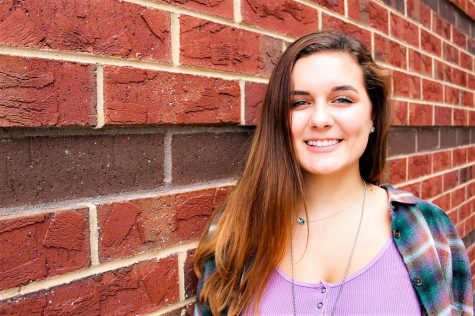 Sarah Hudson, Reporter
Hudson is a junior and a first-year reporter. She loves anything that's creative and has a passion for traveling.