Kid Cudi — KIDS SEE GHOSTS
After a rocky period in their relationship, the long awaited Kid Cudi and Kanye West collab album was finally released in June 2018.
Despite only containing seven tracks, KIDS SEE GHOSTS highlights the best of the two artists. West delivers his profound, intense lyrics and wordplay on tracks like Fire and 4th Dimension while also letting his unfiltered emotion out through crude shouts and whoops on Feel the Love, both iconic tropes of Ye.
Cudi contrasts West's performances with compassionate and reserved expressions such as his famous humming on Reborn and his catchy, emotional choruses on Feel the Love and Freeee. The album's length works in the duo's favor as it contains their performances so only the best is showcased.
The production of the album is a clear product of Kid Cudi and Kanye West's craft; the two used their combined years of experience to create absorbing, first-rate beats. The songs also utilize innovative samples such as the wails on Fire and Louis Prima's 1936 song What Will Santa Claus Say on 4th Dimension.
The eclectic sound of the album is a disruption to the occasionally stagnant genre. There is a clear rock-inspired sound throughout the album as evidenced on tracks such as Freee, Kids See Ghosts and Cudi Montage which all have a heavy presence of drum beats and guitar riffs. Cudi and West also utilize a somber piano on Reborn to shift the album's mood. All the same, the duo tethers these together with the familiar bass and snares of rap.   
"I've been listening to rap for about 40 years starting with Grandmaster Flash and the Furious Five and Kanye is one of the few innovative people today," said law and justice teacher Thomas Washburn. "KIDS SEE GHOSTS is a really fun and enjoyable album."
Kanye West and Kid Cudi pushed the limits of rap with KIDS SEE GHOSTS. The two created a radically new sound for the genre while still maintaining their top-tier lyricism and production to create a strong, well-contained album.    
About the Writer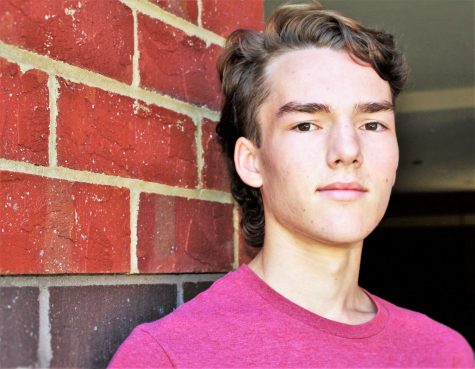 Sasha Severtson, Reporter
Severtson is a senior, and a first-year reporter. He enjoys watching and writing about films. Sasha is a runner for the Cross Country and Track and Field...