"A Tradition and a Necessity": The Importance of Christmas Music
Christmas has always been my favorite holiday.
I love the colorful lights that illuminate my neighbor's houses in the dark. I love that my house smells like Yankee candles and a Balsam Fir tree. I love baking Christmas cookies with my three siblings and making a mess with the frosting.
However, my favorite thing about the holidays, other than presents obviously, is Christmas music.
In my family, Christmas music is a tradition and necessity.
Junior Tess Abraham, a Christmas music lover like myself, said, "How can you not like Christmas music?"
I love Christmas music because I associate the music with happy memories. When I hear the songs, I think about my family and my childhood.
My family and I have always been super close especially when I was younger. My older brother and I, although we used to fight all the time, were best friends.
When we lived in our old house in Alpharetta, my parents would listen to the Christmas music channel on TV all the time.
Nothing has changed.
We still listen to that same channel every year. Almost anytime the TV is on in December, it is on that channel.
My brother and I used to make up silly dances to Christmas songs pretending we were Santa or reindeer. Now, instead of dancing, we just sing really loudly to annoy our parents.
I don't think there is a single Christmas song that doesn't sound happy. Every other music genre has sad songs, but not Christmas music — that's why I love it.
"I love Christmas music because it's so festive and makes everyone happier," said junior Anna Parrot.
In my opinion, Mariah Carey is by far the most iconic Christmas music artist. She sings my all-time favorite Christmas song,  "All I want for Christmas is You".
It's my favorite because it reminds me of my mom.
My mom's job now is to take care of my three siblings and I, but when she was younger, her dream was to be a singer. Every time that Mariah Carey song comes on, she sings her heart out in perfect pitch.
I asked 12 other students what their favorite Christmas song is, and six of them agreed that "All I Want for Christmas" by Mariah Carey is their favorite.
Some other Christmas songs I like are, "Last Christmas" by Wham, "It's Beginning to Look a Lot Like Christmas" by Michael Bublé, "Santa Baby" by Eartha Kitt and "I Saw Mommy Kissing Santa Claus" by Jackson 5.
These songs just make me feel happy and always put me in a good mood. Almost all Christmas songs are like that, but these ones specifically put a smile on my face.
Other than these classic Christmas songs, there are some modern artists such as Ariana Grande and Justin Bieber who have also produced Christmas albums in the past.
Bieber produced one-holiday album in 2011 called "Under the Mistletoe." As far as Christmas albums go, I would say Bieber's is my favorite.
Like most girls, I used to be obsessed with Bieber. When his album came out I instantly fell in love with it, probably just because he was the one singing, but I still love it.
I feel very strongly about my love for Christmas music, however I know not everyone agrees with me.
When asked if they like Christmas music, Phillip Burns said, "It depends on the song. I like most of them, but there are some that are overplayed and get really annoying."
I also don't like when songs get overplayed, but I don't think Christmas songs ever get overplayed because most people only listen to them one month of the year. That way, they never get old, and you can listen to the same great songs every year.
About the Writer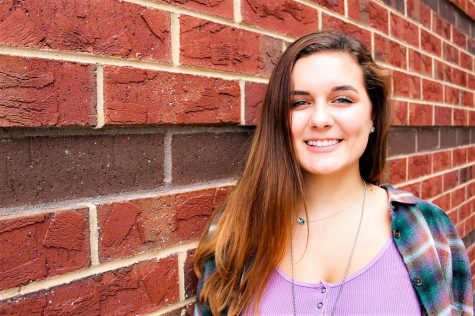 Sarah Hudson, Reporter
Hudson is a junior and a first-year reporter. She loves anything that's creative and has a passion for traveling.